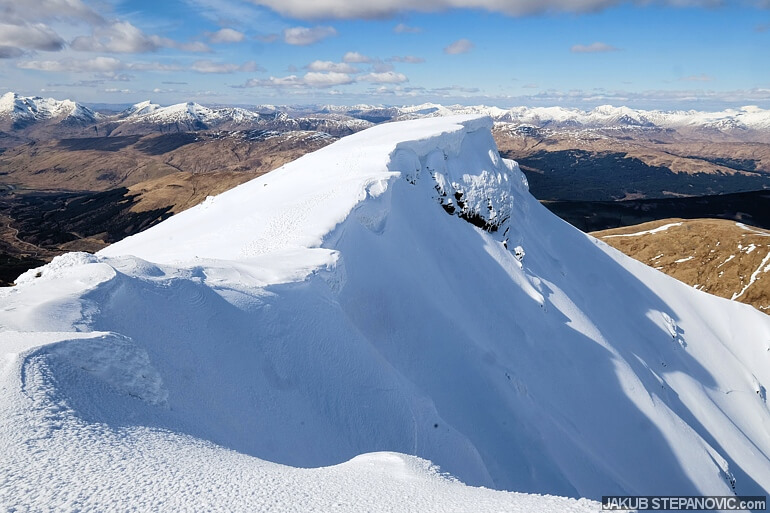 Pictures from a recent hike up the Ben Lui and a few words about why is this my favourite season here in Scotland.
Earlier this month, friends and I scaled two Munros at the northwestern tip of the Loch Lomond & The Trossachs National Park: Ben Lui and Beinn a' Chleibh. Climbing Munros during this time of the year is grand, as you get the best of both worlds: down in the lowlands, spring-awaken trees and flowers look and smell pretty, while above a certain elevation, you still return to winter and experience a beautiful snowy environment.
Moreover, we scored near-empty skies and no wind on that day. It was as good as it gets.
Speaking of the weather, it is another reason why I enjoy the spring in Scotland: the temperatures allow me to enjoy the outdoors without wearing 20 layers to survive; yet, it is still chill enough to keep all the midges out of existence. Another win-win.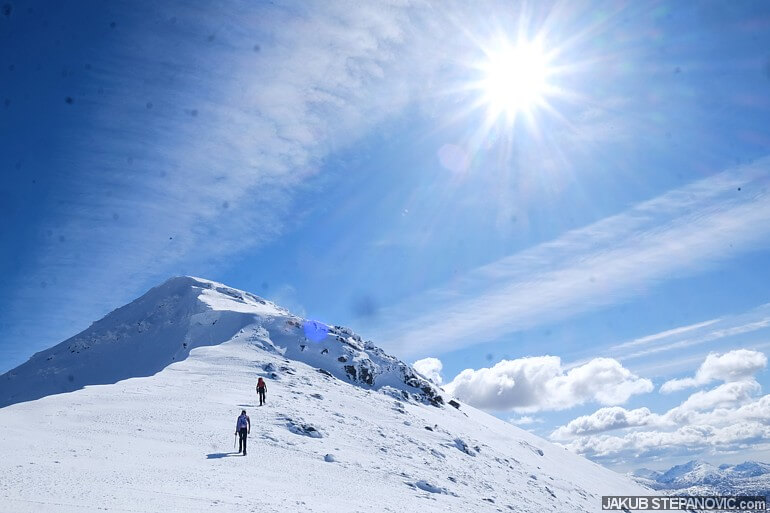 The trail starts just under 200m / 650ft above the sea and reaches Ben Lui's summit, at 1130m / 3707ft, in around 4km / 2.5miles. That said, the surface is far from being flat. Once we reached the ridge, there was one exciting section with nice exposure.
The rising elevation correlated with genuine happiness, which peaked once we got on the last section of the ridge. The Ben Lui's summit came on sight:
Beyond words; this needs to be experienced to fully absorb the freshness, pure beauty, and the calm but vibrant environment in 360 degrees. These were some of the best views I've seen in a long time. It was too good to just turn around and start the descent right away. So we had lunch there.
All these landscapes remind you that, indeed, this world is a wonderful place to live in.
You might notice that there was nobody else in sight, which brings me to another point why I like this season: the number of tourists is next to none - all of it is for you and your friends.
Sometime later, we left the summit only to get on another one, about a mile away.
The navigation in these conditions was a piece of a cake, and the terrain wasn't challenging; thus, it didn't take long to get to the Beinn a' Chleibh.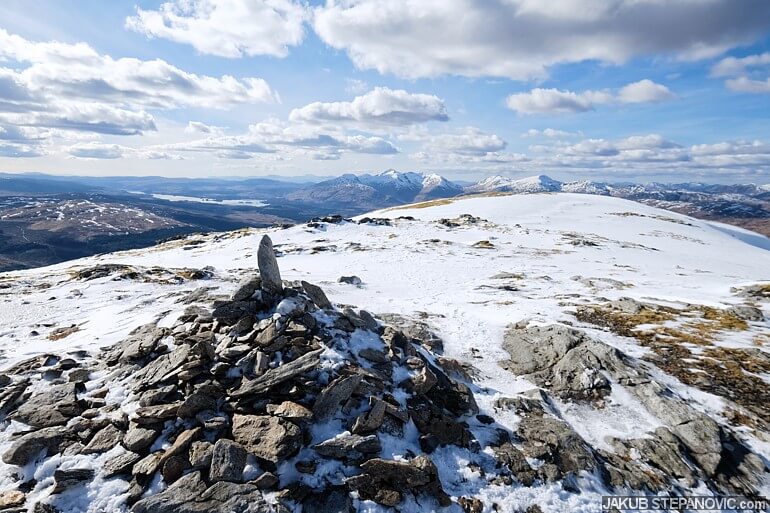 Going down from here was no less entertaining; we made some use of those steep slopes.
As it has been through the whole trip, sliding down was another combination of positive with positive. An effortless way to get down (convenient for people with a bad knee), fun, and quick. Yes, please.
Further in the valley was necessary to wade through a stream, but again, it was more of a welcomed refreshment than an obstacle in this weather. Overall, a great day out.
---
See all my stories about the Scottish Highlands, or browse my Blog Archives for more topics. Thanks for reading!