Two national parks, four national forests, many waterfalls and tons of fun. One of the best trips I have made, for less than $400.
All right, so how it started? Very good friends of mine spent every vacation they had in northern Colorado and always talked about the state in superlatives only. That motivated me to see it on my own, and at the end of winter 2014, I made my first visit, a road trip to Colorado Springs, Denver, and the mountains around. Sure enough, it was such a great time that I knew that I will have to return and explore more, sooner the better.
The second I got home, I started planning another trip. I had a few points that I wanted.
Explore the southwest, San Juan mountains and the area around Crested Butte, and..
spend as much time at non-paved roads as possible.
This in mind, it was getting shape quickly. I looked for some points of interest along the way and for some county roads that should get me there. After some evenings of researching, the plan was almost clear.
One thing I learned while doing my homework, preparing the trip, was the fact that most of those roads I was considering aren't cleared of snow until June. So I had to wait.
I was checking websites that monitor the snow level on some trails almost daily since mid-May, but it took until the end of June until they reported that the trails should be passable. But the waiting proved to be a good thing in the end, because I had more room to revise the plan, add more trails, and cool spots to see - such as the Black Canyon of the Gunnison, for example. I even added locations of some gas stations as I knew I'd be out in the nowhere with civilization left far behind, so knowing where could I fill gas could be crucial.
July came in no time, and just as the second week of the month started, the adventure began. Yey!!
The first day I arrived in Colorado, I checked out the city of Pueblo a bit. Since it was the last bigger town for a while, I topped up my gas tank and got all the food and water for the upcoming days. A good thing to do, as any smaller town charges extra dollars for every foot of elevation you climb into the Rockies. Stocked up, I headed west towards the majestic mountains, and by the evening, I got in the Phantom Canyon. It wasn't too late, but I camped so I could enjoy driving further in daylight. The reason for this was simple: the road was the goal – It goes by a neat environment and it features some cool tunnels and cliffs. It used to be a railroad track, but once the local mining industry declined, they ripped the rails and nowadays it's accessible for vehicles.
The canyon is pretty, so I stepped out somewhere in the middle and went for a walk around. But when I got back into the car, it wouldn't start. Cold sweat covered my face. There was no such thing like a cell phone service and this road's traffic was next to none. Yes - those were some factors why I picked these roads; but man, it scared me now as if this would be some major electrical problem, I could be in huge troubles. Not a single light on the dashboard, absolutely nothing. "Seriously? I just started.."
I popped the hood to see what's what and thankfully found out that the issue wasn't major. Never underestimate the disastrous quality of authorized dealerships! Although I am trying to repair on my car everything I can by myself, Ford came up with a recall for a part of the steering mechanism about a week prior the trip and I let them mend it. And sure enough, they didn't reconnect the battery correctly. At least, it was an easy fix. Ufff.
This sorted; I went up the hill to see an old mining town Victor, once the second-largest gold mining district in the US. Now it has populations around 400 only.
My next stop was the Royal Gorge. To get there, I drove down the hill via another canyon. It's made by the Cripple Creek and the path through is called the Shelf Road, about which some locals told me how utterly scary it is. Well yes, there is some drop (I mean, it's called shelf road for some reason), but the surface is good and it's wide enough to pass an oncoming vehicle. I'd call it "fun to drive on" instead.
But I had one scary moment: out of one curve, someone was going faster than he could handle and slipped into my lane, right against me. My brakes worked just fine so thankfully no accident happened.
I went to the Royal Gorge because of the bridge that was built to connect its shores - which are divided by a 955 ft (291m) deep gap. Since its competition in 1929, It was the world's highest bridge for over 70 years, and it still is the highest in the US. I love engineering marvels like this! Unfortunately, the area was still recovering from a devastating wildfire they had last summer, which caused that I couldn't access the bridge (and an amusement park that's next to it, but I couldn't care less about that.) The gorge looks great anyway so I took a hike around and soon found a spot with a view on the bridge.
After this one, I kept going west to reach higher mountains; but first, to see another technical goodness: an awesome smokestack of the former Ohio-Colorado Smelting and Refining Company in Salida was the next stop.
On my way there, surroundings got greener, hills steeper and a massive storm went by.
When I pulled into Salida, it wasn't pouring as hard, but it was still raining some. I got me a burger, backed-up my photos and by the time I arrived under the stack, the rain was gone.
I used to climb old stacks like this back in Europe and I've great memories on it.
With the sky almost clear, it was just about the time to get off paved roads again. I set my direction towards the O'Haver Lake.
It was nice up there; however, with tons of people. As I wanted to enjoy the solitude of the mountains, I took off soon and went towards the Continental Divide via the Marshall Pass. And in just a little, herds of people were replaced by herds of deer. I was counting how many of them I'd spot from my car, but I lost tracking when I got behind 15.
Shortly, the scenery was even better than from the lake..
..and after more driving, I was at the hydrological division.
By this time, it was already getting late. I drove a bit further and found a nice spot to sleep, still within 10,000 ft elevation. As I was brushing my teeth, a light rain started coming from the sky. It created nice background music to fall asleep into.
The next morning I started to descent from the pass. The trail went mostly through woods, without some extensive views. Still pretty, though.
Just as the Phantom and Shelf roads, the Marshall pass is a quite easy road to drive on. It is rockier at places, but there are no challenging spots. Most of the time is also wide just enough for two cars to pass each other, but I was lucky to be there at the same time when the forest service started transporting logs for processing.. Passing a car might be fine but a large 10-wheeler rolling in speed, while being in the outer lane counting inches from a drop-down, that caused some adrenaline pulsing.
The surroundings changed extensively on this trail. On its west side it seemed more moist and vital compared to the dry east. It was also my gate to the higher grounds, because from here I went to the Crested Butte. I had to drive on a paved road a little, but it went very quickly. In a while I was off the asphalt again with incredible landscapes around.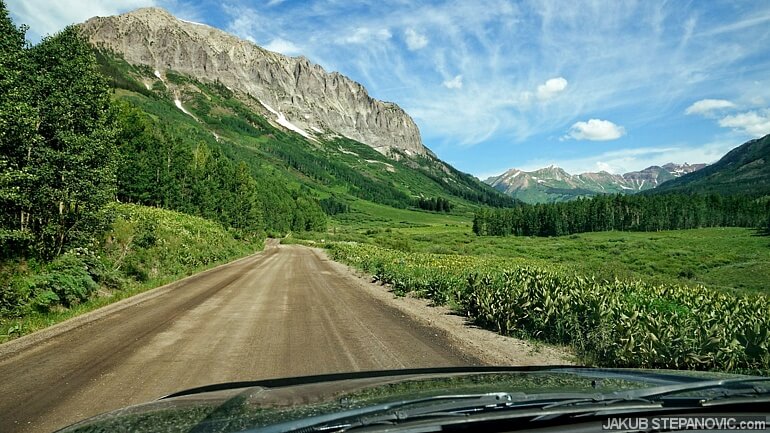 I entered a valley behind the town with intention to climb up towards Schofield Pass.  At first, the road through the valley was wide and smooth as a normal highway. This contributed to the fact that there were people all over. Many campers, painters, bikers, hikers, etcetera. Once I passed the village "Gothic," the trail became a bit rougher. Nothing bad, just with more rocks and a little mud. This; however, was enough to cause issues for some and I run into a small traffic jam soon.
Someone picked a wrong line and the low ground clearance of his vehicle wasn't forgiving. The next driver didn't want to scrap the underneath of his car like the guy in front of him so he chosen another line, but that wasn't much better as it nearly got him stuck.
Behind this point, there were no more sedans on the road anymore. Suddenly the trail started to ascend and it took away almost everyone. Brilliant! Road got steeper, narrower and it didn't take long until I got to a section covered by a decent snowdrift.
Although there were a few tracks on it from vehicles which got over it, all of them had big off road tires, over 10 inches of the ground clearance and I'm sure 4x4 drivetrain. As I didn't have any of these features, I took a shovel from my booth and started clearing the trail. It was a good workout and after a tad over half an hour, it was good enough for me to get through.
From here, it was still steep but the trail was in great shape, so I got to the Schofield Pass without any issue. The pass is at 10,707ft (some 3264m) above the sea - which was quite cool; but, my plan was to descent again soon, so I could see a wooden mill from 1892 in Crystal, a village on the other side of the pass. But since it was still over 10 miles, I drove a bit further. As far as I planned the trip, I had marked that the road should be passable with my car for another mile or two, and then I'll have to go by foot. I was correct on the surface of the road – it was fine, but I didn't count that the road would go as steep downhill right ahead. I found that, of course, as I drove down. I was in the first gear and still had to use brakes a lot. The whole time I was thinking "dear, oh dear, I hope I'll be able to climb back up."
The road leveled after some time, and soon I reached a sign informing that the trail further is a mayhem. So I parked the car and hiked the rest.
And a good thing I did, as there were spots on the trail that would kill the Escape instantly.
Next to these rocky sections, there was also a spot where the trail crossed a river. It probably used to have a bridge at some point, but it was gone for a long time. The only way at the moment was to wade ashore. The stream was about two and half feet deep, but water was clear so one could see where he's stepping and it was a nice diversion.
Besides me, there was nobody around and the scenes were just astonishing. After some walking, I reached my goal, the old mill in Crystal. Oh yeah.
Then I hiked back on the hill again. It wasn't as far, but it sure was steep at places. Also, due the storm earlier, the river was substantially colder and deeper but still fun to ford.
I had to take a break once I got up. Besides catching my breath from the hike in this elevation, I had to brace myself for driving up to the pass again. I set off, and with my eyes glued to the road and the engine temperature gauge, I managed the climb up with no issues. At that time I had no idea that I'll be driving over many similar or worse slopes very soon. Right. I planned to see a place called Paradise Divide now and to get there, I had to drive a trail through local wilderness.
There were some water crossings, mud holes, sharp rocks and steep slopes, but nothing impossible with some careful driving. Man, that was so much fun!
Once I got to the Paradise Divide, I had to admit that the name is appropriate.
Given the views all around, I just parked...
..and called it a day. Sleeping at over 11,000 ft was great, and really - how could anybody be anything but happy when the first scene after you open your eyes looks like this?
The sky was completely clear that morning.
...and the early sun made every color more saturated and every hill around more 3D.
Yep, not a bad way to start a day. The place, weather, air... it was all too cool there to just leave right away, so I pulled another recovery piece of equipment I took with me from the trunk, a recovery strap, and had some morning balance exercise.

Then I hit the road again, which was exciting as well because the trail supposed descent to another valley soon. When I was planning the road, all the dense contour lines I saw on a map predicted that it will be steep and scenic. And boy, it was!
Yes, I was checking the contour lines at some places while planning the trip, because I wanted to pick the direction that would be steeper downhill instead of up - since I didn't have a low gear train, climbing over some rocks at some steep slopes would be trickier than going down over them.
The road in the valley was short and I entered a highway towards the Black Canyon Of The Gunnison within a moment. To my surprise, several its miles weren't paved either. But compared to the trails earlier, this was wide and smooth like it was made for a Boeing to land on. And even when it turned to pavement, it was fun and it went by quickly. Before entering the canyon, I was in totally different environment again:
Everything just worked well. I even tuned in some fm radio I was happy to listen! Didn't took long and I passed a sign towards the canyon and I was on a dirt road again, which took me straight to this wonder.
What a place!
I've been in the Grand Canyon, Palo Duro and some others canyons before, but this one impressed me the most. It is staggeringly beautiful, not overcrowded, and there are neat trails all around.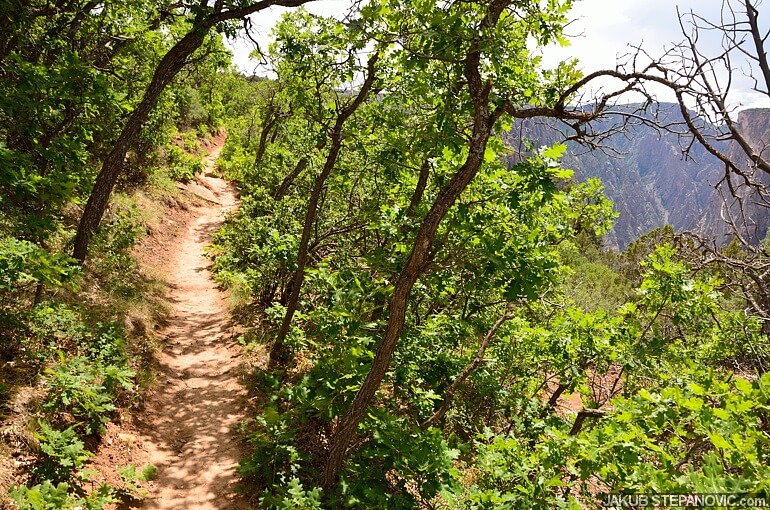 This spot checkmarked off the list, I headed south. The geological features next to the road were cool...
..but so was the road. I had it all for myself and I enjoyed driving every single mile of it.
Aiming straight south, I was going to enter another mountain pass, Owl Creek, which will take me towards another highlight, the San Juan Mountains.
Timing was sweet, as it got dark just a couple miles after the trailhead. Keen to see the trail tomorrow, I pulled over to get some sleep, and at the next daybreak, I hit the pass.
The trail was, again, entertain to drive on, but the scenery was a tad behind its competitors since it went mostly by a forest. However, after some climbing the woods cleared to make for some sweet views:
And what felt like no time, I was behind the pass, in the town of Ridgway. Here, I filled my gas tank, cleared windows form mud and dust from previous trails, and went to straight for another one - The Last Dollar Road. It started like an innocent dirt road, but soon it was rocky and steep. And importantly, with more stunning landscapes to admire.
You and your car. Exploring places you've never been. It is up to you if you will drive or stop, it is up to you whether to take left or right at the fork. There's nobody to tell you where to go, what should you do. But there's also nobody to pull you out of trouble if you get stuck or lost. Your choices. Your responsibility. Distant views with no other human in sight. In fact, no human scale either. Just you, fresh air and natural beauty. Strong sense of freedom, that's what I felt here.
As I got over the pass, some rain went through the area. This predicted some challenging times as I remembered the sign from the beginning of the trail:
This trails is wide just enough for one vehicle. To pass another, there are designated areas every once in a few miles. For most of the time, I was all alone, but soon after this moment:
...there was one of those places to pass an oncoming car, and it was one big mudhole. I avoided most of it by driving on the edge, where the mud was minimal, and planned to keep descending. However, a big suv appeared from the curve several elevation feet lower. It is an unwritten law at these roads that the climbing vehicle has the right of the way, so I started reversing uphill, back to the passing point. That itself was quite a task, but the real problem was the fact that I had to back straight into the mudhole to let the suv go by. Thankfully with some gentle steering and throttle work I got out.
The last section of this trail was the roughest, with some sharp rocks sticking above the surface and some water ponds to cross. On the plus side, the sighting was very pleasant.
Just like every pass up to this moment, the Last $ Rd also took me into a different world too. At the end of it, the mountains were taller and more colorful than anything before.
I skipped Telluride filled with some humongous properties and joined a beautiful highway...
...but just for about 8 miles, then I left for the dirt again. Now I planned to drive over the Ophir Pass to an old mining town Silverton. As I mentioned, I tried planning the trip that the off road sections will be easier uphill, and rougher downhill. So far, I have to say it worked exactly like that. Until the Ophir, which turned to be the opposite.
The trail from the village to the pass has only three miles (less than 5km), and you gain some 2000 feet (over 600m) in elevation.
This aspect, however, wasn't the worst. The surface was. Once you climb above the timber line, the trail became quite rocky. The car was very much out of its comfort zone here - which didn't bring tons of confidence to me either. But I kept ascending.
The last portion before the pass was just a pile of rocks all over the trail. I was slowly making progress until there was a segment with a large hole right where the optimal lane would be. It was big enough that I couldn't drive through it due my ground clearance, so I had to go all the way to the edge of the cliff to get pass that. (No way I'd turn back at this point). As I was at the outer limit of the trail, a few rocks loosen and went down the cliff. All the sounds were clear, I had my windows down to watch and hear things better. Still ascending, when suddenly the front wheel at the passenger side hit a big rock and the car stopped. Pfff. I added a bit more gas, but that resulted only in a short wheelspin. This was exactly the moment I could use some differential lock or some traction control witchcraft, but I had to concentrate at all the bits the Escape had, not those it didn't to overcome this issue. An idea to get stuck here was scarier than the dropdown. Speak of the drop, more rocks went down the hill. "I better get out of here!" Gentle work with steering wheel; check. Gentle work with gas pedal; well, that didn't achieve anything. So I hit it hard. A smell of burnt rubber quickly penetrated the interior of the car and I jumped upwards over the big rock. A part of me was concerned about the tire, but I didn't want to lose the momentum so I kept going the last yards to the pass.
There weren't more obstacles in the way, and I successfully reached the top. Just as I did, I parked and went to check the tires and the whole underside of the car. Nothing broke!
That revealed, I sat back in the car and for a few minutes, just relaxing all the excitement. Then I was about to take a walk around the pass, when a pickup truck came the same way I did. And just as they parked and got out the vehicle, the driver started: "Holy sh*t, have you seen that hole, oh my that was tense!" then they noticed me and my lower and less powerful car "did you make it this way?" a guy asked and pointed at the side from we came from. "Yes I did," I said. "No way, that hole, I mean, that hole...!" "I know, I know." "Can I take a picture of your car?" "Go ahead." This done, I did the walk around and started my way to down the mountains.
The trail was just as steep, but a lot smoother - so it went all right and I was in Silverton soon.
First, I thought to do some hiking, but then I decided that there were enough thrills today already, so I just explored the downtown. it was getting late anyway.
I also got me a hotel for tonight. The first and only hotel during this trip. Another thing I got me that evening was a pizza. Then I joined locals and other tourists sharing stories, and went to bed later.
The next morning I headed to see the Crystal lake. To get there, one has to pass some switchbacks.
Above them await these views.
and flowers. Everywhere.
..and some waterfalls, oh yes, and the lake, too.
For the afternoon, my plan was to get on the Alpine Loop and drive to the Lake City. On the way there, I stopped in Animas Forks, which used to be another mining settlement back in late 1800. But industry switched and nobody stayed here to maintain the village; so today, the place is a ghost town.
It is an interesting place, you can check nearly all the buildings from the inside. But more than the man made structures, I was keen to see the peaks around. The idea was to get up the Engineer Pass, the northern leg of the Alpine Loop. However, after yesterday's experience from the Ophir Pass, I decided to check out the trail head by foot first. And sure enough, not too far into the trail I saw a couple obstacles bit too high for my car's approach and breakover angles. I'd love to drive up there, but I needed the car to be capable of taking me all the way home and breaking it now was the last thing I wanted.
That set, I opted to just hike the rest of the way to the pass. The issue is, the distances here are as large as the mountains around, so to hike to explore what's behind the curve can mean to hike half a day. Nonetheless, the pass should offer 360 degrees of brilliant views, so I was determined. The issue was, it was late afternoon already and the day was reaching its end. So I looked around, counted my chances and started hitch-hiking. That's right.
From here, I just walked back to the valley; which proved as a fantastic decision. Everything was breathtaking. This area is absolutely...umm.. see yourself:
If this would be the very only thing I saw the whole trip, I'd be happy. Getting down, the sun colored surroundings in everchanging layers of pretty light, ending with a rainbow.
At the time I got back to the Animas Forks, the sun was gone already. The ghost town suddenly earned the "ghost" portion. There was nobody but me and some marmots.
Then I drove bit further and found a good spot to camp.
Since I my plan to continue to Lake City over the mountains failed, I had to come with some alternative for the next day. Quick glimpse over the map, and I was set: Let's hike to the American Basin.
The foot path started climbing immediately. Here's a pic of my Escape - not from a plane, just the trail went up this steep.
In less than 2.5 miles (4km), the trail climbs around 2620ft (800m). Here at elevation over 13,000 feet, my brain had some struggles convincing my lungs to work.
But I was rewarded soon.
The pass to the basin is just under 4000m above the sea. As I didn't want to miss the opportunity to reach the mark, I went further uphill to reach it...
And I could go home. Sort of. The rest of the day I spent on a road, driving eastbound.
The following morning, I run a short trail to see the Treasure Falls,
and continued driving towards the last stop on my list: the Great Sand Dunes.
I did some hiking there, witnessed another neat sunset..
..and headed home.
And that was it. If you have any questions, get in touch. And if you enjoyed this article, you might also like my other road trip stories. Thanks for reading!