Experiences of (re)learning skiing.
Recently, I went downhill skiing with my uncle and my brother. Proper excitement, as we went to Jasna, the largest ski resort in Slovakia, offering some 50 kilometers of slopes. While I had skis on me before, the total number of times I skied could be counted on the fingers of one hand, and the last time was around 10 years ago. That said, I didn't have a clue about what was to come.
Stage 1: No Idea
Since my last skiing, I had a few injuries, including a broken knee, so I was wondering, how will I hold up? And how will I survive the weather? Forecasts predicted 70kph (43mph) winds and temperatures of -15°C (5°F). I've done hikes in such conditions, but skiing? Can you even generate warmth while just sliding down the hill? I was thinking. So at the parking lot, obscured by dense fog, I put on every layer I had with me, and off we go.
The first impressions were good. Ski resorts improved a lot in 10 years: I remember having to scan a ticket every time you wanted to use the lift. Now, they give you a contactless card that you leave in your pocket, and the gates scan it wirelessly. Impressive and comfortable. So was the journey in the gondola. But when we got up, I realized what I am to face.
Stage 2: Horror
It was snowing, the wind was sharp, and the visibility low. We began on a blue-graded piste that had trees on one side, and a heavy-duty net protecting from a fall on the other. Navigating between these was rather scary, as the skis worked well, generating speed instantly. Eyes wide open, my mind screamed as I descended the slope. It reminded me of the time when I jumped off a bridge attached to a bungee cord: You know that shouting is absolutely pointless, but you cannot help it. Aaghhuaaaah!!
As the season just started, the blue piste we were on wasn't open all the way down, and we had to finish the descent on a red one — steeper; more shouting. The grade wasn't the only terrifying aspect. Another arrived every time more experienced skiers passed by. I was getting down at my pace, and suddenly I heard someone's skis cutting the snow behind me, and I had no clue from which side are they coming. All I tried was to be smooth, predictable, and don't stop anywhere in the middle, trying to reduce the risks of someone smashing into me. I also learned that, yes, one does generate heat while "just sliding downhill." By the time I somehow achieved to get down in one piece, I was warm as toast.
Two rides later, I felt much better, and my uncle told me: "You aren't a slave of your skis anymore." Looking back, I think that was still to happen, but I was happy for any encouragement. By now, I was enough in charge to exchange the horrification with joy.
Stage 3: Thrill
As a part of the learning curve, I linked skiing with some other sports that I enjoy, and that I am not total rubbish at. Same as with a slackline, when you bend your knees and lower the centre of gravity, you gain extra stability. Like when biking, you have to balance between front and rear to maintain traction. Suddenly, it made sense. I tilted to a side, I turned. I leaned forward and stopped washing away. Yey!
It wasn't all effortless yet. I wasn't the only beginner on the slope, but by this time, I was faster than some of the others. And while I got my head around the concepts of stability and cornering, I was still far from any precision. That caused a challenge of being able to dodge the slower riders. Some of them stopped at the weirdest places, so there were a few close calls. But I couldn't be mad, I was one of them not too long ago. In the end, it was a good manoeuvring exercise.
Stage 4: Thrill Within Reason
Eventually, I gained some confidence in the cornering accuracy, as well as in tackling the steeper sections. Right, let's try out some of the black-graded pistes.. "Hey hey!" It worked and flying down felt grand, until a large patch of ice froze my smile. Skidding sideways sent me back to the shouting stage, and I recalled Kübler-Ross' stages of death. Thankfully, I managed to stay upright, but it was a fine reminder to stay focused and avoid being too cocky. It also made me think about these skiing stages that I was undergoing.
When the sun hid behind the mountains, we started our last descent of the day.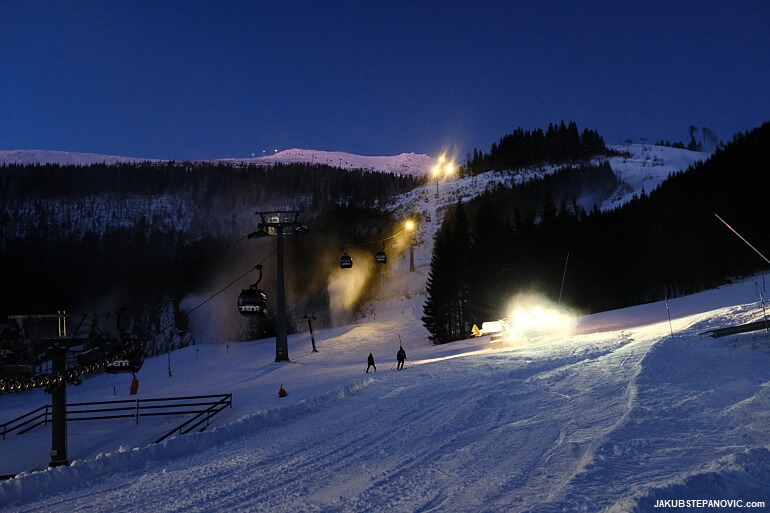 What a day! I thought while wondering what kind of stages will tomorrow bring.
Stage 5: Pain
Unfortunately, the first stage of the next day wasn't too good. My muscles ache as hell already when I was putting on the gear. Sitting in the gondola heading up, my entire body hurt, which only magnified when I set off skiing down. "I am falling apart," I was thinking, and started out slow again. Halfway down the first run, I was questioning how the heck am I going to survive the entire day. But, a few rides later, the body was back in business, and I felt better than ever.
Stage 6: Pleasure
The rest of the day was an absolute blast. Yesterday's practice came into action, the skis (mostly) did what I asked them to do, and exploring all the different routes of the ski resort was entertaining till the end. Similarly to mountain biking, one was out in a beautiful environment, breathing clean air, having pure enjoyment from motion... great company, what's not to like. Time flew by, and the day was soon over.
The sunset wasn't bad either.
Leaving the resort, I discovered another feature of their facilities. The ski pass tracks your activity every time you use any of the lifts and makes stats for you. So, I know that in the two days, I skied down 12,628m (41,430ft) of elevation. I understand that some people can get that in a few hours, but it left me pretty excited — it's like skiing down the entire height of Mt Everest and Breithorn. How cool's that?
After the two days, I see why so many people praise skiing as the ultimate sporty activity — It is genuine fun. Is it more fun than cycling tho? Um, I wouldn't say so. However, I definitely don't want to wait another 10 years to try it again.
---
Thanks for reading! If you enjoyed this post, you might also like my stories about..:
You can also visit my Blog Archives for more categories and topics.