I took a day off to meet new people and to end a break from tightrope walking. It was brilliant.
Slacklining is a form of tightrope walking, where instead of rigid steel wire, you use stretchy webbing. I started with it sometime around 2010 and had a blast.
I enjoyed to progress the longest distance I could walk, and I did that for two years until I moved into the US, and I left all of my gear behind. The place I moved to had no slackline community, there was nobody around to practice with, and it had hardly any places where could I rig the line; so I didn't buy a new set. I cured some withdrawal symptoms by walking on some chains or steel wires around parking lots and such, but that wasn't really the same.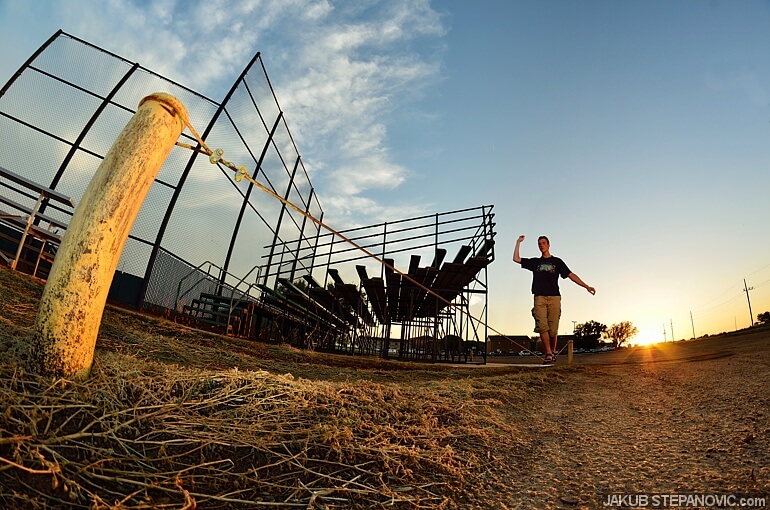 The situation changed when I planned a road trip to Colorado's wilderness. I thought it would be good to have some recovery kit if I'd get stuck at some mountain pass. So among others, I bought a tow strap and a winch. A long one, because I had an idea that I could use it for rather entertaining purposes besides an emergency. As it turned out, I didn't get stuck once but stretched the strap between my car and a tree a couple of times.
The strap was great, and I used it for this cause many times after the trip. But still, I missed the challenge of longer ones.
Years passed, and after moving around a bit, I settled in London. Once I secured decent places to stay and work, I searched online for local slackliners in hopes to get involved. I found a group which arranges meetings, one of which was this Sunday. Excited, I went for it.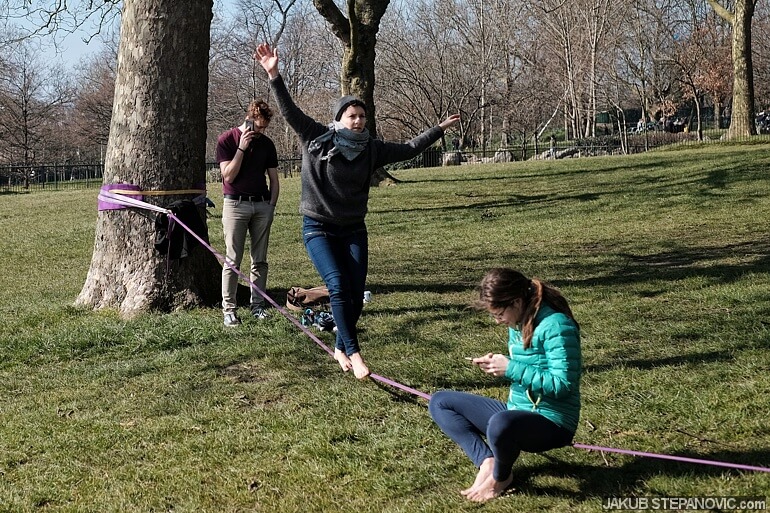 It took place in Finsbury Park, and when I got there, one line was stretched. I started to chat with the people around, who allowed me to join. Slackline folks are cool; regardless of whether it was in the rest of the EU or the US, I felt welcomed any time I approached them. It might be a common trait, but I never take it for granted.
While it felt fab to be back on a slackline, it was quite short, leaving me to recall the long-gone days I walked more advanced ones. Suddenly, one guy said something like, "Let's put up something longer." "Oh yes!" I thought. However, they started rigging something of 50-60 meters (~180ft) long.
While it was tempting, without nearly any practice for years, I knew that there's no way for me to cross it. But then, more people came by, and more lengths got assembled.
Shortly, there was one about 20m (66ft) long.
I tried a couple of times and couldn't get past the half. But it felt doable, so I set myself that it will happen. Meanwhile, people took turns and had a good time.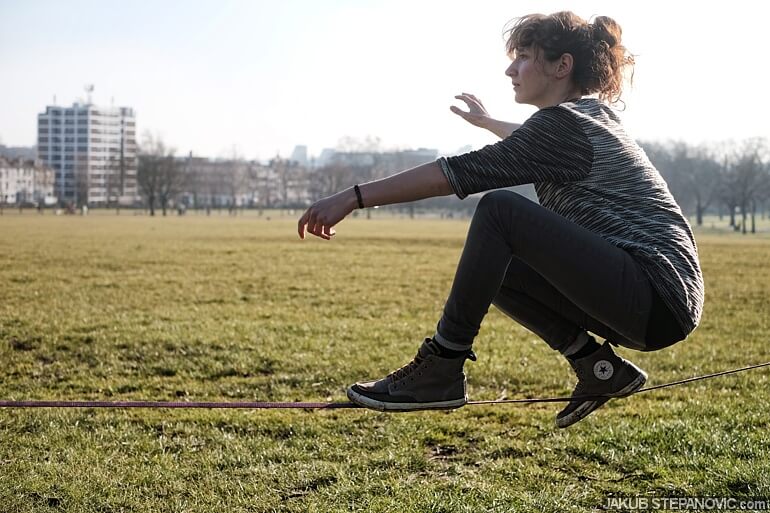 Then I gave it a shot barefoot; and heck, I sent it. To be sure it wasn't just luck, I did it again. And with the shoes, also. Oh, happiness!
The activity also attracted the curiosity of some passers-by, also welcomed to give it a try.
After more walking and chats, I moved to the other plans I had for that day. But I was curious to find out what was the last time I walked a line this long, so once at home, I looked into my archives for this picture:
The four-years long break is over, and I couldn't be more excited. Twenty meters is conquered again! A few insignificant steps for mankind, but a giant thing for me. Let's get back to it, let's push it back to fifty, let's extend it even more!
---
See all my articles about slackline; follow me for the upcoming posts. Thanks for reading!
Published by: Jakub Stepanovic in Stories