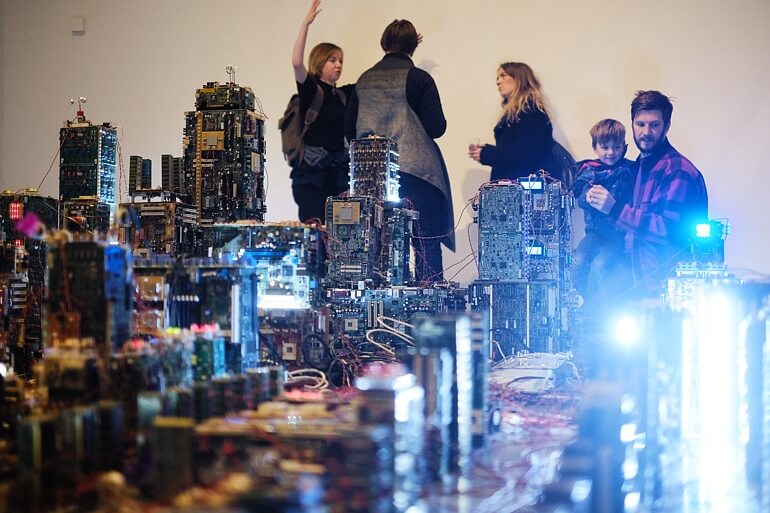 Dundee is a vibrant town where many art events take place. Some weeks are stronger than others, and the last one was thrilling. Let me give an insight into what I've been through over the past five days…

Dundee hosted a festival of digital arts, "NEoN," last week. This couldn't come in more convenient time as the body of my latest project very much fits within this theme, so I had a blast visiting what the festival brought, but I run into some other exhibitions as well.
---
It started on Thursday when I went to see two collections of paintings by Scottish artists; The first, "A Sense of Place," shown traditional work whereas the second, "Out of the Frame," presented abstract pieces. This done, I moved on towards more contemporary art within "Alt-w: Blush Response," an exhibition based in an unusual space of a custom made bus, which tours Scotland with art programs.
The bus currently displays artworks complementing the NEoN, such as a painting made on a solar panel that powers led diodes built in the panel's board, so it made its way to the town. A part of the NEoN was also a set of two installations I planned to see in the evening, but before heading there, I dropped by an exhibition of the 3rd year students of the local art college.
The two mentioned projects were two models of a city, but quite different from each other.
One was "Paperholm" by Charles Young, over 600 miniature structures made out of paper.
The other one was "The Nemesis Machine" by Stanza, pictured atop of the article and below
---
On Friday I visited the West Ward Works, a building of former print works used for the duration of the festival as a large space to fit artworks...
..many of which were based on the concept of virtual reality..
..but my favorite was the "Thêta Fantomes" by artists collective APO33, below.
This was an interactive piece where a visitor connected to a senor capturing brain waves, which influenced sound and laser beams. It was fun, and I had a nice chat with its creators.

In the afternoon, I stopped by an opening of 4th year students' "Multi-exhibition," and later I moved on to the Generator Projects, a warehouse converted into a gallery. They had an opening of a show named "Ludicrously ideal and beautifully placed"
---
Saturday started slowly, but after the lunch, I stopped by an outdoor exhibition consist of panels with computer-generated graphics "Sharing not Hoarding" on my way to Newport, where I visited Tatha. This gallery just commenced "Alchemy," their winter exhibition of local painters. I was hoping to see a nice sunset on my way back, and it worked rather well:
By the evening, I returned to the West Ward Works, as they hosted the closing celebration for the Neon Fest, involving concerts and performances.
---
On Sunday I took a wee break, but still attended a screening of short artists' films based inside of yet another atmospheric location, a jute mill from 1833 called Verdant Works.
---
Today, (Monday) I went to see an exhibition "All Watched Over by Machines of Loving Grace," which expressed how technology advances and affects everyday life.
..then I browsed another outdoor panels, and I just got back from a performance "Modern Medicine." Now I have two days to recover, as the next happening will be on Thursday..
Oh, the joys of life. Thanks for reading! If you'd like to visit more stories, see blog archives.