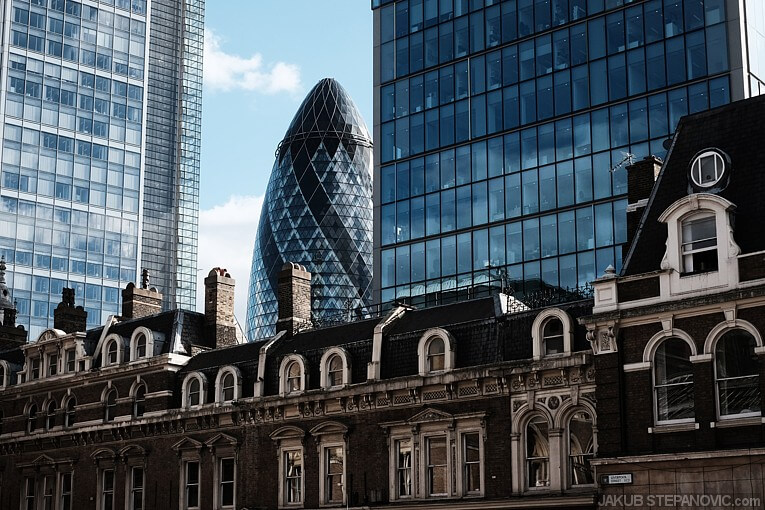 In the heart of London are two districts that have status of a city: the City of Westminster and the City of London. The second named covers just a bit over a square mile, but it contains many of London's highlights so I went to check it out.
I got there from northeast, where a major center for international trade and banking is.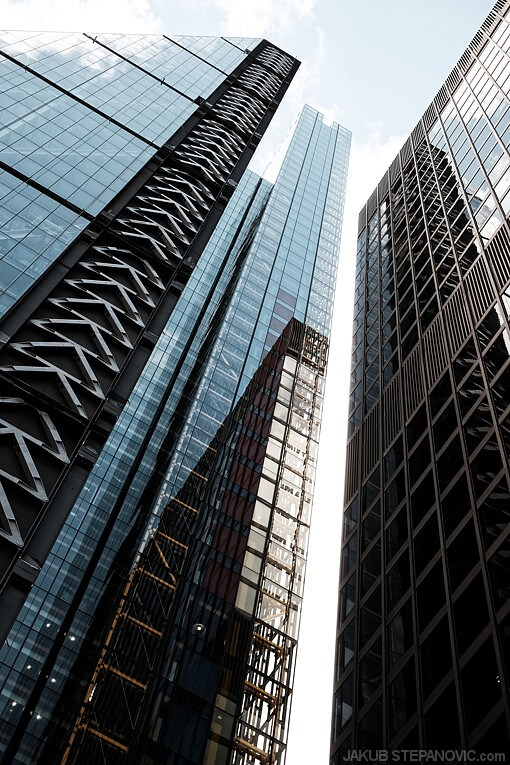 Within a minute of walking, you merge into a different world: like in those historic photographs from early 20th century, everyone wears a stylish suit. But the environment is nothing old-like with modern skyscrapers all over the place.
From many interesting high-rise buildings situated in the area I have to point out two that impress me the most: First, the 180 meters (591 ft) tall and highly recognizable "gherkin," the 30 St Mary Axe by Norman Robert Foster.
Since its completion in 2003, it helped to establish iconic skyline of modern London.
Hidden between its taller neighbors, the second building I want to mention is not as widely known as the previous one; however, it is even more unique and respectable in many ways.
The whole deal looks like a piece from petroleum refinery or a blast furnace, but instead of processing crude oil or smelting iron, it is the headquarters of an insurance market, the Lloyd's of London. The industrial design comes from a philosophy to put entire its innards out. Pipes with air conditioning, staircases, elevators… everything is exposed.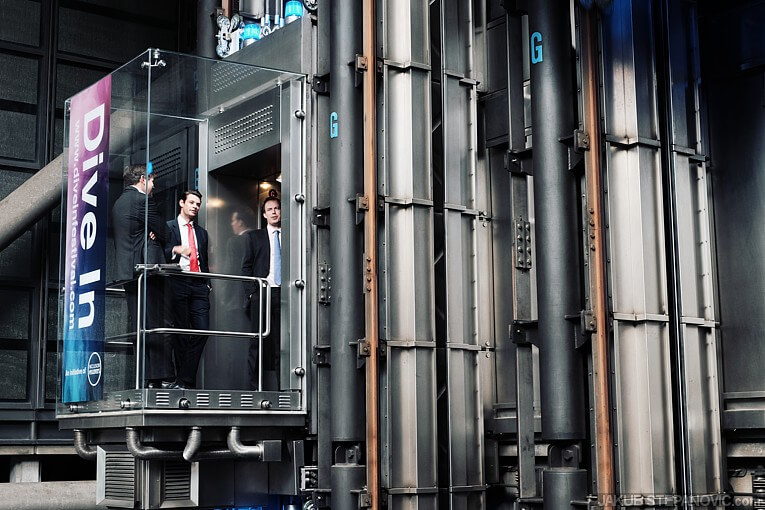 Looking at insane shapes of the result, one could assume that the tower was built yesterday - yet it was topped out in 1986. Thinking about it, there's no way this would realized nowadays due to the energy waste and the maintenance costs  – way off today's standards and regulations. Unfortunately, just like we can't take the mighty Concord to get across the pond anymore, there aren't many chances we will ever see a new building like this. It may not be the most practical structure ever put together, but I am glad that it exists. I will definitely come back with a wide angle lens to capture more of its details. (Edit: I've already done that, see the LW: The City II)
Like everywhere else in London, constructions are booming here as well. At a site where another edgy building is being erected, this caught my eye:
Going further, I got through some new passages..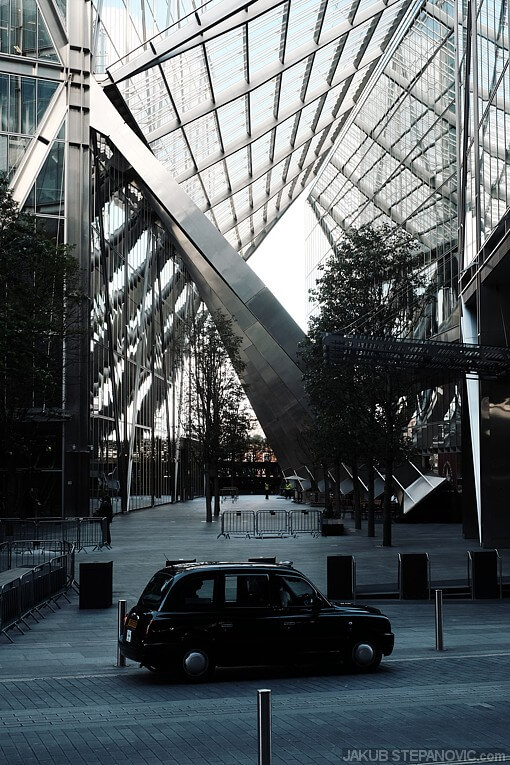 ...into an older one:
And after I captured some compositions that caught my eye...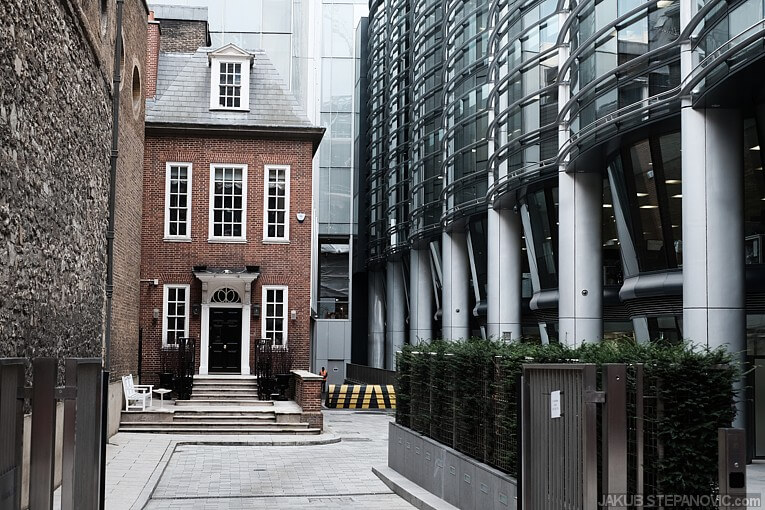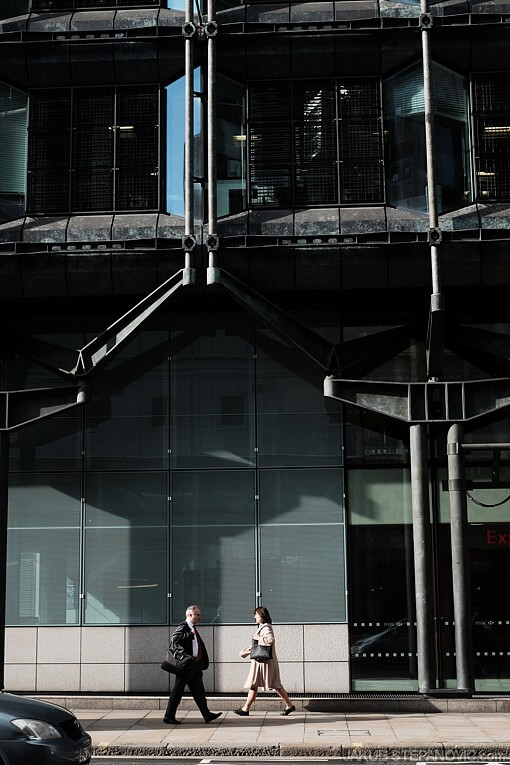 ...I reached another dominant: the St Paul's Cathedral.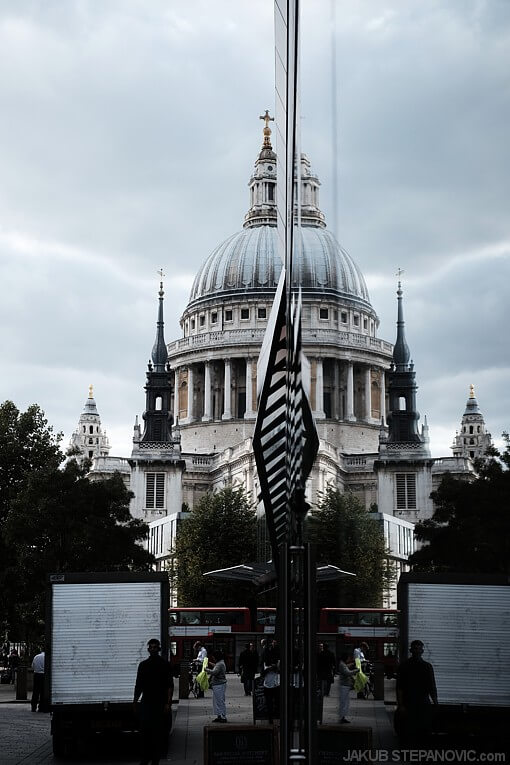 Since this majestic church was finished in 1710, it held status of the tallest (111m/365') building of London until 1962.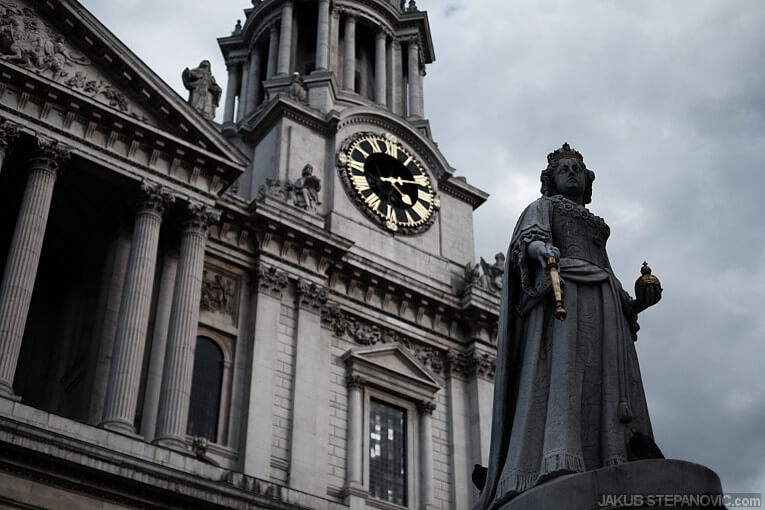 I love parks in England, and the one next to the cathedral is no exception.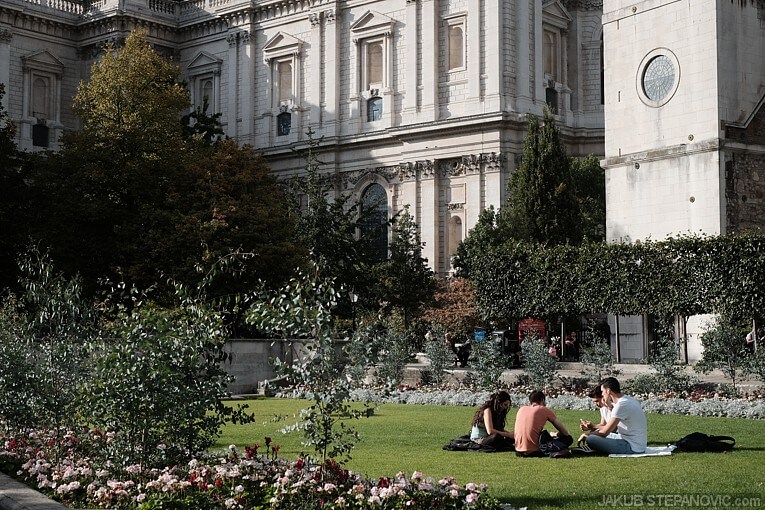 There is much more to explore in this area: medieval town hall, the London Stock Exchange, official residence of the Lord Mayor to name a few. But I left those for a next time.
This post is a part of the London Walks series.