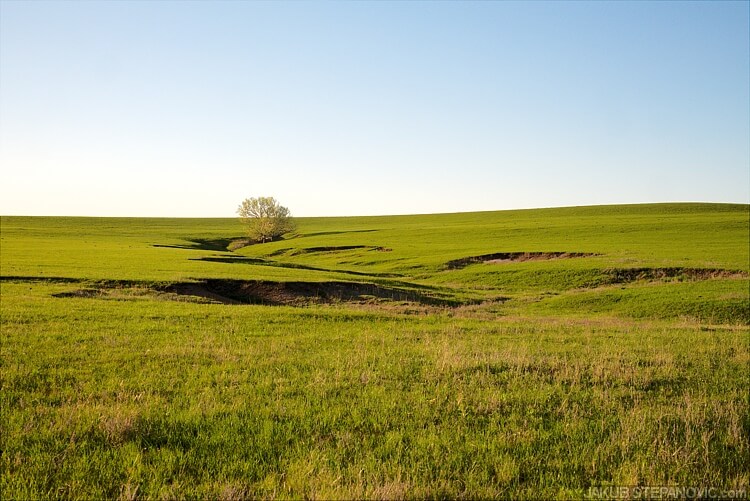 When I have some spare time, I am trying to explore the surroundings of the town I currently live in as much as I can. Last week, I visited three new spots.
While talking with a friend of mine about locations around Emporia, he asked: "Have you been to Plymouth?" "No, never even heard of that place." "Would you like to see it?" "Sure," I said. So, we went. Honestly, besides those who are from there or know someone who is, there is probably nobody who heard about Plymouth in Kansas. Established in 1858, it was a town until they dismissed the post office in 1930 and it is an unincorporated area now. There isn't much to see, but I had a guide with many related stories, so all was good.
Then we went further northwest to Kahola Lake.
The lake is in a beautiful and quiet environment; however, it is edged with many humongous houses, and everything enclosed is private land with omnipresent signage that you shouldn't get anywhere close.
Given that, we continued a bit more into the Flint Hills. After passing this remote barn...
...suddenly we reached a sweet spot with a nice view all around.

It would be a cool place to watch a sunset or maybe a thunderstorm. I may return there once.
---
A few days later, outside temperatures hit 85 degrees Fahrenheit, and I desired to swim outside. I decided to take a trip to Melvern Lake, another spot I haven't been to yet.
As soon as arrived, the wind started to blow Kansas fast. Right, but the air temperature was still enough, and so I jumped in. The (not-too-long-ago frozen) water could use some additional heat, though. But, already decided, I began my way on the other side.
I was the only person swimming there, but I encountered two boats. Each stopped, and both crews asked if I don't need help. On my way back, the wind was blowing against me, so I was happy when I got to the shore. Once I did, a stranger asked me, "What was that? Are you training for something?" I took it as a compliment, but I'd probably wait a bit to let the water warm up before taking the next round. Fun stuff.
Thanks for reading! If you liked this post, browse my Blog Archives for more.