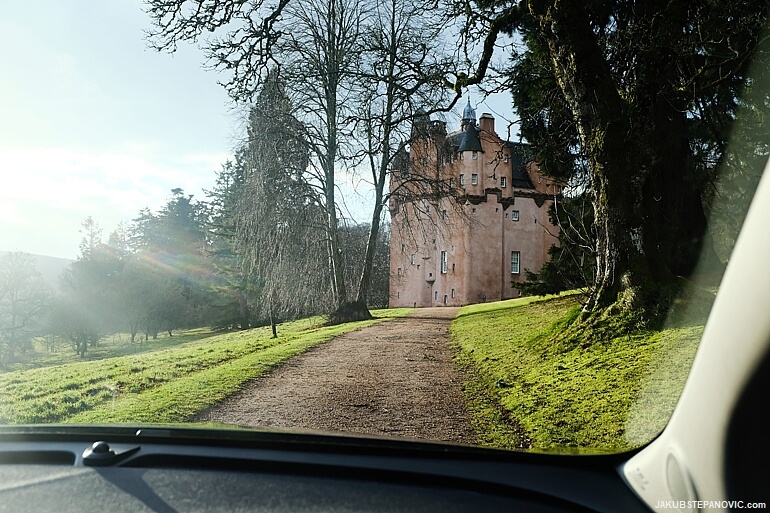 Making a loop around some of the magnificent old structures of northeast Scotland.
At the end of last year, a friend of mine came to visit, and since she likes castles, I made a quick itinerary to showcase a bit of what has this country to offer on that front. Just north of the Dundee was our first stop: Glamis Castle.
The castle has a long straight access road that goes through the surrounding gardens and reveals the tower in its most impressive form. The road had the same layout for centuries, and driving on it is an experience. We were able to see only the castle's exteriors and gardens, as most of the preserved castles in Scotland are closed in December. So, we continued north, as our second stop was in Braemar. To get there, I drove through the Cairnwell Pass, the highest public road in the UK. Up there, snow was everywhere.
This is the place where I went mountain biking earlier in the month. It was cool to see the same slope that I descended on a bike being used by skiers. The location tempted just to stay around and enjoy the snow. However, the sun was already behind the horizon, and there was still a castle waiting to be seen, we kept going to Braemar Castle:
While its interiors were also closed, the castle's genius loci was worth the stop. As the dusk fell, we took a walk in the local woods..
..before having a stroll in Ballater, where we ended the day after dinning in a local pub.
Right behind Ballater is Knock Castle, our first goal for the next morning. It is less known and more remote than the previous ones. High ground clearance for the win!
The Knock Castle was the first ruin of this trip, and as most of the ruins in Scotland, it is accessible all year round. Thus, we could view it from the inside, too.
Continuing with ruins, we went to Corse Castle next.
Above the entrance doors is still visibly engraved the year of 1581. It's always neat to see these marks surviving centuries.
As we set off to our next stop, the sun came from its cloudy cover, immediately saturating all the colors around the country road.
Just a few miles away, we parked by the Craigievar Castle.
It was constructed in 1626, and still stands preserved. It meant that the castle was closed, but as a result, there was nobody but us. Until a police unit drove by, checking it out as well. We started chatting, and one of the officers said that Walt Disney based designs of his fairytale castles on this one, after seeing a photo of it. One learns something new every day.
The fourth castle of the day was Kildrummy. The sun went back behind the clouds, but we were happy anyway, as we were to see one of the most extensive 13th-century castle ruins of east Scotland.
Below the castle are another large gardens, listed as a place of national significance. They are shut out of season as well; however, the castle itself was rewarding anyway. The centuries-old walls are impressive, and there are information signs at the site, so one can learn interesting facts about it first hand.
Continuing the trip, we saw a few unexpected ruins, such as this Church Of Old Auchindoir.
Following a narrow road through local rolling hills offered driving fun and pleasant views. At one point, horizon revealed Auchindoun Castle, the next stop of our journey:
Auchindoun Castle was one of those I was especially looking forward to seeing. It is an extensive ruin from the mid-15th century, which sits atop of a hill with pretty outlooks. And indeed, the place delivered.
Maintaining course up north, we joined some wider roads, which were busier, and not as fun to drive on. Our way led us through Speyside, one of the main locations of Scotch distilleries. There are loads of them! But as none of us is too keen on such, instead of entering in their visitor centres, we stopped by Craigellachie Bridge - one of the first arch bridges from cast iron, opened in 1814.
The bridge is very elegant, and with the towers at its entrances, it fitted well to our castle-themed trip. It is now open only to pedestrian and cycle traffic, as a new, wider (and uglier) bridge was made to carry the highway - so, it is possible to take time and enjoy the engineering that went into its construction.
While the day was approaching its sunset time, but we still had places in mind. The first was the Elgin Cathedral. Or, what's left of it. We were lucky, the sun pierced the clouds once again.
Not a castle, but a ruin that is definitely worth a visit. It was dedicated in 1224.
Looking at the state of the structure left me with an inner debate of values. The cathedral survived wars and fires, but then the reformation came, and it went into decay. The reasons for the reformation are hard to argue against, but the amount of buildings, arts, and crafts it destroyed "for greater good" is beyond belief. Scotland was as rich as France when it comes to the Gothic architecture, but look at what's left of Arbroath, Dundrennan, Dunkeld, Holyrood, St Andrews... oh well.
Moving on, the sun was gone. Yet, there was one more thing we wanted to see before the night fell:
Bow Fiddle Rock arch at the coastline - the only non-man-made point of interest of this trip.
Sitting here, listening to the waves crushing the shore, and having this view, well, that's not a bad way to end a day. However, since Scottish sunset times in December are rather early, it was just four in the afternoon. That said, before heading to bed, we took a stroll around a nearby town of Cullen, where we met friendly people, saw a viaduct and a nice harbor, and had a bowl of class fish soup.
The next morning was cold, but good breakfast made things better. The local coastline would deserve more time, but since ours was limited, we kept to the plan. There was another ruin waiting for us going east, Slains Castle.
This humongous estate has roots in the 16th century, and most of it is from the 19th, when it was a mansion of the 18th Earl of Erroll. It overlooks dramatic cliffs to the Northern Sea.
Nowadays, it is a maze of weathered masonry walls and a very few remaining wooden bits.
Old hallways are slowly taken over by sand and soil blown in by strong winds that whistle through. It is atmospheric beyond words, and we had it all for ourselves.
It must have been atmospheric even when it was in its full glory, as Bram Stoker took inspiration here for his horror novel Dracula. Speaking of vampires and stuff, in one of the castle's rooms was a witch. No kidding.
After some time of exploring, we went back south, and making the last stop by the Dunnottar Castle, a classic of the east coast.
The last time I was here was during summer, now the place looked very different. Less welcoming but more mythological.
And besides the ruins, we saw dolphins down in the bay.
And that was it. 353 miles, nine castles and a few other landmarks in a little over two days.
---
If you enjoyed this article, you might also my posts featuring other:
Alternatively, visit my Blog Archives for more topics and categories. Thanks for reading!