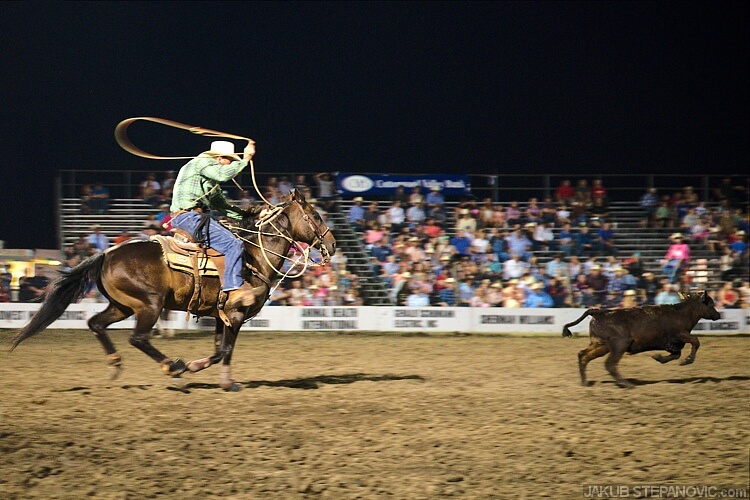 Strong City hosted the 78th annual Flint Hills Rodeo last weekend, the oldest consecutive rodeo in Kansas. Unexpectedly, it was one of those events where I smiled all the way through.
Even though I am trying to get the most of every event I shoot, the rodeos I covered before this one were smaller and not as exciting. As someone who grew up in Europe, I couldn't really relate to them. Moreover, the first contact I had with so-called cowboys was when I went to college in Kansas southwest, where many guys wore big leather boots, blue jeans with shiny belts, unbuttoned shirts, and hats, just to be cool. Add tobacco chewing and a big truck, and apparently, you get the ultimate coolness. I saw it as utter nonsense.
I had to move to a different part of the country to met the "real cowboys," ranchers who actually ride horses, whether to herd cattle, move around the pastures, or to chase steers, as a part of their everyday life. And each of those I met was a friendly, polite, and hard-working individual. Great people to spend some time with.
Suddenly, rodeo became more appealing too, although some parts of it still leave me cold. I think it is more fun to watch than some of America's most popular sports (sorry, baseball fans.) So, when I got assigned this event, I looked forward to capturing it.
When I arrived, I walked around, took pictures, and talked with people; it was enough to make me smile. It was interesting to compare rodeos to mainstream sports matches. Say, on a football match, one can see an enormous variety of visitors regarding their beliefs, clothing, behavior, etc. On the other hand, people at the rodeo seem to be united in these ways. Yet, everybody has a different story to tell.
The event started with recognizing military members, talking about the importance of fighting cancer (that's the reason behind those pink shirts), and sponsors' announcement. Then, the singer started to perform the National Anthem, and the whole stadium joined in singing along, and everybody acted as it matters. Regardless of my stand towards nationalistic thinking, it was an intense moment.
Then, the event kicked off with bareback riding, followed by bulldogging, calf roping, barrel racing, and bull riding. Spectators cheered on all of them, creating a friendly atmosphere.
They also had a few children's competitions, such as riding a sheep. A number of the involved got a taste of the dirt.
Meanwhile, the speakers aired one redneck joke after another, and the crowd laughed. They also included a performance of a rodeo clown, who danced with a horse.
I met some old friends there but also created a few new ones. Everyone I started to talk had a positive attitude. Many people shared some basic thing that brings them joy, like good coworkers at work, a book they are reading, their family, friends, current weather, and so on. It was refreshing, as at another event I covered earlier that day, I run into a person who started the conversation with something like: "So, I purchased iPhone 5, and just two weeks later, these bastards announced iPhone 6. I feel cheated!"
After the rodeo, there were dances with live music.
After taking a few pics for the paper, I joined and danced a bit — something I haven't done for five years or so. I attended many concerts in that time; however, they were within metal or electronic genres, where dance equals jumping all over the place like mad. The country dance is a tad more serious, so I tried to quickly recall some long-time forgotten waltz or foxtrot moves while attempted to adapt to the "two-step" or whatever it's called. I bet it looked hilarious, but I had a good time. Not sure if the girls I danced with felt the same, but anyway. Maybe I will try to learn all that stuff one day, but I think I will stick with moshing under a stage for now.
So, yes, the community aspect of the event was more exciting than the actual rodeo. It was a good evening.
---
If you enjoyed this post, check out my other articles about Kansas, or all of the USA. You can also visit my blog archives for more categories and topics. Thanks for reading!