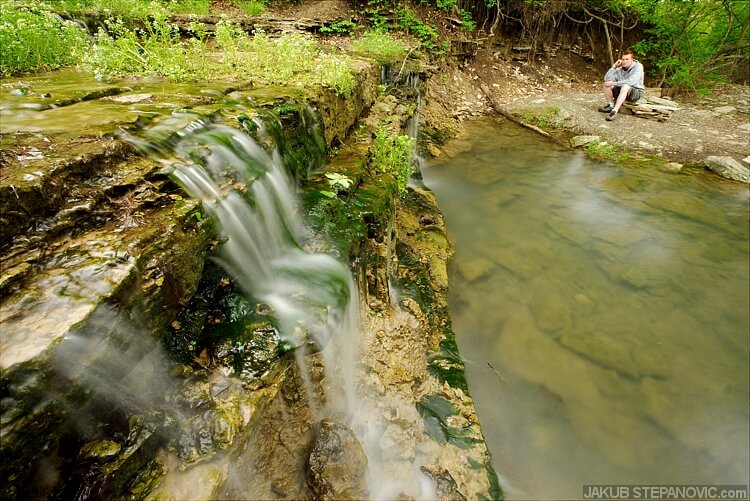 Chase County State Lake, just west of Cottonwood Falls, became one of my favorite places in Kansas. I visited it a couple of times, but I never thought that there should be any waterfalls. Well, there are some.
I went there twice during the last fall and to "celebrate" the final day of 2014, while the lake was either dry or frozen. I saw an overgrown riverbed coming out of the lake with a spot straight down, but there was no presence of any water, anything which would hint actual waterfall. Later, my friend showed me a video he took last summer proving that they exist, so my plan was to wait for some rain and explore how things are.
Since we had a couple of storms last week and I had no assignments on Friday afternoon, I grabbed a camera and went to look for them.
On the first look, the amount of water looked the same as the last time.
But then..
Yeah, they are quite small, I know. Compared to some other falls I saw, such as those in the Rocky Mountains and Yosemite, these here are far away from being impressive. Heck, in the place I used to live in Europe, I could jump on a bike and shortly encounter scenes like this:
But living three years in a place like Kansas teaches you to appreciate much smaller natural wonders, so when I found this place, I was pretty excited. That is an inspiring thing about travelling – one would say that all those incredible places would spoil a person to a level when nothing is good anymore. However, from my experience, it is rather the opposite: the more I see, the more I can appreciate the value of things that many see as ordinary.
On my way back, I took a walk through the surrounding hills and snapped more photos.
If you liked this article, you might also like my other posts. Thanks for reading!