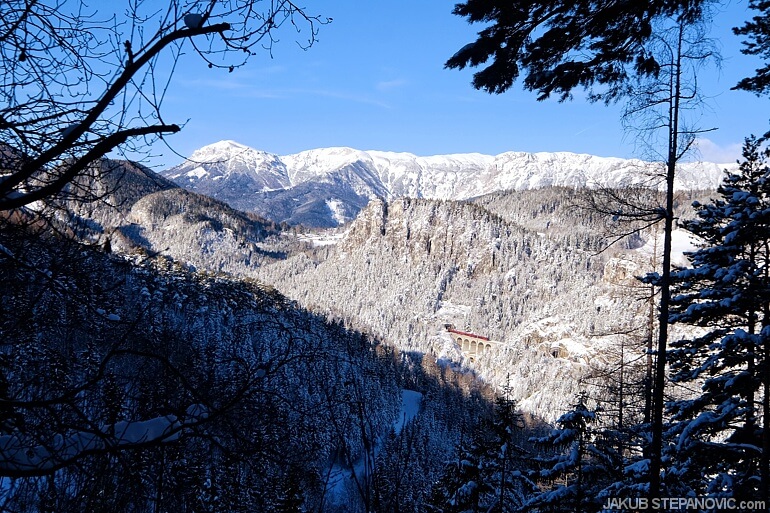 At the turn of the year, I had an opportunity to see my relatives and Semmering, a famous mountain pass in Austria. A win-win.
The night before heading on this trip, the weather forecast reported a massive snowfall for the Northern Limestone Alps. Nevertheless, the sky the next morning was as clean as a whistle. We left morning Vienna in a direction towards the mountains, and after a couple of snowless miles, it was clear that the forecast stated the truth. Good!
Gaining the elevation rapidly changed the environment around the road, and the road itself as well. The pass welcomed us with good 40cm (~15in) of fresh powder.
There we parked and set off to wade through the snow towards some brilliant views.
Shortly we arrived at a spot offering a spectacular overlook on the white wonderland and a local feature that made the place famous: the Semmering railway.
Given the difficult terrain, get the track through the pass required to pierce the mountains by 14 tunnels and connect numerous gorges and valleys with many bridges, some of which are pretty impressive viaducts.
Nowadays, the railway is listed as a UNESCO World Heritage Site. Well, and we went on a hike to check it out.
Progressing through the woods was fun...
...and so was taking a closer look at the viaducts.
After exploring the engineered landmarks and learning bits about local history, we descended to the town of Breitenstein.
Later on we returned to the woods to climb back to the pass..
...which rewarded us with a great view once again.
At that time, the sun went behind the horizon, and we began our way back home.
---
If you enjoyed the landscapes above, you might like my other posts about mountains. You can also visit my Blog Archives for more categories and topics. Thanks for reading!