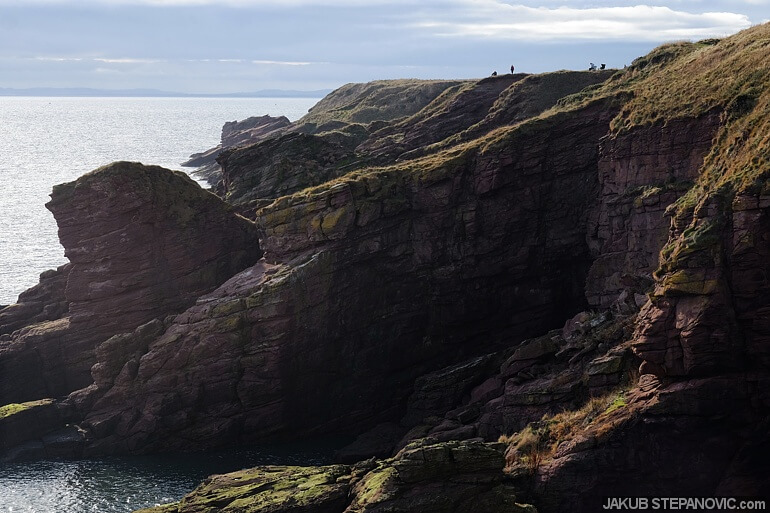 There's something strangely satisfying in discovering some environment where I've never been before. It is a combination of relaxation and excitement that submerges the whole brain, leaving miserable thoughts out. Every once in a while, I need this to keep me sane – so I went to explore Arbroath last week.
It's a location I have been eyeballing for some time, as it is close to Dundee and has both neat rural and urban landscapes. Finally, one evening I decided not to bother about some fancy plan or what kind of weather there would be and just purchased a train ticket for the following day. The train ride was nice and quick, leaving me at Arbroath station to commence my trip. The first point of interest I opted to see was the Signal Tower Museum.
Arriving early, the museum was closed. But it was all right, since the sunrise suddenly brightened already pretty surroundings.
After strolling around the seashore, I proceeded towards the city centre via Keptie Park.
At its entrance, I saw an interesting structure that I hadn't expected, so went to check it out.
It turned out to be a water tower built in 1885. Originally it was supposed to be just an ordinary tank, but the landowner suggested that due to its prominent location, it "shall be of an ornate character," thus the castle-like appearance.
The last two stops were the highlights of the trip. First, I went to see the impressive remains of an early Gothic abbey, consecrated in 1197. While the days of the abbey's original fame are long gone (its services stopped in the 16th century), it still has a brilliant genius loci.
Once I browsed the visitor centre with captivating bits about the site's history, I went to see the few abbey rooms that survived till nowadays. One of them is the sacristy, a relatively small space with pronounced acoustic. I sat down to observe the elegant details when a set of ravens outside started to caw — atmospheric, it was.
The abbey played an important role not only in religious matters but in politics as well. It was here where the Declaration of Arbroath was put together in 1320, proclaiming Scottish independence. "..we fight not for glory, nor riches, nor honours, but for freedom alone.." Learning about this would be pretty sweet itself; but moreover, according to the US Senate Resolution from 1997, the American Declaration of Independence was modelled on the Declaration of Arbroath. How cool is that..!
There was one thing that annoyed me, though. I would love to capture some of the great compositions the site offers with a wide-angle lens; the problem was that I didn't have it. Not because I'd forget it at home, but because I sent it for a repair – a week short of four months (!!) ago, and I still don't have it back. Really, more than a quarter of a year, and I am unable to get any info about the progress from them. So instead of making shots on my camera, I used my phone every time I wanted to do a wide-angle pic.
But that wasn't as fun as when I use a regular camera, so rather than on overall space, I focused on details. The good thing is, there are plenty of those.
The rest of the day I spent on the red sandstone cliffs north of the city.
There's a path atop the cliffs with great views every feet you progress.
At this point, the sun hid behind a layer of cloud, and I turned around back to Arbroath.
Meanwhile, the evening started to produce a rapidly changing game of lights.
The sun was already out of sight when I arrived back to the city..
..and I was close to calling this trip over. However, there was one last thing to do: a friend told me that Arbroath has "the best fish and chips you can get," so I added this to my plan – it was supper time anyway. Sure enough, I enjoyed the meal and went to catch the train.
---
If you liked this article, you might also like other Scotland-based stories, or other UK's gems:
Alternatively, visit my Blog Archives for more categories and topics. Thanks for reading!