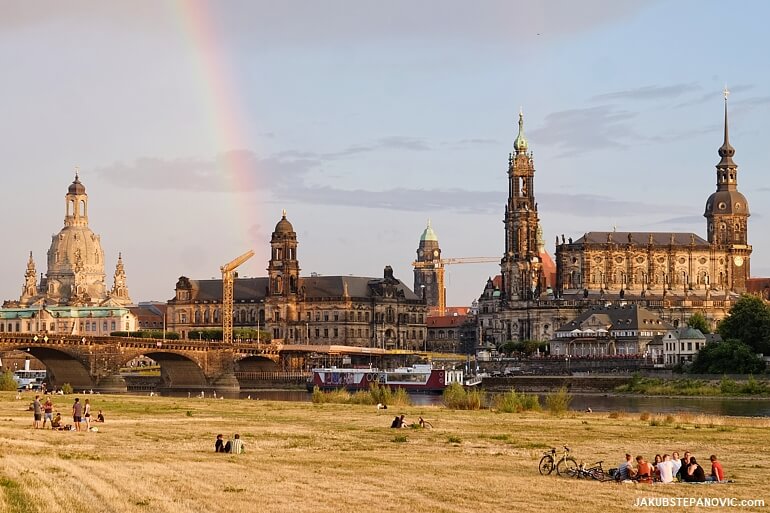 Last two weeks I lived in the capital city of Saxony, Germany, and.. what a life it was!
It was an opportunity to make art inside a city I haven't been before, which would be a win-win itself; but since the local people were an absolute treat to interact with, and the city's outgoing culture was so vivid that many bigger cities could learn from it, all my expectations were surpassed.
So. Dresden is a home of over a half-million, and is the twelfth largest city of Germany.
Through its centre flows the river Elbe, which opens plenty of scenic views.
The city has a neat collection of buildings from baroque and rococo times, but the city center is also heavily dotted by new developments. This gives a hint of the pure hell which happened here during the WW2. However, it is not as obvious while walking through, which is quite impressive. It is mostly due to locals' attitude, who instead of sticking wartime images all over the place (like some other cities do), rebuilt what they could and established many academic, cultural, and business centers, to spark new life into the neighborhood.
---
The city is entirely flat:
Such a disposition is convenient for bike commuting, and sure enough, locals make proper use of it. The infrastructure is fully adjusted to this, disponing with numerous bike lanes and such. It was one of the first things I noticed when I arrived, how bike-friendly the city is. Very cool, bikers everywhere. Besides the Netherlands, Dresden is definitely among the most bike oriented places in Europe I've seen. It ended playing a crucial role in the artworks I made here, but let's not skip ahead.
---
The flatness also contributes to the fact that there can be seen some spectacular sunsets.
---
Once the sunshine is gone, another essential aspect of the city emerges: its nightlife. The centre of it is so-called Assi-Eck, which translates into something like "an asocial corner."
No matter if it's 10pm or 3am, Saturday or Wednesday, it is always full of people having a good time. Only if every city would be this "asocial"...
Just a block away was happening the Schaubuden Festival, also attracting good crowds.
The festival had many theatre plays, comedies, and music performances.
The music itself forms a significant portion of the nightlife, as musicians occupy many streets. It is fun to walk around.
The city supports this approach; there were many organized events across the downtown. Probably the most popular was the summer festival in a park ahead of the Japanisches Palais. They had workshops, concerts, poetry nights, etc., happening every day - all of which was accessible free of charge. Sweet!
Just a bit further upstream was another open-air stage, where they screened movies, or put up concerts.
All was fun, but for me, the most memorable musical moment was getting a taste of the local electronic scene. Inside an old factory, massive rumbling vibrated anything that was not bolted in, and it was just so easy to get lost in these detuned rhythms. Before you knew, it was morning. So it happened, I also witnessed a few sunrises.
---
It is not only about the nights tho, the habit of staying out works during the daylight exactly the same, which is just as grand. In every park, people played frisbee, badminton, football.. or just had a picnic and socialized.
---
Another nice feature of the city is that once you are away from the river, there's a good number of fountains to decorate the place, but also cool down and freshen the air. It felt good, as the temperatures were boiling. My watch would ring with heat warnings every day. Something that never happens in Scotland.. Anyway, fountains:
---
My days consisted of some 8 hours in a studio, then heading out to see the city.
---
After seeing the downtown arches, I went to see some industrial points of interest. Dresden is by no means an industrial city, but you can find some unique and pretty structures.
---
Here are some unsorted frames that caught my eye.
---
That's for the what-I-saw part. As of what I created...
yep, the local cycling scene was inspiring. It's all made out of bike tires.
On the end note, I really enjoyed the very interesting discussions I had with locals. Whether it was about the positive highlights of the country, or the issues it faces. Immigration, nationalism, and complicated history... Topics that often spark beefy debates across the planet these days; unfortunately, most of the times without arguments supporting more than one point of view. Here; however, having an insight from people who actually see it first-hand, was refreshing and eye-opening. Last but not least, the food here was better and surprisingly cheaper than in the UK. Good times, indeed.
---
Follow me on Instagram, Facebook, and Twitter for the upcoming posts. Thanks for reading!