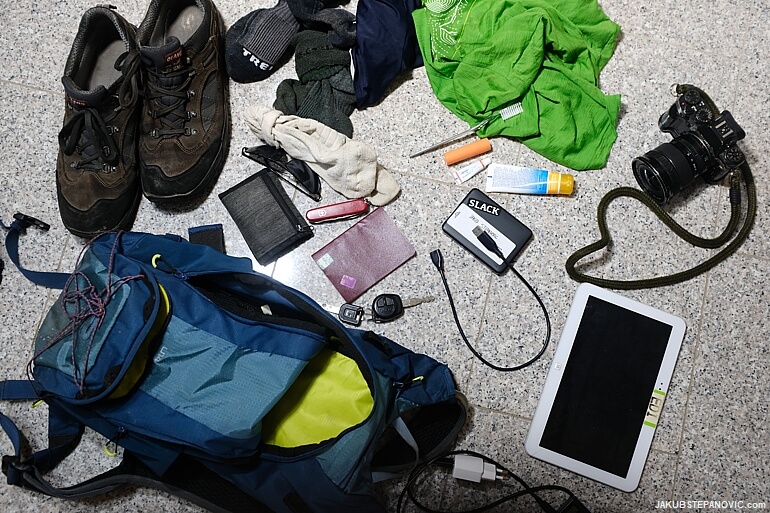 What to bring on vacation while sticking to the "carry less, worry less" motto. 
Pack lightly — something which can be easier to say than to do, but I had a chance to put it through a test this summer: I spent two months on a trip across Europe and China. On average, I changed the place where I slept every two days. In between, I used trains, buses, and I had 14 flights through 10 airports. It was my most extensive traveling experience so far, and I did all that with a carry-on backpack only. I didn't miss a thing.
People asked me how to pack and what to bring in the past, and as I am unpacking the backpack from the trip now, I thought this would be a perfect time to talk about it. I will cover which luggage I had, what I brought with me, and how I fitted it. Hopefully, you can use some of it for yourself. Here we go:
---the backpack---
The key is to have one piece of luggage, not two or more. It is far easier to carry around, and you don't need to keep an eye on multiple things, just one. It saves you loads of hassle. Smaller is better, but you also want to be able to take all the essentials. On the trip, I had a backpack sized 25x30x46 cm (10x12x18 in). Here it is, fully loaded.
Backpacks are the way to go, as you can walk hands-free. This is great when going through uneven surfaces or narrow spaces, whether it is while entering public transportation, getting up the stairs in your accommodation, or venturing into the wilderness. Compared with suitcases, backpacks are also more comfortable as a pillow when you sleep on a train or so, and the straps make lifting them into those overhead storages a piece of cake.
Selecting a backpack that suits you is crucial. Nowadays, thankfully, plenty of companies make durable, lightweight models in many sizes. I prefer to have a smaller backpack and deal with it on a modular basis, so as you can see in the picture, I strapped my jacket, shoes, the water bottle, and some other stuff from the outside. It might not be as sleek, but it gives you fast access to things you might need on the go, without the bulk of a bigger backpack. A similar setup proved itself numerous times.
Here's how it looked during my trip to Italy in 2016: Different jacket, same backpack. That time also with a solar panel strapped on it, charging my stuff while walking around.
A great feature is a built-in rain cover that is a bit bigger than the backpack itself to take the strapped stuff too. Here it's during a storm near Kunming. Note the shoes underneath the cover.
But perhaps more important for your trip is what you have inside the backpack. This brings us to...
---the stuff to take---
Clearly, packing depends on your destination, the time of the year, and what do you want to do there. However, my trip was rather complex: I swam in the sea as well as reached heights of over 4400m / 14440ft above it. The temperatures were anywhere between 10c (50f) to 40c (104f), and I did hikes and went to theaters in a big city. If I made all that work with just a carry-on, surely, you can make it too.
It is convenient to have a list of things you want to take before starting packing. Here's what I had; feel free to add/remove items as you please. Starting with clothing:
Hiking shoes
Sandals
4x underwear and 6 pairs of socks — All made from polymer, so you can wash them on the go, and they'll dry quickly.
2x t-shirt, 3x shirts. But during the trip, I received a t-shirt and one shirt as a gift. So I ended with a total of 7. The key here is to have various materials, not multiple colors. Some of these were from cotton; others were made of synthetic fibers, great for scorching days. I had one woolen t-shirt, which is warm as a hoodie but takes no space.
Trousers
Shorts
Swimsuit
Raincoat
Jacket
Head/neckwear
Laundry bag
Now the other, more fun items:
Passport
Wallet
Phone
Camera + two memory cards
Keys
Headphones. If you can, get noise-canceling ones
Laptop
Watch
Portable charger
Cables to charge everything, a plug converter
Towel, also from polymer
Toiletries (toothbrush, paste, razor, nail file, cotton swabs, tissues)
Skincare (sunscreen, lip balm)
Sunglasses
Earplugs
Padlock
Steel wire, rope, straps, clips, and carabiners. These are handy to attach stuff to the backpack and to fix issues. For example, I lost four kilos (~9 lbs) during the trip, and as I didn't have a belt, so I used the rope. Padlock and the steel wire are handy to secure your stuff on a busy bus journey or while sleeping rough.
Desks with a notebook, pen, paperwork, and foreign currency.
A water bottle, snacks. Mints are a lifesaver in areas with heavy air pollution.
…I still had some extra space for souvenirs, like that Chinese fan and a package of local sweets. That said, it is good to leave a bit of empty space when you pack.
Ideally, you can get a clear idea of what you want to take. Practice makes perfect, but it is not rocket science. If I'd go only to the mountains, I'd replace those shirts with rainproof trousers and more thermal layers. If I'd go only to the city, I might take different shoes and a jacket. If I'd go in the winter, the shorts and sandals would go to make room for a sweater and warmer socks. A different situation is when you want to skip hotels and sleep outside for most of your trip — for that, you'll be better with a sleeping bag and some pad, which take more space. But even then, it is possible to fit under 10 kilos (22lbs). When your list is ready, it takes no time to pack. Speaking of which...
---how to pack it---
The best way to stuff clothes is to roll them. It is fast, and it keeps the luggage tidy. In my opinion, it is far more efficient than to fold them. When you don't have a boatload of stuff, you don't need to think about organizing things much. Just fit it in, and in you will be able to find anything in that small backpack with ease.
There you have it. No need to carry items that you don't end up using. Good luck!
---
If you enjoyed this post, you might also like my other how-to articles about traveling, like:
Alternatively, visit my Blog Archives for more categories and topics. And as for the journey I just returned from, I'll write some stories about that later. Stay tuned; thanks for reading!