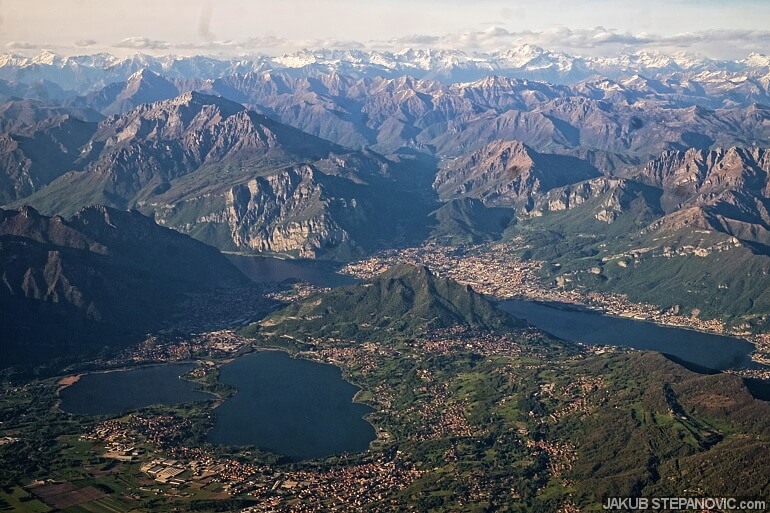 Series of unforeseen experiences within a long weekend filled with great people and locations.
About five weeks ago, a friend told me that he'd be attending a slackline meeting in Milan, Italy, later in April. I checked my calendar to find that I've time on those dates and looked up flights. They were dirt cheap, so I made a booking the following minute. It looked brilliant: meeting my friends, making new ones, and walking on tightropes in lovely Italy. However, literally a day later, I broke my knee.
Right. But it wouldn't be me to let some injury to take away all the fun from me. I didn't cancel the booking, and about a month later, I was on my way to the airport. I arrived in time, and because of the broken knee, they put me in the priority lane. Sure, it took some 15 minutes before they finished checking whether my knee brace contains a machine gun or not, but I didn't have to stand in any queue, which counts!
When I got to the gate, loads of passengers waited to board, so I just sat down and let them go first. No rush, I put my feet up and relaxed. This carried all the way to Italy, as when I got into the plane, they let me have a whole row of seats for myself. Now, that's what they did during a tad awkward flight I had two weeks ago; however, this time, they didn't insist on keeping all armrests down and my leg crammed under a seat.
Milan is just south of the Alps, and since the sky was clear, I had some sweet views on my way. Coming from London, a city just 35m (115ft) above sea level, one can easily forget that it's still skiing season at some places.
When I landed at Bergamo airport, I met with my friends from Czechia, and together we entered Milan.
Once in the city, we went to see the slackline meeting organizer, who greeted us with a tasty supper and was kind to let us stay at his place. What a nice guy! It was already evening when we got into Milan, so the only other thing we did was a trip to a supermarket. It had a tremendous selection of pasta, cheese, bread, and wine. Basically, that was all we needed.
The following two days we spent in the Parco di Trenno, where the meeting took place.
In the park, we helped to set up some lines for the festival..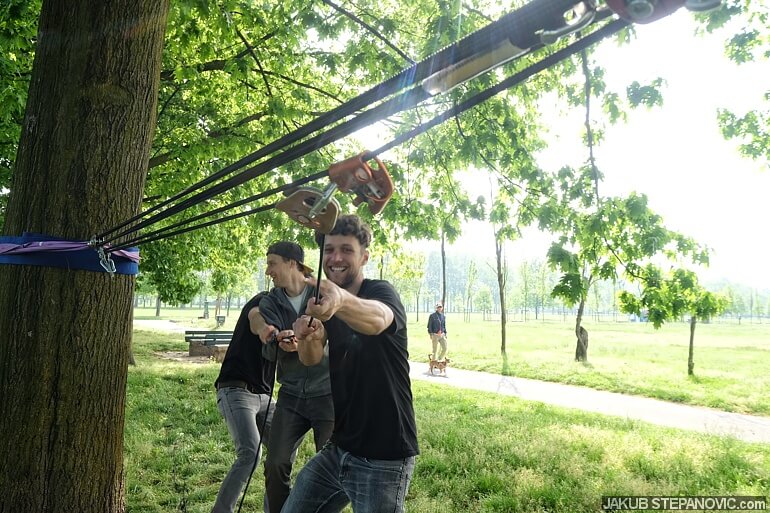 ...and once the lines were rigged and tested..
..the place was ready to welcome the slackline community.
In a short time, the park was full of people enjoying the meeting.
Chatting with the community was cool, but it was hard to just sit there watching all the folks around having a blast tightrope walking.
Since I also paid the registration fee, I thought that I might as well make the most of it. I tighten the knee brace, and carefully I step on a beginners' line. It was under 10 meters / yards long, and only some 2 feet above the ground, but keeping the balance without being able to use one knee proved challenging. Still I ended up crossing it. Moreover, I managed a few turnarounds at its end and got to sit on some longer lines, too.
It turned out I wasn't the only disabled member attending the meeting; another person had a couple of broken ribs from a climbing accident. She told me that there's a hot air balloon festival in Monza, a city north of Milan. I've never been to such a gathering, and my friends who have attended a similar event in Albuquerque said only good things about it. The idea of a balloon ride with views of the majestic mountains on one side and a metropolitan area of over eight million people on the other, I decided to join her and her friend for a trip there tomorrow.
A major part of the meeting was a trickline competition, where those for who just walking isn't exciting enough perform various craziness like jumps and such on a 2-inch wide, 20m or-so long strap. Great stuff to watch!
After the finals, there was another trick competition, but on thinner and much longer lines.
It was even a better show than the earlier one.
As the competitions ended, we had a picnic and joined an evening program nearby.
It included a concert and screening of some slackline movies later. Meanwhile, a massive storm came by, so we had to wait for it to weaken a bit. No worries, though; there was, umm, more culture to be enjoyed.
After the storm, we went to a campsite 15-20 minutes away from the festival by car, just outside Milan's city limits, where we built a tent and had fun until late hours.
Since the tent my friends brought was for three persons only and I didn't have my own, I slept on a bench outside, right next to a fireplace. It was all right.
The next morning I needed to get back to the city, where I was to meet my new friends at a train station before going to Monza together. I planned to catch a bus but thought to try to hitchhike first; I got a car in less than a minute. The driver didn't speak English, but when I said " Parco di Trenno," he nodded in agreement. "Yey!" I thought and got in. Just a few minutes later, he pointed to a restaurant next to the road and said a sentence that included "coffee." I had some concerns about whether I'd be able to reach the station in time, but on the other hand.. "Sure thing.. I mean.. Si!" I said as I had to agree that his plan on how to start a day was pretty good. So we stopped for a delicious coffee and a croissant.
In the park, people just started with acro yoga workshops.
I told them many grazie for their friendliness and began my walk toward the tube. There, I realized that I'm actually a few minutes ahead of schedule, so I went to see the San Siro stadium, a football temple built in 1926, with a capacity exceeding 80,000 people. What an amazing structure!

In a bit, I entered the tube, and soon I met my new friends and boarded a train to Monza.
The city welcomed us with lovely weather, people, and buildings.
..But there were no balloons in the air. In the park where the event should be, we found out that it's cancelled due to the high winds.
Oh well. We enjoyed the day regardless.
Once back in Milan, we strolled through the business district Porta Nuova.
Just as the day before, big storm clouds arrived. But it didn't rain this time; instead, it made a neat background to the buildings around.
Good times persisted when we had dinner later. That night I spent in a former monastery in downtown, where I planned to take a walk the next morning before my flight back home. And that's what I did.
The time went rather quickly, and soon I had to depart for the airport. On the way there, I was lucky to meet another friendly person to chat with, so it seemed like no time and I was boarding a plane.
What a weekend. Trips like this remind me how beautiful the world is, and that injuries won't change that.
---
If you liked this post, you might enjoy my previous articles about slacklines.  And if you know someone who might enjoy this as well, consider sharing. Thanks for reading.