The first part of my recent journey to AR, through injuries and damage as well as a variety of cool scenery, set both in nature and the urban environment. Fun!
I spent most of my vacations of the last three years exploring big American cities, but recently, I started to miss some wilderness again. As I had never been to Arkansas, I opted to go there next. The plan looked like this:
But the start wasn't smooth: the work during the weekend before the vacation was super busy, and I finished editing my photos at 7 a.m. on Monday. Uff! After a necessary nap till noon, I left Kansas to hit my first point of interest on my road trip to Arkansas: the city of Tulsa in Oklahoma. But before getting there, I made three other stops: once for gas, second to check out this cool iron bridge just after crossing the state border.
The third and last stop before Tulsa was Bartlesville. I didn't know anything about it before the trip, but after seeing the downtown with this pretty smokestack, I had to take a short walk to see it closer.
Besides these stops, I couldn't but notice an increased number of trees and oil wells, and declining roads condition. The pavement in northeast Oklahoma is in a much worse state than in the western and southern parts of the state that I saw. Seriously, it feels like driving off-road at places.
Once in Tulsa, I took a walk across the business district.
Walking through new areas and looking for exciting angles is like therapy for me. So good!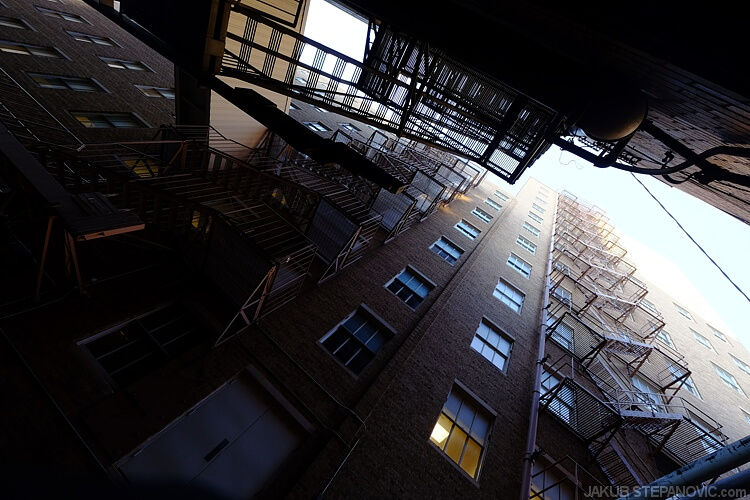 I noted some interesting architecture, the streets were clean, and there weren't many closed places. But I was surprised that, other than the Tulsa Shock Basketball team shooting a commercial under Mid-Continent Tower, there was literally nobody around.
I know it was Monday evening, but I was still expecting more people. Brady Arts and Peoria districts were slightly better, but not nearly as vibrant as some other bigger cities around, such as Wichita, Oklahoma City, Kansas City, and even Amarillo.


While exploring the downtown area, I got some hay fever-like allergic reaction. I haven't got anything like this in ages: my eyes were watering, and I sneezed like hell. I guess long-term lack of sleep took its toll. Given that, I didn't feel a need to get on top of some of those high-rise buildings to see the city's skyline from above. It felt weird, as that's something I've included in all my trips to larger cities over the past years.
The following morning, I visited an industrial park just southwest of downtown, an area with many oil refineries. Unfortunately, they don't have any tourists' parking to let us admire the beauty of all those structures. So, I just got this quick shot of two tall smokestacks coming from Walter B. Hall energy-from-waste facility.
My next stop was a bridge on the old Route 66.
I hoped to take a walk on and around it; however, the site was under construction, so the visitors couldn't see anything besides the large sculpture celebrating the car industry, and a few individuals living under the bridge. That is where I took the following shots.
My last urban destination before going east towards forests and waterfalls was Oral Roberts University, a Christian campus built in the '60s with futuristic architecture.


In its center is the Prayer Tower with an observation deck.
I got there around 11 a.m., but the official hours for the public start at noon. I tried the door handle anyway, and it was unlocked. Inside, I met a student who let me go up. Lesson "Never give up before even trying" enforced.
Prior to entering Arkansas, I visited Natural Falls State Park.
As most of my experiences with Oklahoma are from its western tip, this is a different world. Green, wet, and uneven. If somebody would tell me that this is in Oklahoma two years ago, I'd be in doubt. Well, it is. The park is easily accessible, with nice short trails to hike.
Then I crossed the state line, and as the pavement got better again, I drove through the northwest tip of the Ozark National Forest to spend the night in Fayetteville, the home of the University of Arkansas. First contact with the hills, yey!
I entered the wilderness by the Pig Trail Scenic Byway. Oh, such a nice change after miles of straight roads so typical for flatter states.
Soon, my GPS indicated that I am approaching the first Arkansas' falls on my list. However, there was no visible sign for the trail or anything. Finally, I parked at a small parking lot dedicated to some other trail going elsewhere. This pattern will be visible more or less all over the state; many spectacular sites have no sign and/or marked trailhead at all.
This was very different compared to Oklahoma's Natural Falls State Park, where everything was marked almost too much. Over there, a sign saying something like "warning, very steep grade, enter only in good physical condition and with appropriate equipment" marked an 80 ft long passage with stairs and railings throughout all of its length. Here was just one sign with something like "You are on your own, don't be stupid." Anyway, the trail I entered was beautiful, with no traffic at all.
Soon I reached a vehicle wreck sporting bullet holes in the trunk cover.
It triggered vivid imagination of what sort of story it could tell, but probably someone just went out of the road, and it was cheaper to leave the car down there than to pull it out.
Parts of the trail disappeared completely, others offered diversions such as crossing rivers via fallen trees and so on. It felt great!
I enjoyed the path very much, as it offered something I haven't done in a long time: hiking in a deep mixed forest.
Woods similar to this are not uncommon in Europe's inland; however, this is the first time I was in such a place here in America. All the forests I've seen in New Mexico, Colorado, Utah, and California had tons of pines and some aspens, but not this variety, nor this density.
After a bit of walking, I reached Murray Falls,
and Senyard Falls. (I think)
Once I got back to my car, I headed to Mulberry Mountain for another trail leading to more waterfalls. But the only way to access it is through a private camping resort, where even when you just wanted to walk through toward the trailhead, you had to pay $5. Almost the same as per overnight stay in a tent. Not impressed, but oh well. The trail was wide enough for a gator and very easy to follow all the way to the bottom of the valley.
Given by recent heavy rain, the rivers down the valley were a bit swollen, with no way to cross them without contacting the water. An easy thing would be just to take off the shoes and wade through, but I began to collect every bigger rock around instead, to form a bridge from stones. Just for the fun of it.
From this point, it was just a short hike to the Mountain Fork Creek Falls.
After spending some time there, I went back. On the upper part of the trail was this rock.
Right next to the trail, it screamed "climb on me" already as I walked down the hill. I resisted. However, on my way back, it called again, and the double temptation was something I couldn't go against.
Here is the point where things went gloomy. As I was about to begin to climb, I raised my arm, when suddenly, "KLUP!" and my shoulder was in sharp pain.
Now, let me interrupt the Arkansas story to tell you about a night about half a year ago, so this will make sense: I was sent to photograph a fire at a gas station. As a dedicated photojournalist, I tried to get there as soon as possible. Familiar with the area, I knew a shortcut footpath, which would take me there a lot quicker than if I drove around. The issue was, running through the dark area with no light, I didn't see that somebody dumped some metal wires there, and I tripped over them. The speed of the movement plus my height of over six feet resulted in a flight with a rough landing, and I miserably dislocated my shoulder. I tried to finish the assignment, but with rather big doses of pain, I ended up in a hospital instead. There, a doctor said that it is quite bad and that surgery is likely to follow.
But then, he was called to a case of a seizure, leaving me waiting in a room for hours. That sicked! Suddenly a nurse came and, without knowing what's my case, asked if I want some painkillers. I started talking with her, and when I told her what's up with me, she said: "Oh, a dislocated shoulder? We had those while in the military all the time; I know how to fix it. Hold on a sec." And gone she went. Soon, she returned with weights that she strapped on my arm and taught me how to whip my arm while laying on the bed, in a fashion that the shoulder slips back where it should be. It worked well without any surgical intervention. Well, right. I had no money to follow some physio, but the shoulder didn't bother me since. Yeah, until now. So, let's go back to Arkansas.
The shoulder slipped out again. It was ridiculous; it was without any pressure, no sharp movement, I just rose the arm, and it got suddenly trashed. All those people who told me that, "Once a shoulder is ****ed, it's forever," turned out to be right. Darn! The first day of outdoor adventures, the first vacation in ages, and I end up with this crap.
After some time teaching all the deer, birds, and squirrels several courses of multilingual swearing, I walked back to the camp. There is a stage there where they organize summer concerts and such.
My hope was to get there, lay on edge like on that hospital bed, and try the nurse's way to put the shoulder back. However, the stage access was locked, and no way I could climb on it in this state. Instead, I noticed plastic tables nearby, so I put my hope in one of them.
While trying to get on one, my mind was partially angry and partially laughing about the situation's absurdity. When I got on the top of the table, I imagined how tragicomically it would look from a third-person perspective if it would collapse under my weight. Thankfully, that didn't happen. So while the cursing was still present, I swung the arm just as back then in the hospital. And heck! It slipped back! No kidding!
The camp had a shower facility with warm water, so I forgave them for the entry fees and left deeper into Arkansas at dusk. Although not thrilled by the unplanned, ugly event of this afternoon, since the shoulder was back in, there was no way I'd turn the rest of the trip down. Click here for the next episode, which covers the following days of adventures.
Thanks for reading!