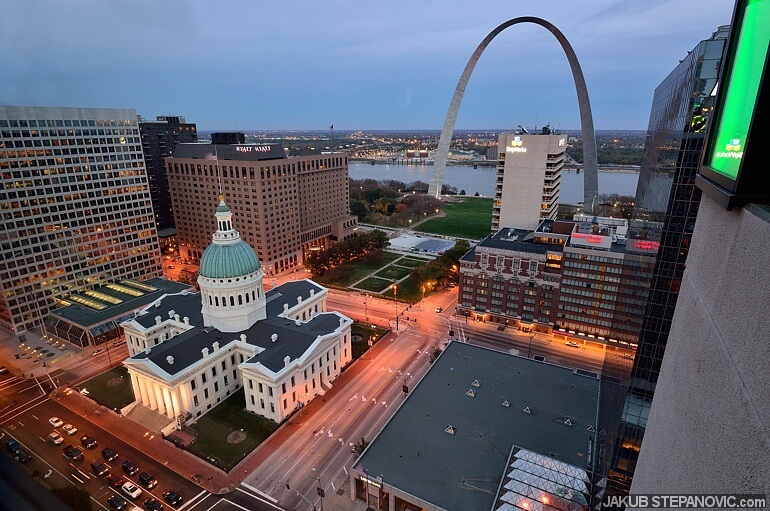 Adventures I had while exploring the (mostly) industrial beauty of the Gateway to the West.
St Louis was sitting among the cities I had wanted to see for a long time. It came to my attention when I was keen on all-things-industrial many years ago. I learned about the city's significance with great interest, and I browsed the satellite maps of the area to make a list of places that I'd love to see. However, since old factories, railroad bridges, and smokestacks aren't the only things my world revolves around, it took a while before I managed to materialize the trip.
It finally happened during the fall of 2014. I lived in Kansas and worked for a newspaper, for which I put a boatload of overtime, so one afternoon, my editor told me to take a four-day vacation. I went straight home to grab some clothes and snacks and departed immediately. I didn't have a few consecutive days off in ages, so I better make the most of it!
I arrived in Kansas City by the evening. It was dark already, so I just had supper in some Swedish restaurant and went to sleep in my car at a parking lot a few blocks away. Since I also had marked places I wanted to see here, I stopped by a long-abandoned, probably chemical processing facility the next morning.
Then I headed to see the West Bottoms, an old industrial area close to the KC's central business district. There are plenty of rough but elegant facades around so that one could spend days discovering all the details.
While several of the buildings ceased serving their original purpose, it seems that the neighborhood is slowly returning to life. Businesses such as clubs, haunted houses, antiques, etc., convert the structures and attract new visitors.
Yet, there are still some side streets that would easily classify as one of these where one wouldn't want to get lost. This turned out to be a pattern throughout the whole trip.
I encountered a couple of people who acted as if I interrupted them. They watched me suspiciously, and as soon as they noticed that I had a camera, all disappeared as if it was a lit dynamite stick. It made me wonder what kind of exchange business they engaged in and how it looks here once the daylight is gone.
These streets entertained me for a while, but I was already on my way to cross the Missouri River by noon. "St Louis, here I come!" While on the interstate, I put on some appropriately dark tunes to evoke the atmosphere of all the factories I wanted to see. (You can search for Robedoor's album Primal Sphere for an example.)
It didn't take long, and I entered the city, which welcomed me with loads of alarmed police vehicles and regular drivers about twice as aggressive compared to Kansas City. Another difference to the KC was a gallon of gas over 40 cents cheaper, so I pulled over to top up the tank. Then I went into a downtown hostel to assemble a strategy for the upcoming days so I'd be able to see the most. And, umm, stay safe.
The thing is, St Louis has a long tradition of appearance in the list of the US cities with the highest crime rates. Moreover, at the time of my visit, the city convulsed in racial tensions because of the unfortunate events that recently took place in the north part of the city: A white cop shot and killed a black kid, which escalated into looting, more violence, and mess all over. Missouri entered the Union as a slave state, and racial inequality is far from healed – many of its neighborhoods still reflect segregation.
The owner of the hostel told me: "Go during the day and stay downtown; you'll be all right. Be very careful in the southern and the western parts, and don't even think about going north. If you'd be lucky enough and meet someone nice, they'd tell you 'go away where you came from, because you don't belong there.'" ~ "How about the east?" I asked. "Pff, forget the east. Just forget it," he answered. Right. But when I explore a city, I like to experience it more than by visiting a few touristy places and going home. For that, I could only buy a postcard. Long story short, I had prepared some points of interest to see in each direction.
However, it's true that I felt the tense atmosphere on every corner. So I started with the city center, which felt indeed safer. And there's this brilliant piece of engineering from the 60ies:
Eero Saarinen's Gateway Arch: a 630ft (~192m) tall structure from stainless steel.
Visitors can take an elevator and go all the way up, where is an observation deck. But when I got there, it was already after the closing time. That exposed, I went to get a vantage point above the city from a few buildings instead.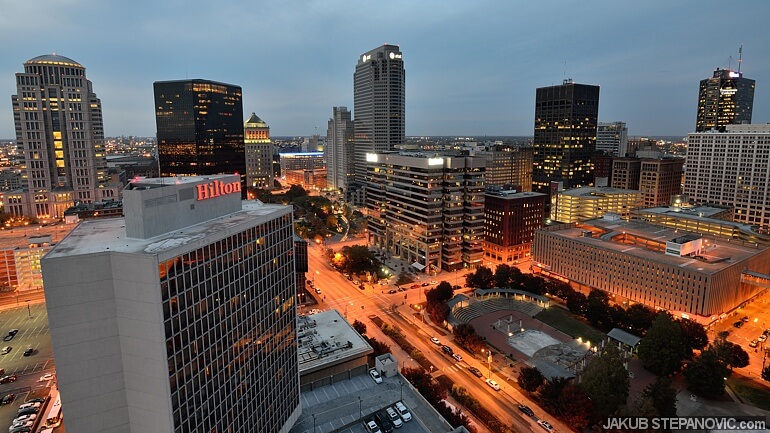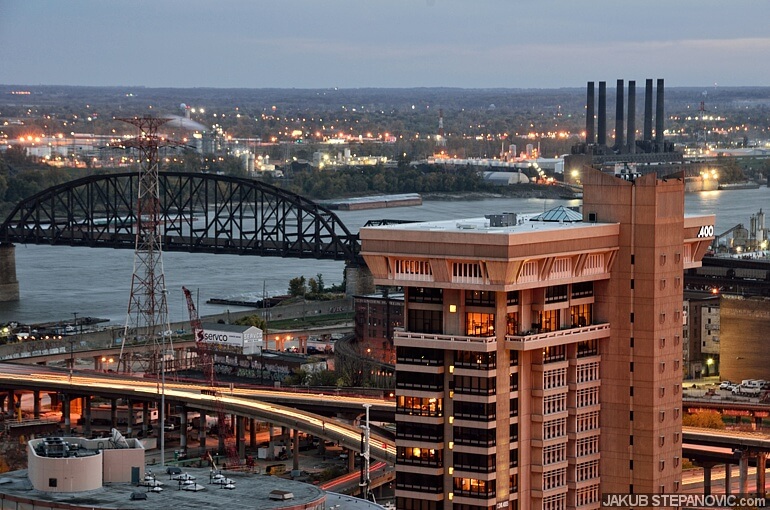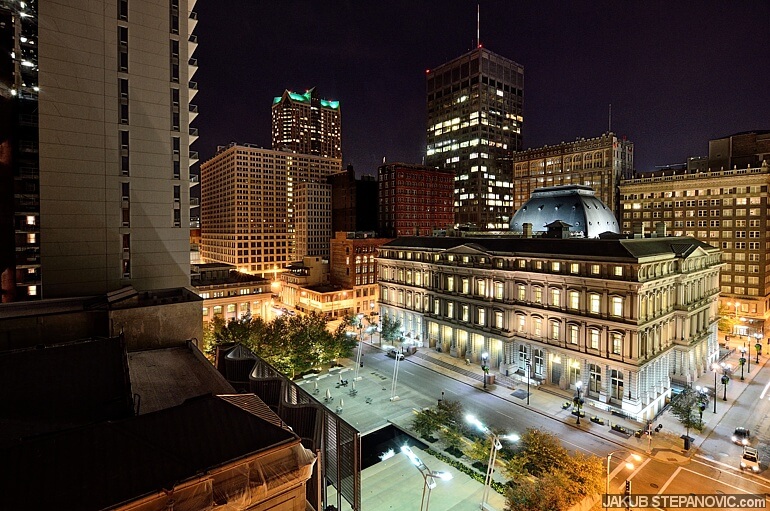 Late into the night, I went back to the hostel. I booked just one night there but thought about extending it. Now, though, I went straight to bed, as it was a long day. However, as I was about to fall asleep, I heard some scratching hum getting into the room. "Burglars?!" came to my mind, and I was alert again. I couldn't see any motion in the dark, but the noises were still present. So, I turned my flashlight on, and, "What the…," I saw two rats on the floor. Oh, that quickly answered whether I'll be staying here for another day. Not!
The first thing I did the following day was to get on the top of the arch. It is quite an experience; the elevators are rounded because they rotate during the way to compensate for the arch's curve. They are cool but rather small; if you are 6'6" as I am, you end up wishing for something more spacious.
The windows of the observation deck aren't humongous either, but good enough to enjoy the compelling views.
The arch also offers a good view of the bridges over the Mississippi River. These were the next thing I wanted to check out up close. As I went down to the riverfront, I noted a steam cruise ship, getting ready to depart. It brought pleasant memories of a place down the stream, New Orleans, where I took a similar boat about a year ago. I opted to repeat this experience and got on board to see the bridges and other city bits from the water.
I was mainly interested in the Eads Bridge because it has pioneered many construction methods and was a major milestone in large industrial projects.
..but the rest ain't dull either.
Another bridge I saw from the boat was MacArthur's. Like the Eads, it used to be for both cars and trains, but they neglected the maintenance of the car deck, so it has been railroad-only since the '80s.
The bridges weren't the only cool things to look at, as the river brought a neat perspective on two staggering former coal power plants:
After the cruise, I planned to see the city from the street level. But before I did, I got myself on the roof of yet another high-rise..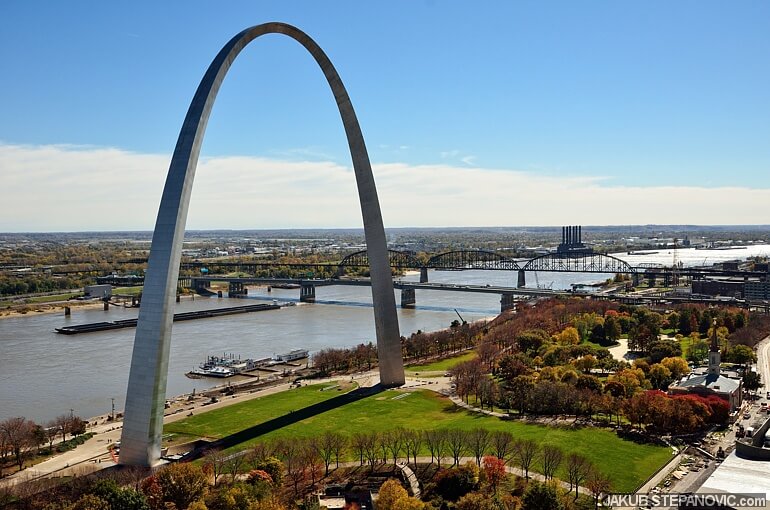 ...and then continued on foot.
I went to see the old courthouse, which is now a part of the Jefferson National Expansion Memorial Museum. It has a well-made exhibition about local slave history, and at the time of my visit, it also served as a shelter for the homeless.
Then I went by other notable buildings..
..to stop by the old city hospital.
Its powerplant is now rebuilt into a rock climbing wall with a stylish restaurant. The staff was friendly but wasn't too thrilled with the idea that I could climb the smokestack. It didn't bother me as I had a packed schedule, keeping south to visit the French district.
It has nice architecture and also; yes, some outstanding industrial. Notably, there are a few breweries. The largest is the Budweiser, where it's possible to take public tours. Yey!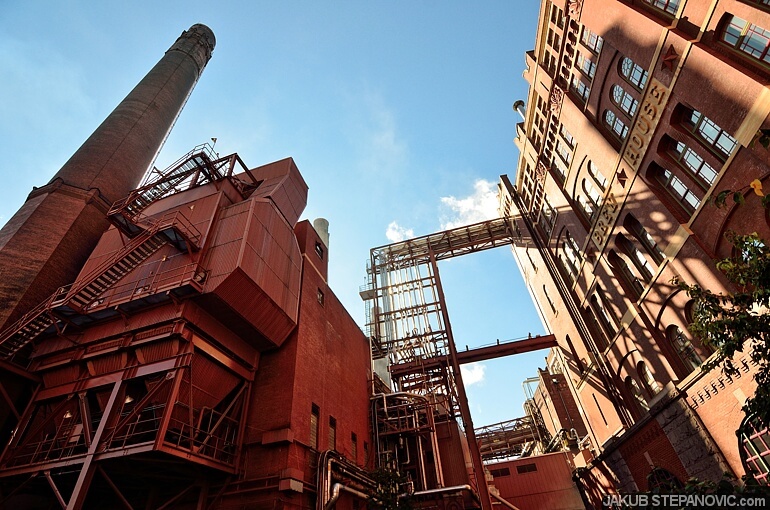 Out of all the breweries I was lucky to see, this was easily the best. The tour was engaging, showing a lot of the stunning complex, and introducing bits of Bud's history.
After the tour, I went straight to a former shoe company building, used to accommodate the City Museum since 1997 – another place I was looking forward to seeing, as my friends said that it's a must-see. The City Museum is a multi-story playground and an exhibition space, which just had a show about the Chicago Architecture School in its final terra cotta ornament era. That's what I was primarily interested in; however, then I found myself on the roof with a Ferris wheel…

…and got lost in the maze of climbing frames, slides, and bridges all around.
It took me a good hour before I found my way out of it. I wouldn't think I'd say that, but it was fantastic. If you have ever built a treehouse as a kid, or some fortress from cardboard, this would be your cup of tea.
Once I had enough, I drove to see the Cathedral Basilica of Saint Louis, a 100 years old church with the world's largest mosaic collection. It was 20 minutes before their closing time when I arrived, but as I took the door handle, I found out they had shut already. I was a bit disappointed but accepted that I won't see the interior.
But then, a group of tourists from the United Kingdom came on the scene and got upset about the early closure. They weren't about to give up without a fight and started trying all the doors, not just the main entrance. And, well, one "employees only" door in the back was unlocked. About half of the group decided to stay out, while the rest entered the church. I had some concerns about this procedure, but it was also my only chance. "It was supposed to be open for another few minutes," I justified the act to myself and got in as well, enjoyed the decoration, and left moments before the official closing time.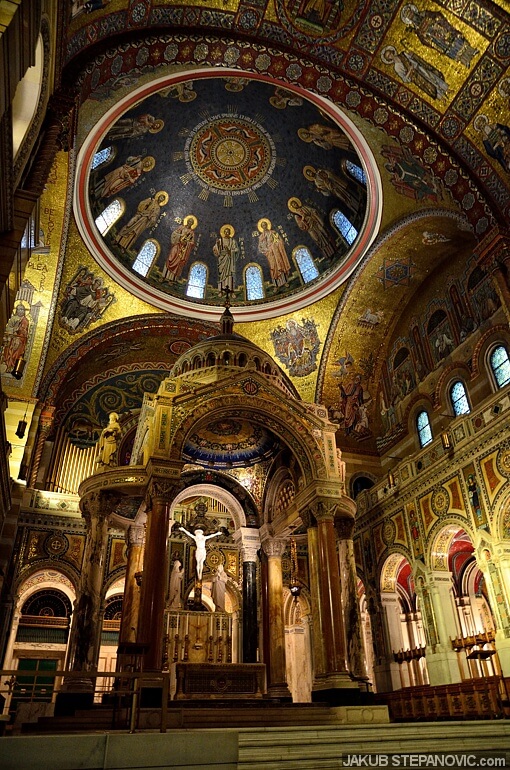 I stayed in the area and explored the west side of the city.
I also thought about getting on some rooftop here, as it would offer a different view of the downtown, so I entered an office block and started chatting with a porter. She nodded in understanding, saying something like, "It's true; the view from up there is great; I'm there every moment I can." But then she continued, "My boss; however, isn't a fan of us going there at all...and I can't let you there… Maybe if you could convince the security guy, but I am afraid it won't happen, he's odd… But I can show you pictures on my phone I took there yesterday.." But before she did, the security guy showed up, the girl quickly hid the phone, and I got kicked out of the property. Oh well, one can't win 'em all, I guess. In the meantime, the sky turned dark, and I went for different adventures in a different cardinal direction.
I planned to visit steelworks over the river in Illinois. That caused a bit of adrenaline because, while St Louis is not a very safe place, it's over the river where the proper danger is; over the river is the east.
Generally, it is good practice to blend with the crowd as much as possible. The one staring around like a tourist is the first one without a wallet. The same goes for parking outside the norm; only it's the radio that gets stolen. So, I put a bit of mud on my car to cover my out-of-state license plate and went straight into the steel plant's employees' parking lot. The car was safe and sound there, but it's not common to just walk around these areas. Yet, I had a plan for this situation: I put on dark clothes made of rough, matte fabric – excellent, as they don't reflect any light or make any noise when moving. I had a few layers underneath, so I appeared a few inches wider, too. Then I partially extended my tripod to have a good-sized metal thing in hand, ready for… picture taking, obviously, and I set off roaming the area. Shortly, I saw two people coming toward me. The street was hardly lit, with nobody else around. It got me quite scared. But I kept my pace as it was not a big deal, and the people went to the other side of the road. It looked like they were even less confident than I was. "Hey hey, the costume works!" I thought and continued enjoying the environment.
It was pretty late when I got back to the car, yet, I had one more point of interest in my mind. North of the downtown is a large, abandoned factory, which, among others, has a tall concrete smokestack. My plan was to climb it, as I anticipated a spectacular view of the city from its top. I had memorized every possible detail about the plant I could find online, and I was ready to roll. However, there was a kicker: it is located right beside Ferguson, a battlefield at that time. I had second thoughts about this, so I asked google about the latest crime news in north St Louis. Looking at the list of results, the newest article was published only 18 seconds ago. "Violent protests" – 10hrs ago. "Massive arrests" – 4hrs ago… "Damnit, let's skip this one," I decided. In the end, my program for the next morning was packed, and some sleep would be welcomed.
That night I slept tight outside the steelworks, with thundering industrial noises giving me lullabies. Quite a neat experience, actually.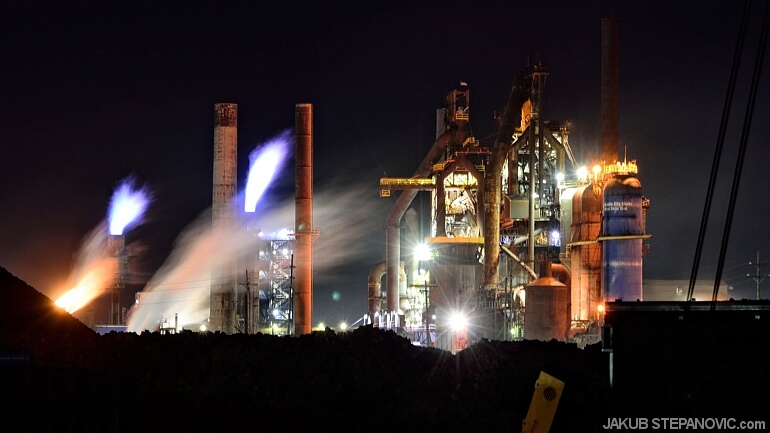 I woke up just before dawn, so I could enjoy the rising sun coloring the city's skyline across the river. The air was cold, but the view worthy.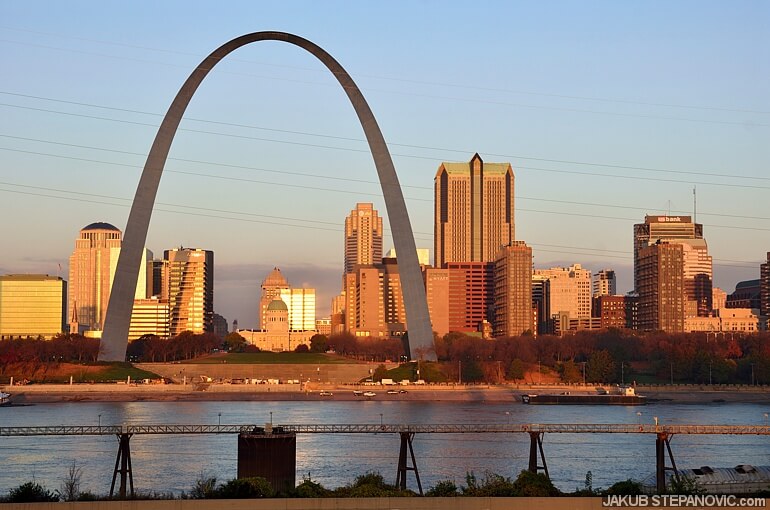 Standing there and looking through this literal gate to the west, I thought about the massive social differences seen in this area. St Louis is one of the Rust Belt cities where the economic decline hit hard, and while the Missouri side was able to +- resurrect itself, the East St Louis on the Illinois side was not. Once the fourth largest city in the state, then all upper and middle class moved out, and now the place has the highest murder rate in the US (twice as in Detroit) and among the highest worldwide. Definitely not a sticker to brag about. And now, in the daylight, the devastation was entirely in sight.
As I drove through the streets, I noticed that every four or fifth car parked along the roads had a broken window. "Wow," I thought. "Not good." Given the city's status, it didn't really surprise me, but it also didn't add any confidence to be here for sure.
Yet, there was one spot that lured me more than the instinct to leave. Well, two, actually.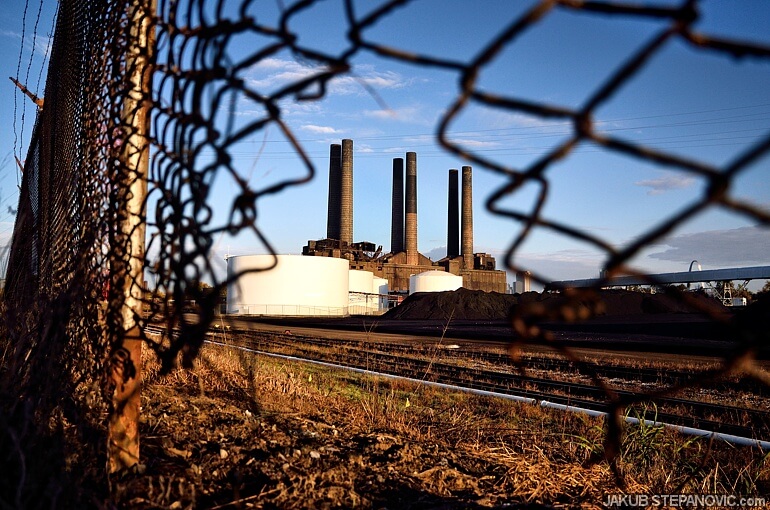 First, I strolled around the Cahokia station, and then I went to the main goal of the morning: an old meatpacking plant, Armour. An immense facility that employed over 4000 people at its peak, but it has been abandoned for more than 50 years now.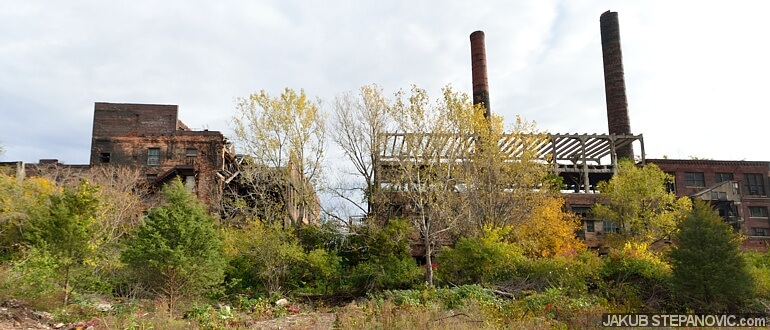 With the hostility I saw around, going to such a place was clearly not like entering your local grocery store. When I visited similar objects to this one in the past, I met with a variety of people: homeless in the better case, thieves and drug users in the worse. All of these I'd better avoid today. I didn't expect any law enforcement, but maybe there could be other photographers? I thought about possible encounters I might run into. I selected the morning for my visit, as in my head, that seemed like the best chance for solitude. "Bad boys better be still asleep," I hoped.
I parked behind the buildings, invisible from the main road. Going lightweight, I just wanted to check out the complex's power plant and be gone before any troubles appear. Tallgrass, garbage, and trees of all colors like from a botanical garden covered the moist ground. Above that jungle, massive, still impressive brick walls rose towards the sky.
In the boiler room, some parts were missing, smashed, or scrawled. Nevertheless, it was a captivating stage — dozens or even hundreds of tons of iron in preserved equipment. "In most places in Europe, all that would be in scrap metal already," I sighed.
I took a few quick pictures and mapped the area to register a few holes in the walls that could get me out of here in a hurry, just in case. Meanwhile, I was thrilled by the machinery around me. It was like an astonishing museum where you could come close and touch the exhibits.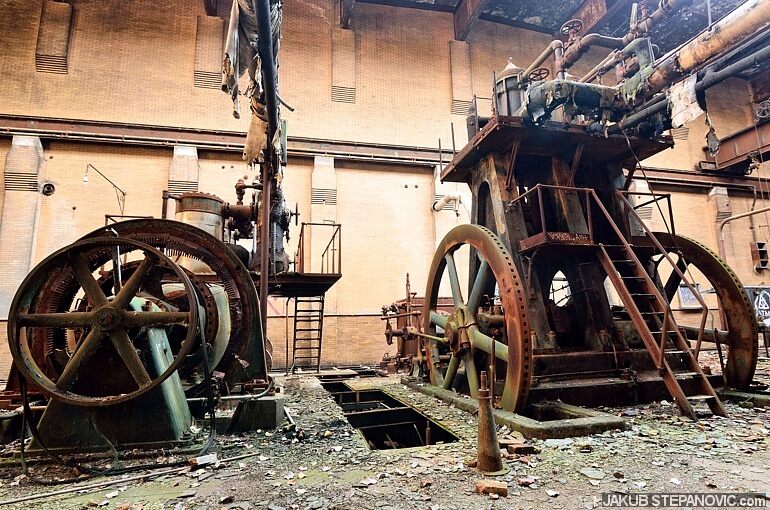 I noted that one of the smokestacks had a ladder leading to its top that started inside the room. It was ~23ft (6-8m) above the ground, but the ladder was easy to reach thanks to all the pipes and wires around, and it opened fast access to the roof without the need to get through each level. Since the roof equaled new outlooks, there was only one outcome...

The steps were spaced quite far apart, but everything was holding well, so it went nicely until the ladder was supposed to get on the roof through a trapdoor. A few bricks fell from the stack on it, and the roots of trees that grew on the top finished the jamming. I couldn't open it, but I saw a way to get around: transfer on a massive joist nearby and climb through a broken skylight window. Not the most relaxing thing I have done, as wet moss and other flora partially covered the surface; it did the trick, tho.
Once I caught my breath, I wanted to scale the entire smokestack. "Since I'm already here," I thought. Sadly, the stack was terribly eroded from the roof up. The bricks disintegrated, and the mortar between them was almost gone. It left a couple of the metal steps, rusted to half-width of their original strength, moving. The state was far from ideal, but I evaluated that it should still support my weight, and I decided to keep climbing. Carefully, step by step, I was getting higher and higher, and the view became better and better.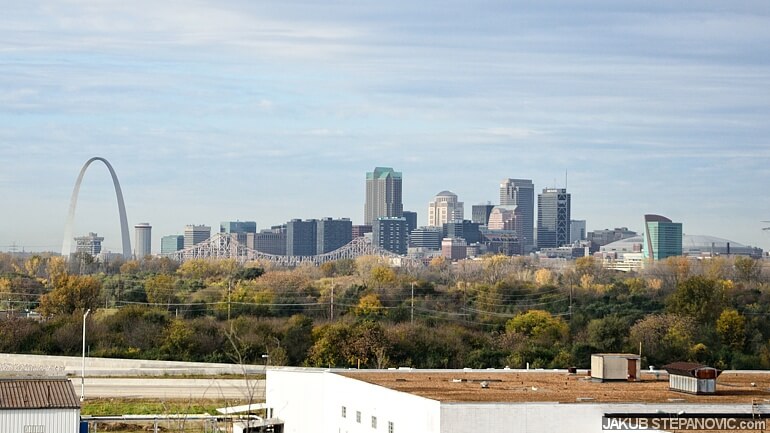 Besides the outlooks, I constantly checked the chimney's state and the far-from-comforting surrounding. Somewhere in the upper half of the stack, suddenly, I noticed some motion down in the boiler room. I stopped climbing and saw a black guy, about as tall as I am but roughly twice in shoulders. He silently browsed every corner of the ground level. Moreover, he held a stick in his hand, making a distinctive ding whenever he brushed it on some piece of metal. Probably a baseball bat equipped with nails or another iron tip.
The chimney's technical state was truly unlovable, but it was the newly gained company that got me close to a need for new trousers. I recapitulated my situation: camera in one hand, a rotten piece of metal that holds me from a 100 ft drop in the other, and one big f-word in my head. Right. Meanwhile, the giant checked all the rooms from the boiler room. "Is he searching for something? I wondered. "Is he searching for someone? Flipping heck, is he searching for me? Is he alone? …My car! Shoot, my car is down there with him — or them?! To hell with the smokestack," my mind abruptly concentrated on a plan that would get me out of here in a way that I wouldn't add to the ugly crime stats numbers, and my car wouldn't become one of those with broken windows.
I descended back to the roof while I was eagerly hypnotizing the person below me. "Don't look up!" Thankfully, it worked. He kept his eyes down and once he finished his search of the boiler room, he left to the other building, where are the stairs to higher floors. I jumped that miserable gap between the roof and the ladder like noting and sprinted down.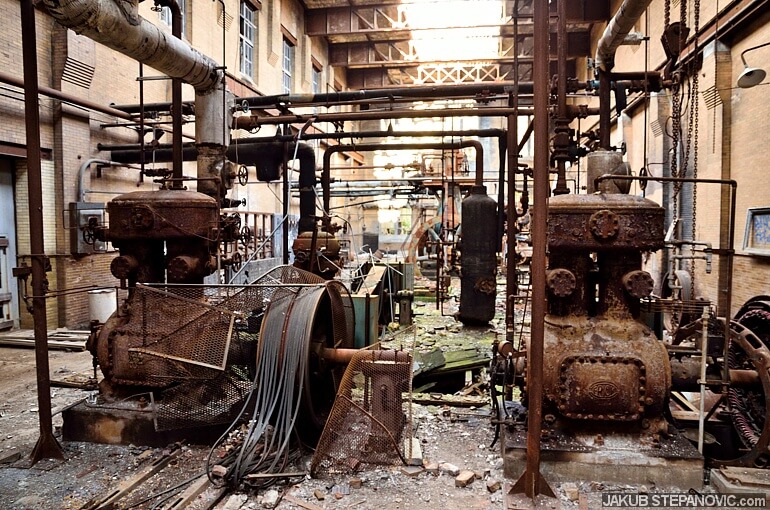 Once on the ground, I flew towards the hole in the wall while paying attention not to step on a piece of glass or anything that would make a noise. The goal was to avoid any contact. Outside the boiler room, I joined one of the paths going through the forest.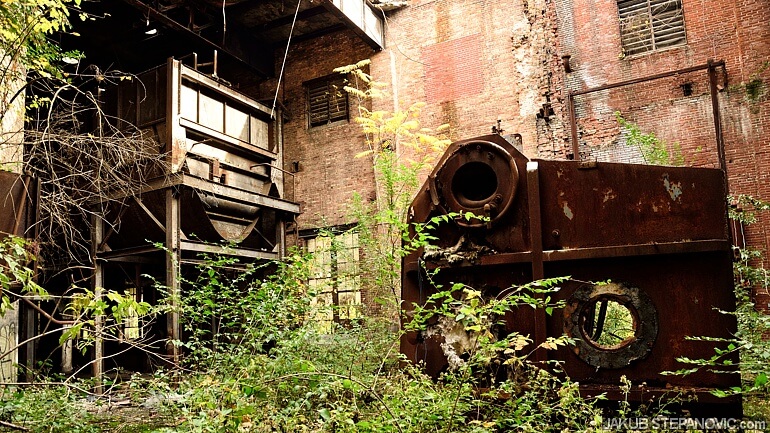 All those trees and bushes provided a good cover from others, but I couldn't see much either. "Oh-uh, hope my car is there, in one piece, if possible," I thought while I quickly moved towards the spot where I parked. "Heck, it is! And the tires aren't flat! And not a window's broken!" I celebrated while jumping behind the steering wheel and firing the ignition. As I turned around, I saw some movement in the trees. With no desire to stay any longer, I hit the gas. Passing by the trees, there was a pickup truck with another guy inside. When he saw me, the expression on his face gave the impression that he also didn't expect company. "Everyone is scared of everything here," I thought. "What a weird place."
I wondered whether he came with the other guy, what's their mission, whether they wanted to load something or somebody from the plant, but this train of thoughts was overturned by Nine Inch Nails song lyrics that popped into mind: "Nothing can stop me now, 'cause I don't care anymore." And it was right. I got on the pavement, joined the westbound Interstate 70, and calmed down my heart rate from dangerously high digits. "There's a big checkmark going to be written on my list of Midwest cities to explore," I smiled.
---
Thanks for reading! If you liked this article, you might also like my other stories about my..:
You can also visit my Blog Archives for more categories and topics.