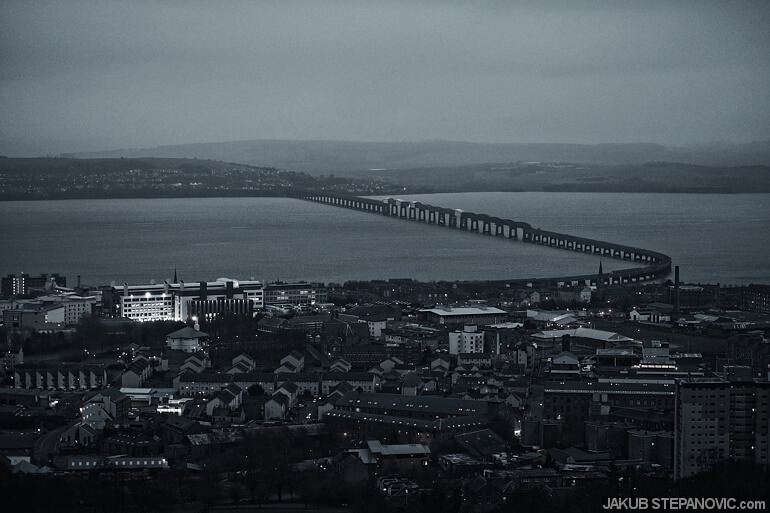 I headed to Scotland, as I had an interview in Dundee earlier this week. First, I thought to extend it into a trip full of exploring the Highlands, but considering my recently broken knee, I just enjoyed the cities of Dundee and Edinburgh in a brief visit.
First, I took an overnight coach from London. I had some worries about how it'd work since my restricted mobility, but it was actually among the most pleasant bus rides I had in a long time – I got a seat with about 3ft of legroom, sat next to a nice person, and the bus was filled only about a half of its capacity, so it was relatively calm and quiet.
Once I arrived in Dundee, I had about two and a half hours until the interview, which I spent in the McManus Art Gallery and Museum.
Then I moved on to the reason for the trip, the meeting, and it went great. Later, I enjoyed local art studios with pleasant people, and I visited an inspiring exhibition, "Grey Gardens," in the city's centre for contemporary arts. Grey was also the dominant color of that day. The sky was overcast, absent of any other color (that's also why I decided to shoot in BW).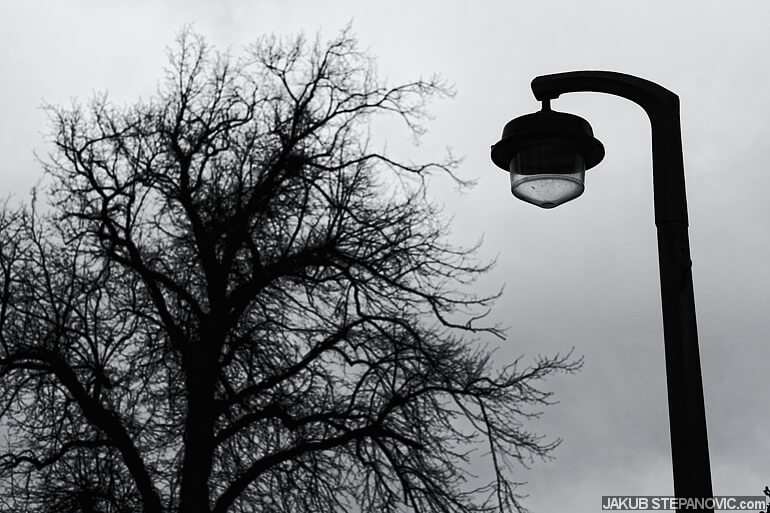 However; unlike my last visit, it wasn't raining. So, I headed out to explore the city a bit. The first place I planned to see was the Tay Rail Bridge.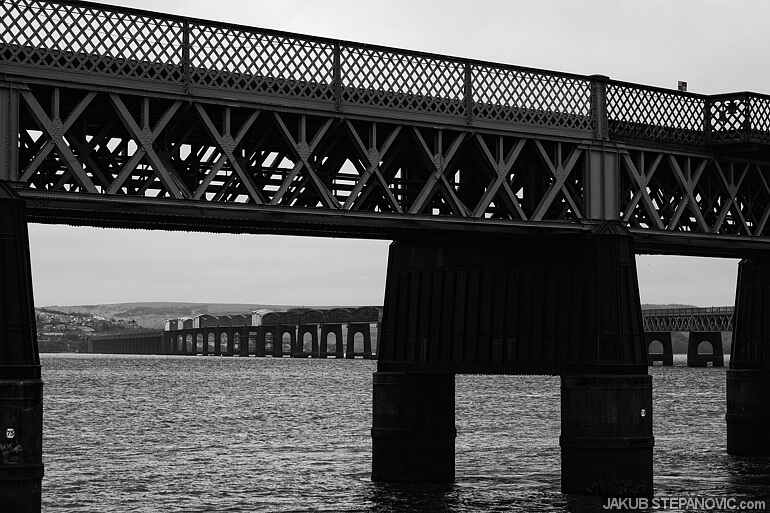 Geometrical shapes of the bridge (built 1887) contrasted with the uneven horizons, wavy surfaces of the river, and the misty sky; yet, its color complemented all the surroundings like a camouflage.
Then I went north...
to see another of the city's industrial monuments: a smokestack of what used to be the world's largest jute works:
The next point of interest I wanted to check out was an extinct volcano, the Law.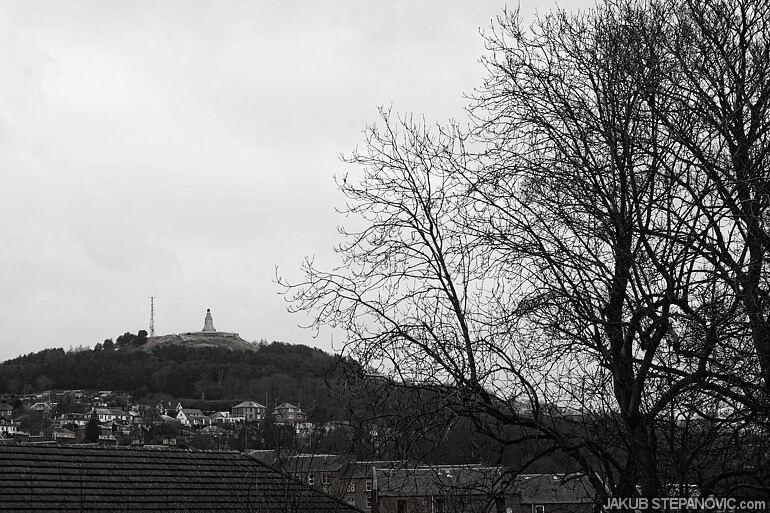 Or the views it offers, to be more accurate. The summit is only about 500ft (150m) above the river, but getting there with only one leg working properly was a bit of a challenge.
The peak is topped with a war memorial...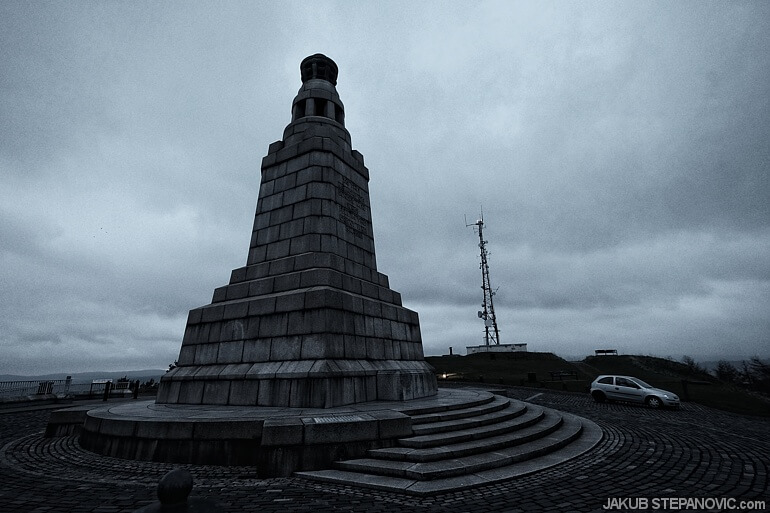 ..and truly, it provides a sweet, 360-degree view of the city.
The fog on the east caused an atmospheric backdrop. Except.. it wasn't fog, but a light rain coming my way. That said, I started my way back into downtown. The descent put the knee into work too, so I was happy when I finally arrived at a local hostel, where I scored a single room for £17 per night, and called it a day.
The next morning I boarded a train to Edinburgh, where I had a flight back to London.
I wouldn't mind travelling by train all the way to London; however, their prices are ridiculous. Just a one-way ticket would cost me more than I spent per the whole trip, including accommodation, food, and transportation.
Anyway, I booked the flight for the late afternoon, so I would have some time to enjoy the city.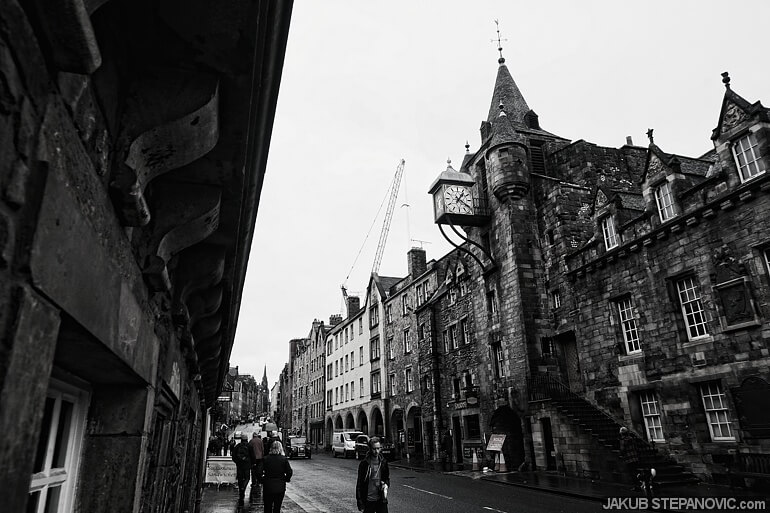 But just as I arrived, again, a light rain started coming from the clouds. Since I didn't have a proper mood or clothes to walk in the rain, I went to see the exhibitions at the City Art Centre and the Museum of Edinburgh instead. After this, I still had some spare time, so I decided to explore the New Town, a brilliant piece of city planning from 1767.
Instead of a bus or a train shuttle going straight to the airport, I opted to take a regular bus service calling at many stations before reaching it. First, I thought it would be neat to take a longer route to see more local streets and corners; second, it costs three pounds less than the direct services.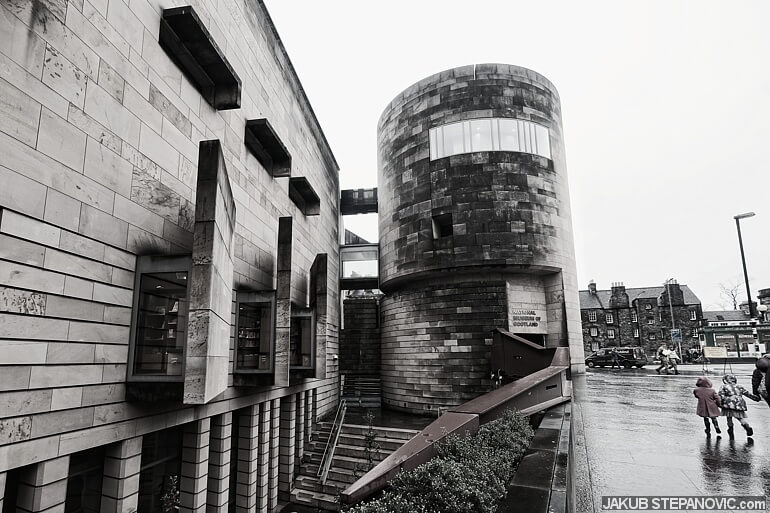 The time flew faster than expected, and I boarded the bus a bit later than I'd like. Once moving, I checked with my phone how long the journey to the airport should take with current congested traffic, and it said that I would get there 10 minutes before the gate closes. Well, that got me nervous, and I began hypnotizing the clock and surrounding traffic more than looking at the environment around me. It worked, when I got into the airport, I had 20 minutes to go. It seemed fair, and I was happy until I got into the security department, which was crowded more than the Piccadilly Circus at noon.
Now, to be able to move, I have my whole leg braced in an immobilizer. That's the only way for me to walk at the moment. The device is fitted with a couple of iron poles to stay rigid; so obviously, when I (finally) went through a metal detector, the security computers lighten like a Christmas tree on a major city square.
I had to go through another, more sophisticated scanner. You know, one of these cells that looks like a piece of a lunar module. There, its operator asked me to take the brace off. I pointed out that it makes me able to walk, but he insisted on taking it off. So I did, and then started my process of getting into the screening device. The operator saw the tremendous effort I had to deploy to get there and, with a surprised voice, asked, "Oh, you can't walk without it?" "I told you! I don't wear it because it's a great fashionable addition," I replied. "Right, I am sorry. Let's put it back on then," he said just as I finished my move into the scanner. "Let's scan since I'm already here; my gate closes in two minutes!" I started to express some of my concerns. "No worries, you'll be fine," the operator said. "But, I still need to check the brace," he added.
After precisely two and a half minutes of examination, whether the brace isn't a pouch for machetes, he let me go. I went straight for my tiny backpack. But as it is in these situations, it was also selected for some extra screening. It turned out that I forgot that half-empty toothpaste is a lethal weapon, the same or probably more dangerous as a nail bomb. Oh silly me, I should know better.. geez!
When I entered the terminal, all the TVs showed that my gate is closing, and a voice from the speakers shouted the last call for the passengers of my flight. "Ah, for Pete's sake," me thinking while limping my way towards the gate. But I got there all in time; in fact, some came after me. Well, good.
As soon as everyone was on the plane, the captain announced that the airspace above London is too busy for us to enter, and we'll have to wait another 20 minutes. That made me excited again, as I have booked a bus from the airport to London's downtown 30m after our scheduled landing. I guess not enough fun for today. And it wasn't. I had my seat reserved in the aisle, so I could have the leg stretched as it should be. But just as we took off, they decided to move me a couple of seats back to a window seat because I might obstruct their way with trolleys. My leg nearly fell off. Not pleasant. But I had fun as I typed most of this story, and eventually, the pros were in the lead again. The pilot evidently kicked all the levers to the metal, and we actually arrived four minutes ahead of the originally scheduled time.
That was the last bit that varied from the plan, and I got home in a short while, free of any other unexpected diversion.
---
Thanks for reading! If you'd like to visit more topics and categories, see my blog archives.