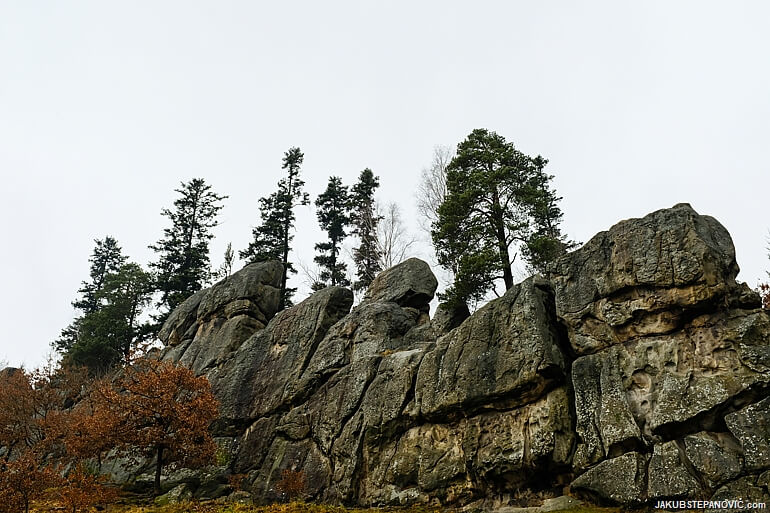 Another instalment of a collection focusing on Czech places with rocky marvels.
In this part, we'll take a closer look at Moravian Wallachia, particularly the westernmost tip of the Carpathian Range. Our starting point will be Lidečko, a village ~ 280 km / 175 mi east from Prague, and we'll take a loop in the hills around to see some fine rocks.
The first sandstone formation, called Devil's Rocks, can be reached from the village in no time. Instantly, it is striking to see the distinction in the stone structure compared to our previous stop in the series. The sandstone here seems rougher and tougher.
Another difference is the woodland around.
It is also a mixed one, but conifers have a more substantial presence and density here. And the deep spruce forest is where we go next.
As we search for other rocks sprinkled around, the gps once again proves as a fab aid.
The time of our visit, autumn, together with the area's remoteness, contribute to a dark but vibrant atmosphere.
The dense-packed trees further reduce the daylight, and when they reveal these notable walls, it feels like arriving at some enchanted castle ruins.
It's thanks to the seasonal veil of decline. Decomposing summer vegetation and the cold, grey skies complement the harsh textures of the stone.
Rampant vegetation and rocks shield the winds; the moist soil further dampens any noise. Birdsongs are a thing of the past already. It is quiet.
When we find the last rock of the day, the dusk is upon us. And as if it wouldn't be enough of distinct haunted ambience, it is called warlock (černokněžník in Czech).
Maybe it wasn't the autumn; perhaps it was the place's spookiness speaking to generations.
---
If you enjoyed the nature of this article, you might also like my previous posts about:
Alternatively, visit my Blog Archives for other places and more topics. Thanks for visiting!