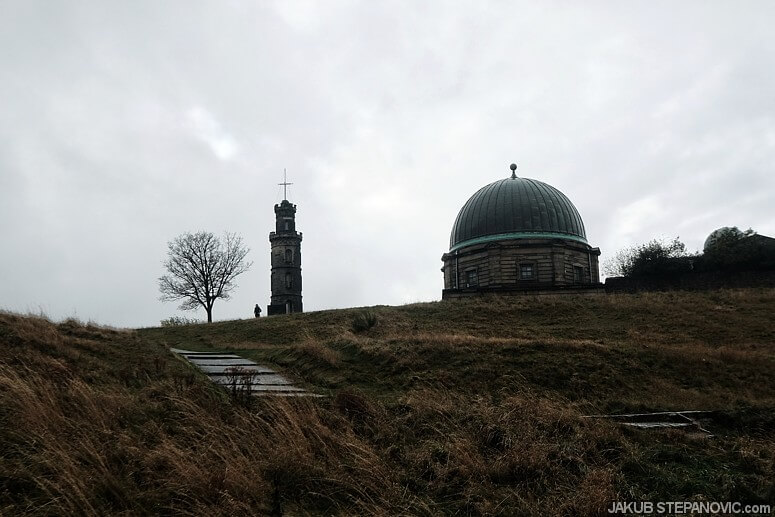 Exploring Scottish cities of Dundee and Edinburgh in a budget trip.
---
A bit unexpected, my journey begun on the other coast than my target location was - at the very same place where I ended my last visit: the Glasgow bus terminal.
Actually started about 8 hours ago, when I boarded a cheap overnight coach in London. A connection through Glasgow was cheaper than any direct service that night. It took good 10 hours before we reached near Dundee. But wasn't as bad, this time I had an item on me that made an enormous difference: noise cancelling earphones. A thing I found on my previous bus cruises: the lack of room is a piece of a cake to deal with compared to screaming children or snoring co-travelers.
I was travelling to Dundee at this particular day to visit an open day at their College of Art and Design. All went smooth until we reached close to the city limits, where we got in a decent traffic jam. Because of the caused delay, I run to the university straight from the bus station. But since the city was obscured in a fog forming interesting scenes, I took a few shots along the way.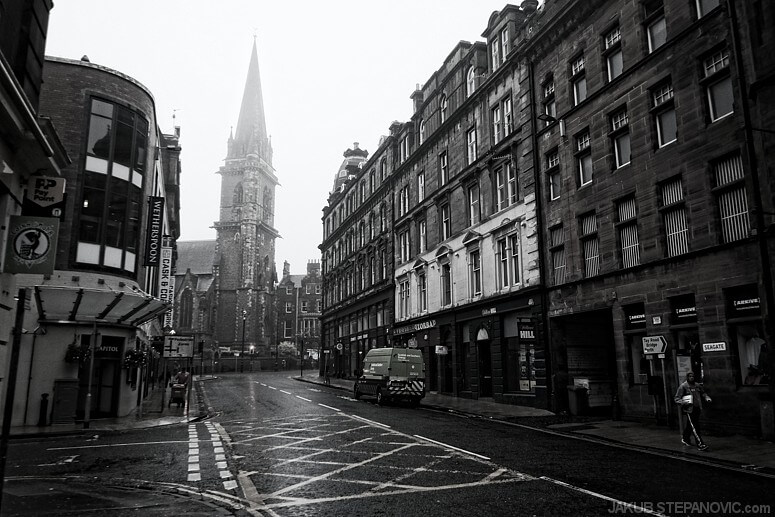 First, the city is nicer than expected. Second, although some people were complaining about the weather, everyone had a smile on their faces (unlike most Londoners). Such a small detail can make a big influence on one's day.
I've got to the university just in time and started to learn about the institution. I left the campus at around four and went straight to the railroad station. Sure, I would rather go and explore around, but the foggy weather turned into a heavy rain. It took only a few minutes and I was soaked to a level that if I'd go for swimming in the local river, it wouldn't make any difference. Once at the station, I rinsed my gloves and got the ticket to Edinburgh - but since I couldn't get any wetter, I cared less and went out again.
I had a composition in my head since I've arrived in the morning: the Tay Road Bridge, 2.4 Km (1.5 miles) long structure disappearing in the fog before it reaches the opposite shore.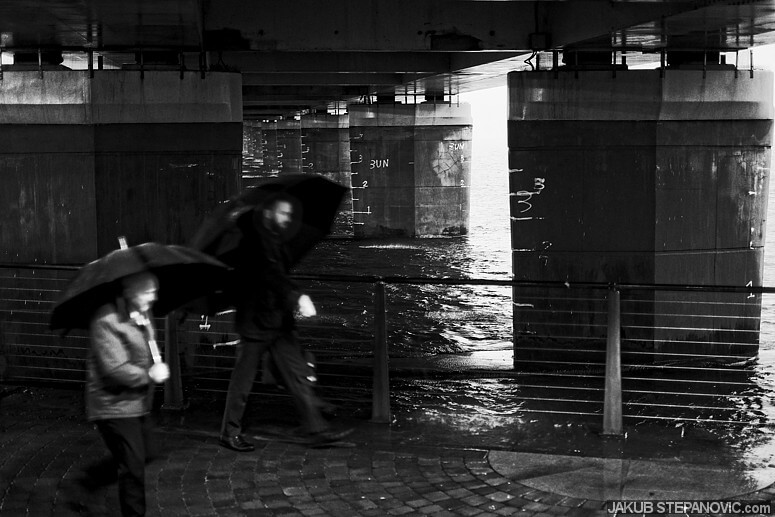 The weather had no effort to change whatsoever and the temperature dropped soon, so I went back to the station.
The train ride was nice, taking me to Edinburgh through Forth Bridge. Well, and it was also the last fun thing I've done that day. Not that there wouldn't anything to do in Edinburgh - the city was very vital when I've arrived; However, all the wet clothes were freezing cold now. That wasn't anything enjoyable, so I went directly to a hostel and after a warm shower I had a supper and called it a day. Because I went to bed relatively early, I was up and ready early next morning.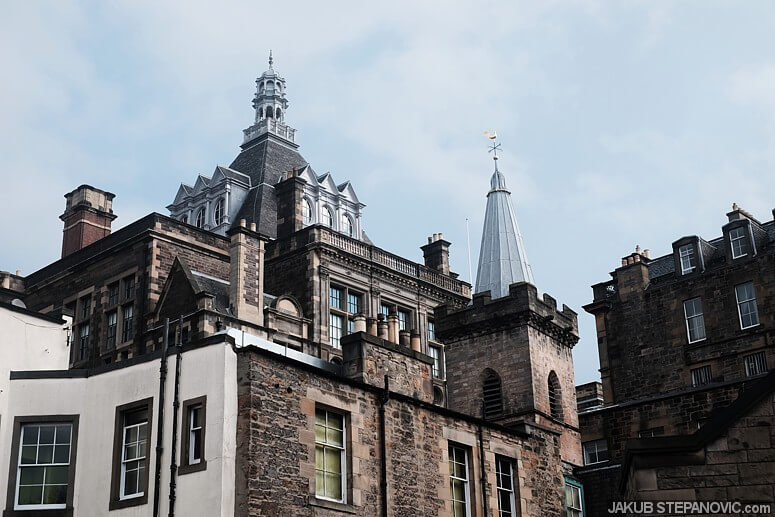 Edinburgh is the capital and the second most populous city in Scotland. It's famous for its historic center, which is a UNESCO heritage site. And truly, the whole area is special.
The downtown is all consist, the streets have very uniform taste. Not that there wouldn't be any new buildings incorporated, but they are a bit further from the main area..
...and they just fit right. The atmosphere feels great.
I passed by two cathedrals and ended at the castle's entrance, where a rain started again.
Since the summer season is already gone, nothing opens before 9:30. This discovered, I went into the Edinburgh College of Art, again to talk with people and get some info. Once this was done, the rain quit already and I walked to the Holyrood Park for a vantage point.
The park is a set of hills of volcanic origin, forming the tallest area in the city and a neat location to get away from the city's hum. Besides tourists, it's a favorite spot among runners, and there is also designated rock climbing area. I went there for the obvious reason of the view, but the heavy clouds covering most of the sky caused it to be a bit flat.
But then, as I was descending, the clouds got pierced by sunrays that lighten up the downtown. It was a nice touch, even though it lasted for only about a half of a minute.
Under the hills I passed by some modern structures..
And in a short while, I was ascending again to the mentioned Calton Hill. On the way up, there's this building of the Old Royal High School. It is more known as the New Parliament House, although it never was a parliament.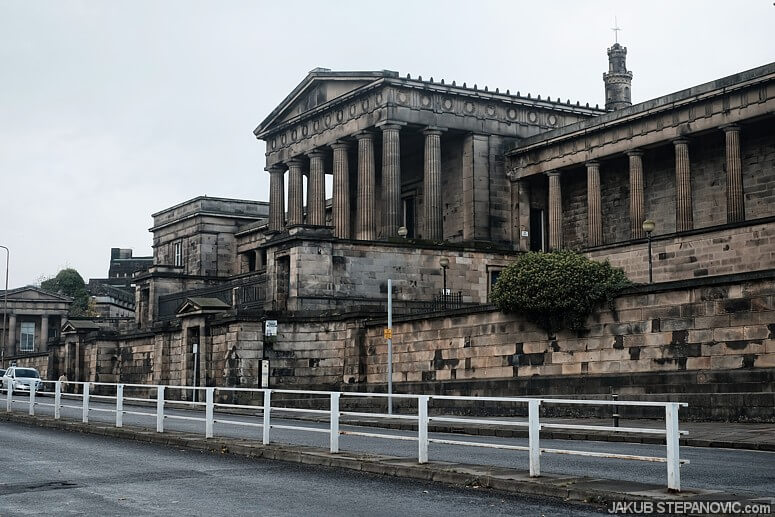 There's a great view on the city from the hill. Pictured below is the Old Town and the Waverley, the main railway station of Edinburgh.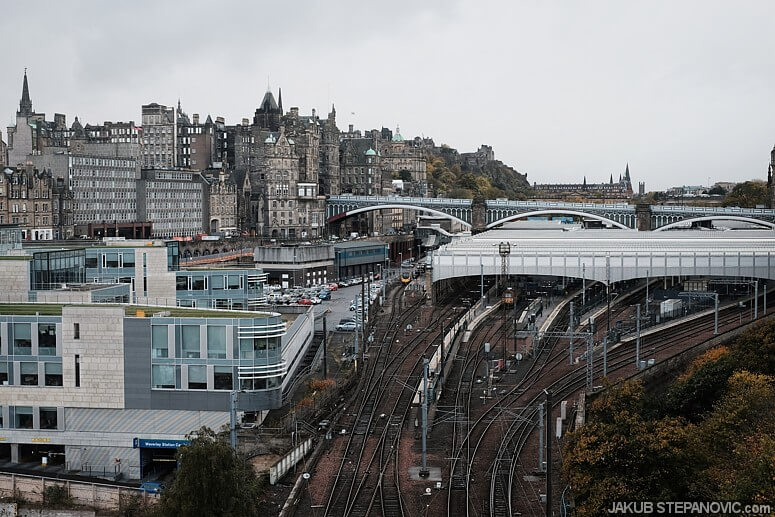 Suddenly I've noticed this black-saturated scenery coming from the east.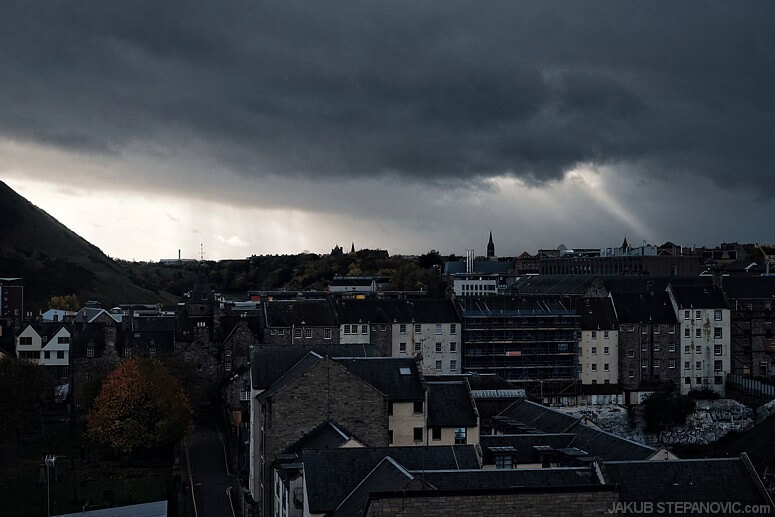 ..looking at that, I knew that all that darkness will be above me soon. And sure enough, it took only about two minutes and it was pouring as hard as yesterday.
Thankfully, I found a tree to hide under before the the heaviest rain got here, so I didn't sustain nearly as big "damage" as the day before. And because the rain was gone as quickly as it has arrived, I could continue almost immediately.
The Calton Hill offers one of the most popular views on Edinburgh, but due to the clouds all over the sky it wasn't as good as it could. Because of that, I went to the bus station which is conveniently placed just down below the hill, to get me a ticket back to London. The problem was that the connection I wanted was already sold out, leaving only one (more expensive) bus carrier still available. Looking at the price, I opted to buy a last minute plane ticket instead. A train wasn't an option, as the cheapest one was twice as pricey as the plane ticket. However, as it sometimes happens in the computer universe, there was the moment when things mysteriously decided to quit any cooperation: the system refused my cards. After a couple of unsuccessful attempts, I just got the bus.
During the time I was solving the transportation, I got dry again and now I had the rest of the afternoon to explore more of the area. To my surprise, the weather turned really nice.
I decided to take a closer look at the Forth Bridge. First I thought that I could take a train there and walk back, but since the return ticket was only around five pounds, it was a no-brainer. In a moment, I was departing from the Waverly station.
Not too long after, I took this nice path...
...that took me straight to this wonder:
This piece of beauty is nearly 2.5 km (bit over 1.5 miles) long and was completed in 1890.
Close to the rail bridge is a second one for cars. It is also a neat, respectable structure; however, since it stands next to the first mentioned, it don't get as much of a recognition.
The site becomes an outdoor exhibition of great engineering.
Once back in the city, I went by the Scott Monument located in the "New Town"
and got to see the St Giles' Cathedral
Inside.. well, it is beautiful as always.
And after this one, I walked back on the Calton Hill, to catch the city at the last sunshine.
Most pictures at total darkness aren't as fun, so I was trying to make the best out of last bits of blue sky.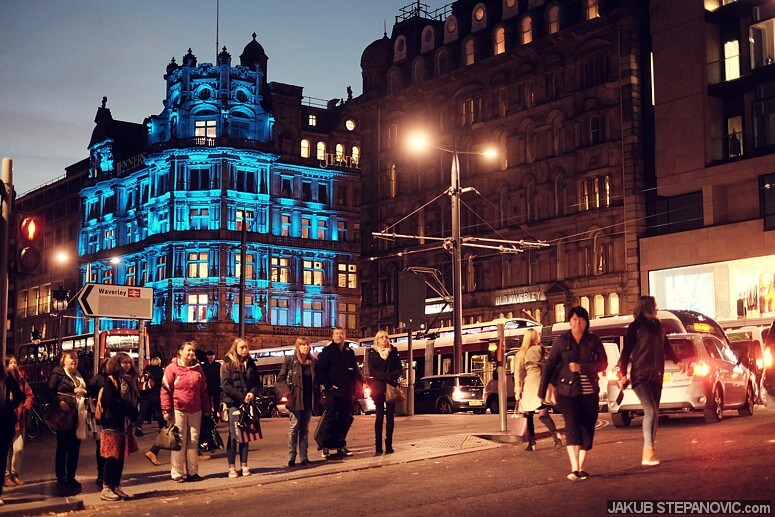 But after I took this landscape of the old town rising above the station, it was gone.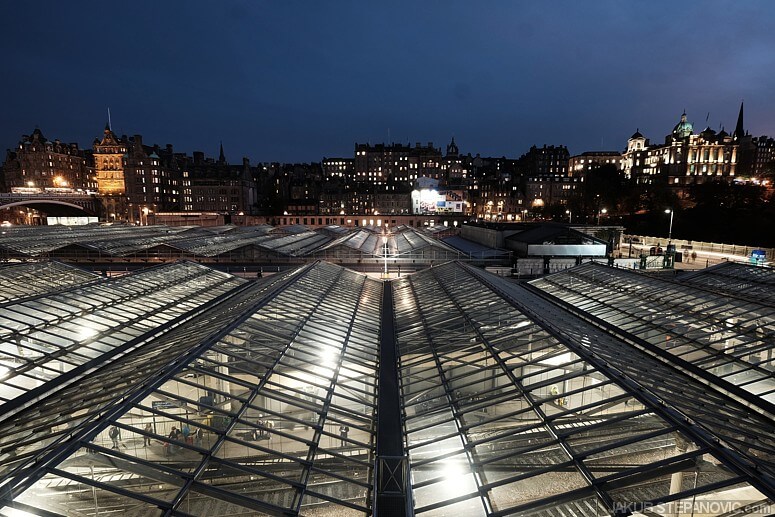 At that moment I couldn't resist complaining a bit about short days and the winter time change nonsense. I had a plan though: the Scottish National Gallery has extended opening hours on Thursdays, so that's where I went. And it was well worthy, as they have displayed many famous pieces by names like Cézanne, Gogh, Monet, Raphael.. and also many great pieces by artists I've never heard of, including an impressive collection of Scottish painters. What a joy! The two hours I spent there felt like nothing, and soon the gallery personnel announced that the building is closing in a few minutes.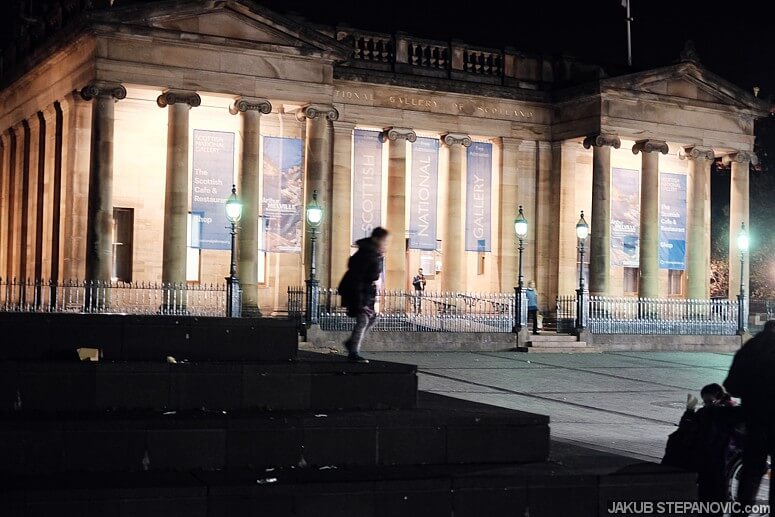 I got me a burger and went to the bus station, where I typed notes for this story and soon boarded on the bus. It turned out to be a sleeper service, which was kind of cool as I've never been on such a coach before. However, the design of the beds was evidently taken from submarines, judging by the nonexistent personal space. The bed was a tad shorter than I am, but it was still more comfortable than a regular bus seat. It was also a connection without any stops between Edinburgh and London, so it went all right. Therefore, I got over the higher cost compare to a regular fare.
There you go, that's how it was. If you've enjoyed this story, you might also like my first trip to Scotland I took a month (or so) earlier.