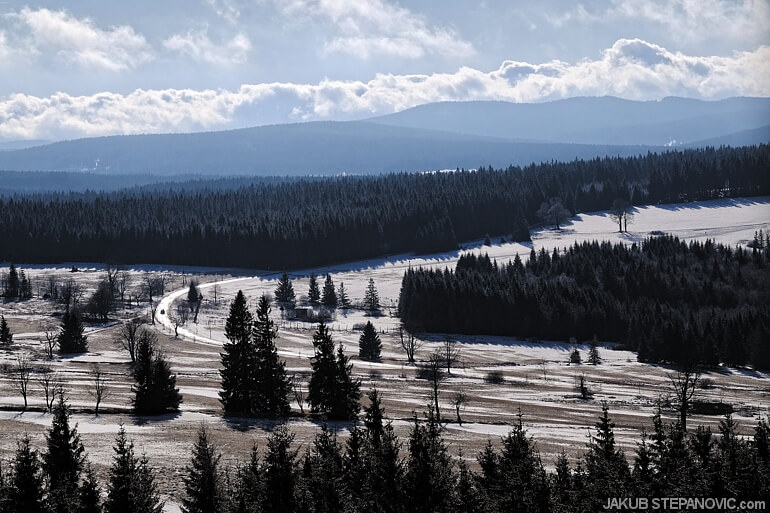 Sumava is a mountain range in the southwest Czech Republic, covered by the most extensive forest in Central Europe. A national park nowadays, but less than 30 years ago, it was a part of the Iron Curtain's forbidden zone. Hence, the area was without much human activity for a couple of decades. While I drove through it a few times, I've never visited it any closer, and it was on my wish list for quite some time. So, when my friend told me she was planning a trip there with her friends, I happily joined.
The group planned to go cross-country skiing there, but as it happened, a huge meltdown hit the country about a week prior to our departure. This didn't bother me, as all I planned was to explore the hills by foot anyway, but the rest had some concerns. We were supposed to go there as a group of six people, taking two vehicles. However, two cancelled their participation at the last moment, leaving the rest of us going by one rather small car.
When we reached the range, the landscapes had no sign of snow whatsoever. It was an all-inclusive spring when a thin white layer suddenly appeared as we drove higher. Like if someone would take a ruler and line where the snow started.
From this point, the layer of snow was getting thicker with every meter of elevation we ascended. Soon we reached the village Modrava, where we stayed the next two nights. And kidding you not, they had a solid 40+ cm (15+inches) layer of snow there.
Wondering how many inches they had before the meltdown, we arrived at our hotel.
Although the sky was covered with a thick layer of clouds, it was still bright enough to see. So we went for a walk around.
It was dark already when we got back, so we went to get food and then some sleep.
---
The next day we split; the friends went skiing, I drove to take a closer look at the hills.
I passed through a small village Horska Kvilda..
...and parked just behind it to hike towards a place called Zhuri. There used to be another settlement, with records as old as the 14th century. But this is all what's left:
I went there because it is known for its nice views. Ummm; I mean, they were fine, but I might just put my expectations a bit too high. Regardless, I had a great time as the environment was exciting.
It had to be a very windy spot as the snow formed into deep snowdrifts, but it was almost completely calm when I was there. I was the only person there, and wandering through the snow was entertaining at its very best.
I found an old road and slowly but surely walked towards the Hutska hora, a hill with an elevation of 1187m (3894ft) above sea level. And that's where things got even cooler.
There's a communication tower on the summit. Curious, I checked it out and found it unlocked. I didn't see this coming, but the luck is for the prepared!
The ladder was frozen solid, and once above the tree line, the wind rocked the tower like a storm rocks a light fishing boat in the ocean. But look at these views!!
After this unexpected diversion, I went back to reunion with my friends for lunch, but before that, I stopped by Filipohutsky creek to take another short walk.
The afternoon was no less exciting, as we all went on a hike through a beautiful valley with a river surrounded by a deep forest. But that (and more) will be in the second part; come back later this week. (edit: it's already online, here's the link)
Thanks for reading! If you'd like to visit more topics and categories, see my blog archives.