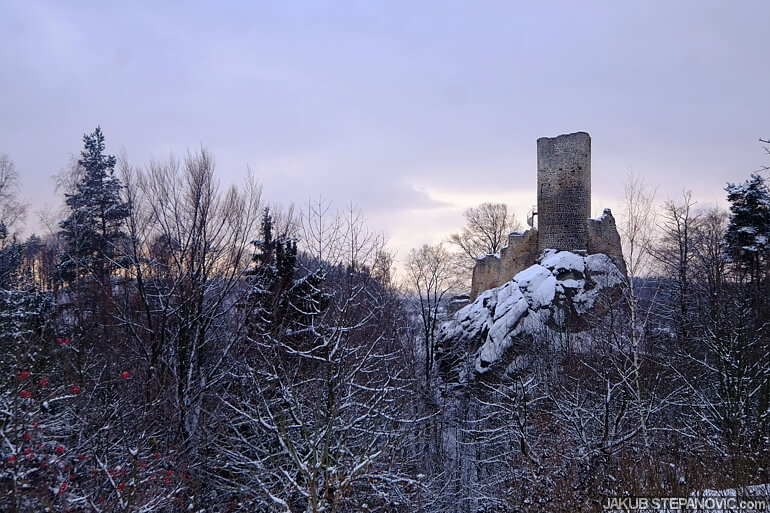 More snow fell on Central Europe and I went on a walk around a medieval castle.
Somewhere in a land far, far away.. just about halfway between the Czech cities Turnov and Jablonec nad Nisou, is Frýdštejn- a small village in the middle of these hills:
The village itself wouldn't be as interesting; however, just next to it..
.Or, what's left out of it. But still, it is quite an impressive place. The origins of the castle aren't well documented, but it's known that it was built in the 14th century, and it became vacant at the end of the 16th century. The castle then deteriorated until the late 1800s, when the property was brought by an association from Turnov, which made it accessible to the public and began preserving its current state.
The castle's dominant feature is its tower, about 15m (50ft) tall. It was built from rocks, and the walls are some 2m (7ft) thick. Then there are courtyards and a couple of rooms carved in the sandstone ridge on which the structure sits.
Due to the nature of the site, it is open only during the summer season. With that in mind, I went on a hike to check out a hill nearby, called Kopanina.
While getting further from the castle, it's tower reminded in sight for some time..
...but not for very long as the trail heads into a forest.
At the Summit of the Kopanina is an observation tower built by the Czech Tourist Club in the late 19th century. There are many cool observation towers in this part of the Czech Republic from this age. Local industry was at its peak, and tourism was booming.
At the time I got up there, it was late afternoon, and the tower was already closed. But the upland meadows on the way back down into the valley offered some neat views as well.
This is how the "traditional" winter looks like here: the temperature is just around the freezing point, snow's everywhere, and cross-country skiing trails connect surrounding hills:
Soon, the sun got behind the horizon, so it was time to return towards the village.
---
Thanks for reading! If you'd like to visit more topics and categories, see my blog archives.