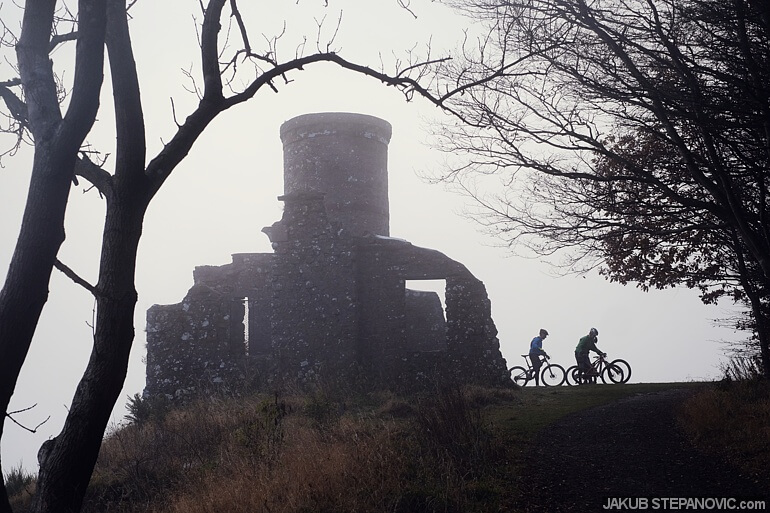 A few weeks back I was in and around Perth to experience poor visibility and freezing temperatures. It was awesome!
Every time I move into a new country, I try to learn about the place as much as possible. I like to do so the most through a hands-on approach, by travelling around. When I moved to Scotland, as usual, I started to assemble a map of spots I'd like to visit. Shortly, I had plenty of ideas for a trip (pictured right). The problem is that most are located in the Highlands, and to get there takes some time and money - commodities that I don't have an abundance of at the moment. However, I sure do have the will and a desire to travel and explore. Hence I looked into some closer and more accessible locations from my flat and added a handful of points of interest in Perth.
One Sunday, I got the train ticket, met a friend, and together we went to see it in person. There was an inversion that day, obscuring the city in a veil of mist, but I hoped to be able to climb above it, on a hill behind the town.
We set off with browsing the Perth downtown's streets, which embody several interesting structures. One place where we spent a tad more time was St John's Kirk (kirk is the Scottish term for church).
In the church, they have stained glass windows and also a total of 63 bells (!), 35 of which can be played from a carillon.  We were lucky; a local carillonneur was actually playing them at the time of our visit — Quite an experience.
Then we crossed the Tay River via the Queen's Bridge, which offers a nice outlook on the St. Matthew's Church from the 19th century and the Smeaton's Bridge, which opened in 1771.
Once behind the bridge, we started ascending towards the Kinnoull Hill Woodland Park. Going uphill, the elevation wasn't the only increasing value. The houses around got bigger and the cars fancier with every step. Eventually, we passed this monastery of St Mary...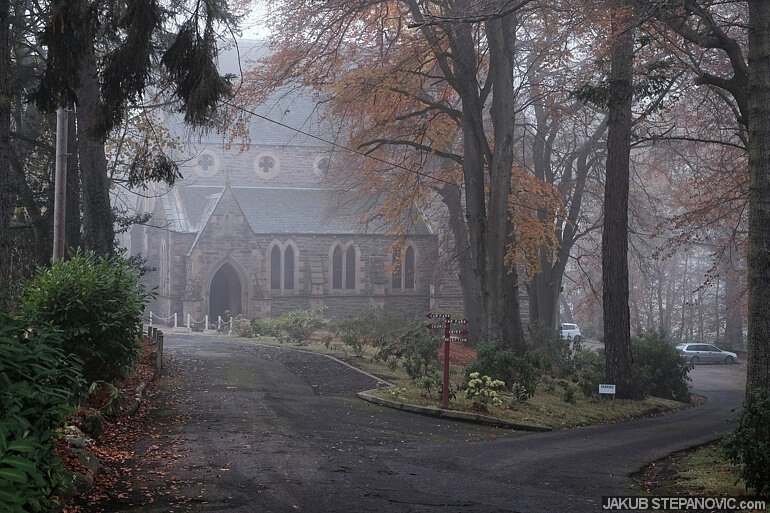 ..and soon after that, we entered the forest.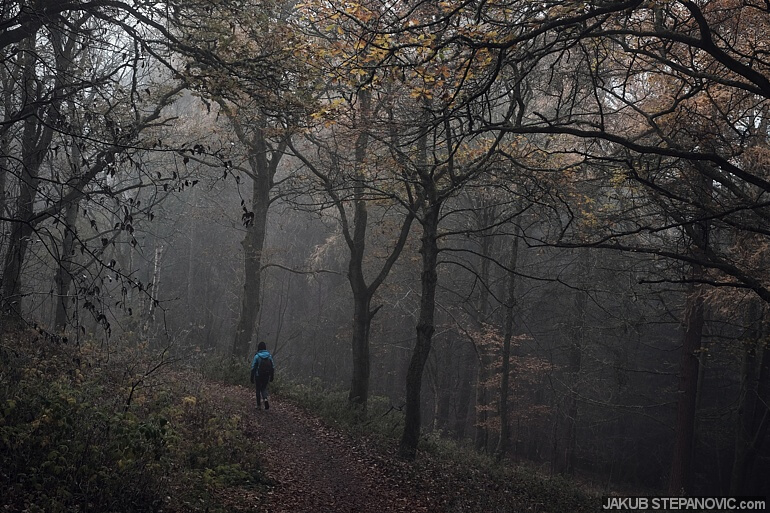 The fog was still dense enough to bring some doubts regarding the views from the cliff, but I couldn't be happier, as the frozen surrounding was simply brilliant.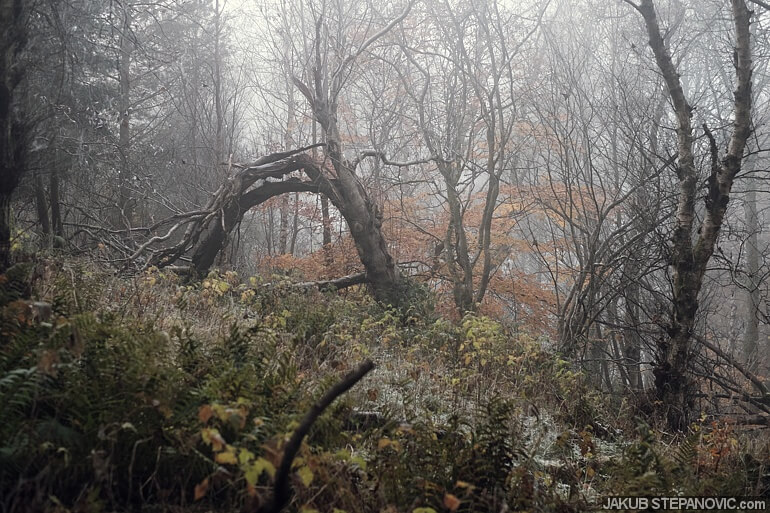 It was an unbounded, raw scene, like from a movie set. Atmospheric beyond the roof.
As we were getting closer to the hill's summit, the woods opened a bit, and shortly afterwards, we stood on the cliff. As expected, one couldn't see too far, but still...
Suddenly the wind thinned the haze for a short moment, allowing a brief view on the point of interest ahead of us: the Kinnoull Tower.
We reached the tower a few minutes later. There was nobody around, just the tower and drops leading to a valley filled with fog thick as pea soup.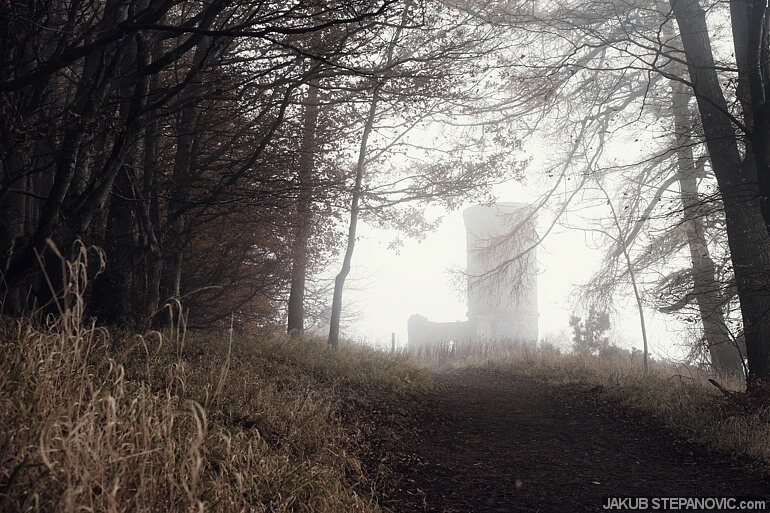 The tower has no fascinating history of being a fortification; it was commissioned in the early 19th century by the 9th Earl of Kinnoull as a decoration of his land. Nevertheless, I liked it. And at this point, it was clear that while the fog took away some views, it actually added value to everything else.
The forest around is made of all sorts of trees. Spruces, oaks, pines, ash trees... it constantly changes every foot. Descending from the tower, a section of the path looked like a cathedral's nave constructed of robust beeches..
Sometime later, we went out of the forest to a small settlement.
A couple of houses are accompanied by extensive fields with horses. One of them caused a small unexpected adventure on our way back - his leg got stuck into a strap supporting a fence pole, so we helped it out.
The region has a wide range of birds, but one kind was visible more than others: ravens. Here I saw one on the ground and hoped he would fly into my composition. He did!
Behind the settlement is the Deuchny Hill, where's an arboretum. Beautiful trees piercing the mist were neat to look at, and the smell was topnotch. However, there is another cultivated area further about which I had no idea and which got me pretty excited: They have a bike park there.
Banked turns, obstacles, fast and technical trails all set in this lovely environment.. heaven! I hope I will be able to get a mountain bike; it's been too long since I rode down something similar. Anyway. Although I had marked more exciting stuff to see further, considering the approaching sunset, we opted to turn around and began our way back to Perth.
In a bit, we were next to the tower again. This time there were a few people around, but any distant views were still nowhere to see. But again; as during the whole day, there were cool things to look at.
To return to the city, we took a path on the cliff's edge, which gradually revealed some decent prospects of the valley below us.
We reached Perth at dusk. It was pretty, but cold.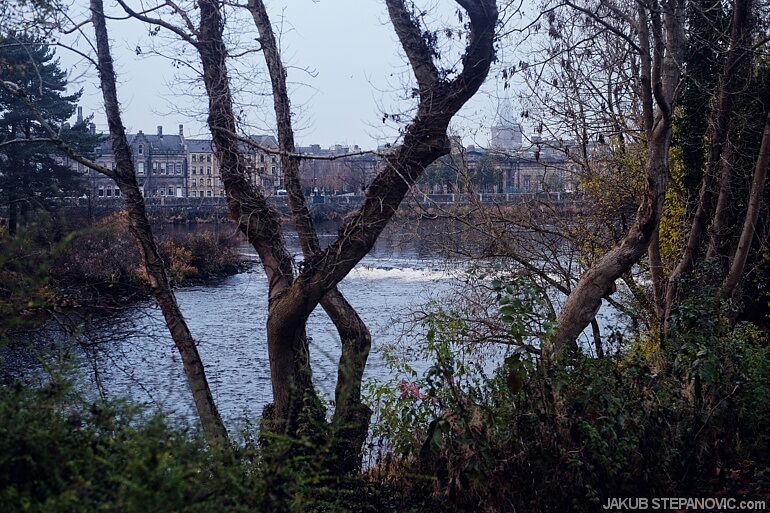 So we stopped for a cup of tea, and as the daylight vanished altogether, we went home.
---
If you enjoyed the pics of the mysterious weather in this article, you might also like..:
You can also visit my blog archives for more categories and topics. Thanks for reading!