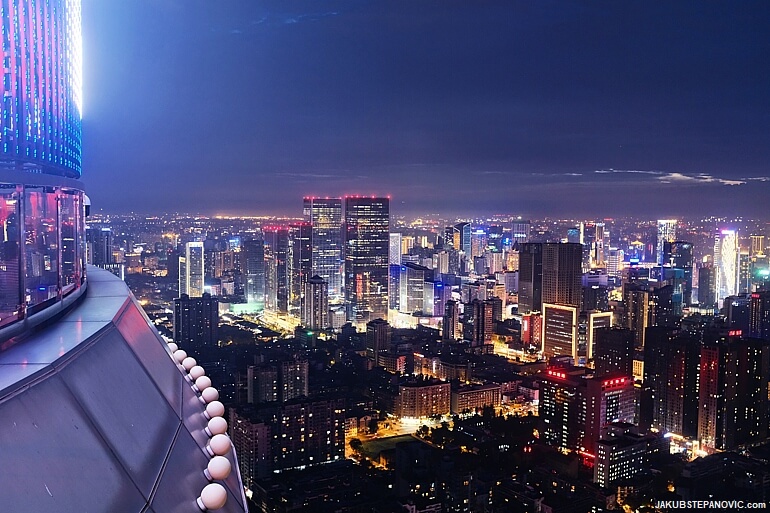 Collection of cityscapes I took during two weeks in Chengdu.
Chengdu is the second largest city of Western China, with an urban population of over 11 million — a city of this size promises miles and miles of structures to form interesting compositions. Well, and as finding such compositions is one of my hobbies, here it goes:
The first point I marked on my map was the local TV tower, as it has an observation deck. It turned out to be fantastic. The outdoor platform isn't overcrowded, and offers stunning views on the central business district (the picture at the top), and the rest of the city:
Many buildings in the downtown have plenty of led lights to enhance their appearance, so the place is far more colorful after sunset than during the daylight. Watching it being lit up from a good vantage point is immensely relaxing.
As the downtown is best to enjoy after sunset, I found other neighborhoods more appealing during the daytime. Mainly the residential skyscrapers without any special lighting can fade at night, but during the day, their hard-edged shapes cut through the horizon rather nicely.
When the sky's grey, they form a monochromatic set, contrasting and complementing at the same time.
While plenty of neat views are from somewhere high...
...the ground level has it too. Good spots to look for are the locations with a water surface, as they open a space to view the places from a little distance...
..and sometimes, they add a cool reflection as a bonus.
When natural pools and streams are nowhere to find, asphalt rivers serve the purpose.
Big cities are like a library of stuff to admire. The views, the architecture, the infrastructure, the engineering behind it, and the ways how are locals use it.
It's better than a TV.
While there's some great urban scenery in Chengdu, it is not its main domain. That would be the local people, food, and pandas:
...I focus on these in another post.
---
If you liked these pics, you might also enjoy my collections of other Chinese cityscapes, like:
You can also visit my blog archives for more categories and topics. Thanks for reading!
Follow me on Instagram, Facebook, and Twitter, so you won't miss out upcoming articles.