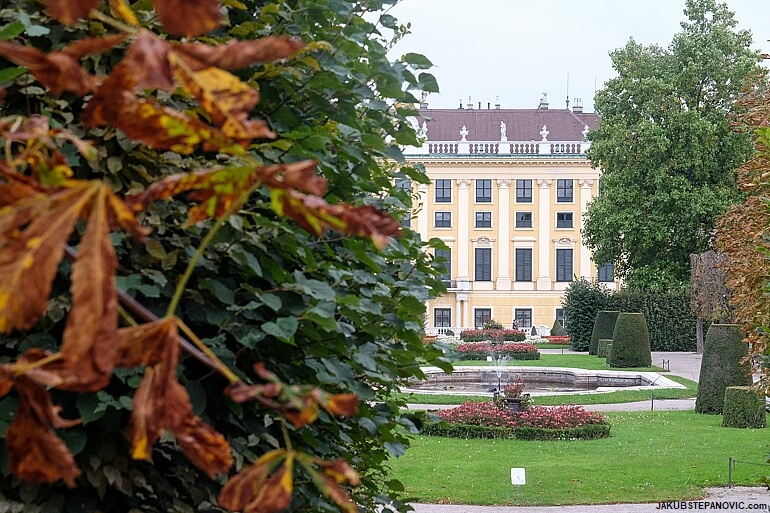 Welcoming the fall season in the Austrian capital.
I had a mad week: meetings, visits, conferences, ceremonies... I could sleep all weekend without feeling any guilt. But then, a friend messaged me that she'd be in Vienna and so we could meet there. Sometimes, spontaneous impulses like this hit the nail on the head, so I headed Vienna-bound instead of going to bed. Here's what I saw during my two-days visit:
The streets were amazing to navigate through. They were full of people (which still felt somehow exotic, after 2020-21 closures), full of bikes, and full of shops.
Mainly in the downtown area, the storefronts offer glitz of high-priced attire in a large volume. What's better, though, are the similarly abundant stylish cafés. In one of them, I had some sort of chocolate cake with a hard shell and a melted inside; an absolute delight.
The café culture in Vienna is unreal. It reminded me of the times I stayed in Poland, where a different friend and I went from one café to another, chatted and tasted cakes while sipping coffee. These sessions are among my best memories from there. In Vienna, one could go and discover different cafés for a lifetime. But the chances are that they'd find such a good one that it'd be hard to move on. For a lifetime. It is great. Just like the lively streets are.
An element that caught my attention was the curated contrasts of the buildings.
The new is merged with the old in a sensible fashion to complement each other. I am a fan.
Contrasts weren't just within architecture, however. The museum of modern art's exposition was a mix of elitism and progressiveness, inclusivity and out-of-touch. I got a somewhat similar feel for other art examples within the city. Still, seeing the omnipresent reminders of the huge artistic legacy and intellectual tradition was a satisfying experience.
Another unexpected blend of two seemingly very different elements we found in front of the Karlskirche, an opulent Baroque church, in front of which was some hip-hop concert.
Speaking of churches, Vienna has loads of interesting ones:
...inside and out:
I didn't get on any church spire this time to enjoy the views, but the Riesenrad did the trick:
...
To get around, we ended walking loads. Yet, I also tried Vienna's public transportation.
It is convenient and pleasant to use, and in many instances, pretty to look at as well.
The pic above then serves as a transition to other visually engaging corridors I saw:
But let's get out, back to the streets...
...Where the architectural diversity provides textures to appreciate.
As the city looks clean, even construction sites look like an arranged set.
From elegant brick facades to shiny new ones, Vienna has it.
And then the gardens! Vienna's gardens are splendid:
A fascinating one is at Schönbrunn. It is humongous, well-trimmed with plenty of flowers and picnic spots to utilize. Also, it's accessible free of charge; yey!
The garden is a part of the Schönbrunn Palace complex. The palace itself, a former summer residence of the Habsburg rulers, is of a mental scale. It has 1,441 rooms.
Another Habsburg palace is the Hofburg (pictured behind Kunsthistorisches Museum):
Nowadays, it temporarily houses the Austrian Parliament. I went there, too.
The man who took me around, at one point, quoted Goethe: "We see only what we know." That was absolutely spot on to what I felt at that moment. Not only about the general sense of life, but it could also apply to my previous visit to Vienna some five years ago. It was a completely different city to the one I saw now.
Finally, we saw Mozart's Magic Flute. No pictures here, but oh-that-was fantastic. Like the whole stay was. A trip elsewhere, like a dream. It added to a strike of the last couple of years when every time I stepped into a German-speaking environment, it all turned into a highly positive sensation. I am thankful for the people who made it happen; I thought while I caught a train home.
---
If you liked this article, you might also enjoy my posts about Austria or about these cities:
You can also visit my Blog Archives for more categories and topics. Thanks for reading!