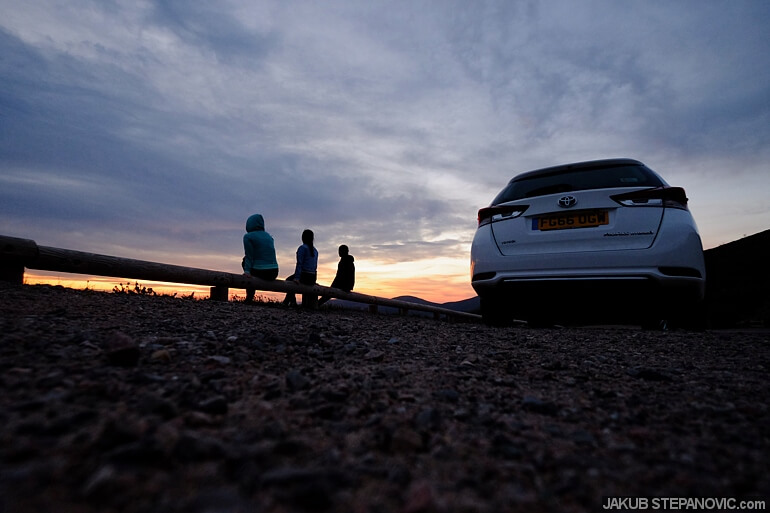 At the end of may I organized an easy-going road trip to the Cairngorms, Loch Ness and the west coast.
So, the plan was to depart at noon on Friday; however, that failed as I rented one of those new, fancy hybrid cars filled with hi-tech technology so advanced that it didn't work. They tried to give me another car, which ended not working either. Long story short, it took over three stressful hours to get this sorted. But then finally I got a car, and we were ready for some good times.
I intentionally drove on some b-roads to enjoy the scenery and to avoid traffic. It went smoothly, and eventually, we landed next to Loch Morlich, where we had a room for tonight. After checking in, we left for dinner at the east shore of the loch, which offered a pretty view of the setting sun.
It was an unusually warm day, so we could not resist trying the water after the picnic.
Oh, it was much warmer than the loch I went in a few weeks ago. Enjoying the weather, we went for a walk through a forest nearby, beautifully lighted by the evening sun.

Once back at the hostel, we jumped back to the car and drove up the Cairngorms ski resort to watch the sunset.
It was colorful, the company was good.. Oh, happiness.
When we returned, the sunlight was all gone, but we opted to take another walk to the loch.
There we quietly sat down and listened to the waves while observing the mountains' dark silhouettes around. On the other side of the loch, some people made bonfires, and now and then, there was a glimpse of some torch up in the hills. One could only guess all the stories those lights represented...
The following morning we had breakfast and left. Not that there wouldn't be anything to do around, but we still had a few places waiting for us further west.
Before getting there, we stopped by Carrbridge, drove by Inverness (I missed one turn, which resulted in a nice tour of Inverness' downtown), and soon we approached the edge of the famous loch. Again, we took a small hike on the shore.

..And the surrounding forests..
And continued further, where is Foyers waterfall.

It's one of the most touristy oriented features in Scotland I saw; thankfully, it wasn't overcrowded. We walked towards a local settlement, and the landscape around was like a set from a botanical garden.
Continuing on the Old Military Road, it was scenic and nice to drive.
We followed the road down to Fort Augustus, where we saw staircase locks on the Caledonian canal and kept south to see the Glenfinnan Viaduct.
There we caught rain, and it was my first encounter with midges. Oh, it had to come one day.. Anyway, again, nothing to spoil the overall positive feeling when the landscapes around look like this
After this, we went to see the Old Inverlochy Castle in Fort William. I impressed myself when I nailed the navigation without a map on the first go.
It quit raining, and inside was a seagull couple with tiny offsprings. The day was slowly reaching its final stage, and we proceeded down south, where's yet another of impressive Scotland's castles: the Stalker.
This was the last point of interest I had prepared, so the plan was to head back home. However, then we entered Oban, where we were welcomed by this bridge. As someone with an appreciation for engineering structures like this, it made me quite excited.
Well, and then the road went through the Lomond/Trossachs national park, and that was one heck of fun driving to finish the day with.

It was one car, two days, four friends, over 400 miles of driving, and thousands of smiles.
---
If you enjoyed this post, you might also like my previous articles about Scotland, such as:
Alternatively, browse my blog archives for more topics and categories. Thanks for reading!
---
Follow me on Facebook, Twitter and newly also on Instagram.
Published by: Jakub Stepanovic in Stories