Visiting a charming coastal town in the French Finistère during Mardi Gras.
Douarnenez (pop.: ~14,500) is a commune in the northwestern region of France, Brittany, at the shores of the Celtic Sea. It has a rich history; one can stumble on multiple menhirs from the Neolithic period in the area, and the town's written records began in the 12th century.
Most of the town's current shape formed between the late 18th and early 20th century when the local fishing industry had its golden era. The old cobbled streets are fun to walk through and feature some interesting structures.
However, the most picturesque settings are at the coast.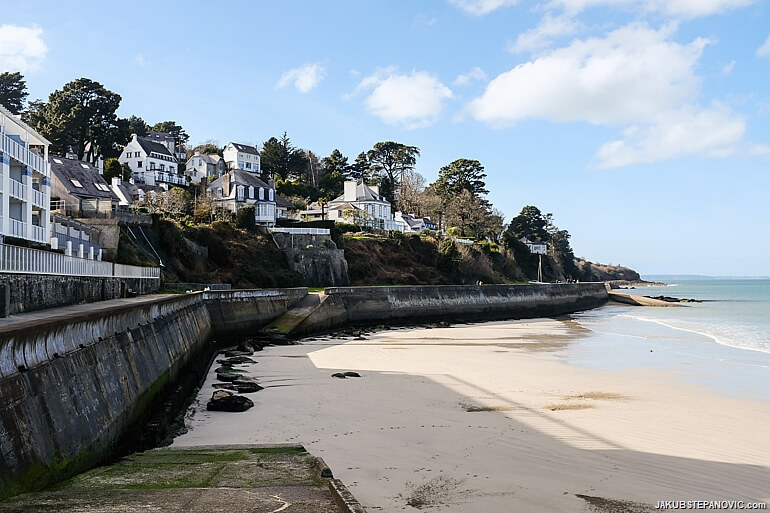 There are numerous sandy beaches, inviting for a swim. I did not expect to swim in the Atlantic in February, but the temptation was too strong, and after managing it in Scotland, I thought that I might as well do it here too. It was terrific.
But more than the beaches, Douarnenez shines through its three active ports. First, Rosmeur has a vibrant promenade with restricted access to motorised traffic so that one can enjoy its cafes and restaurants overlooking the sea in a calm, relaxed fashion.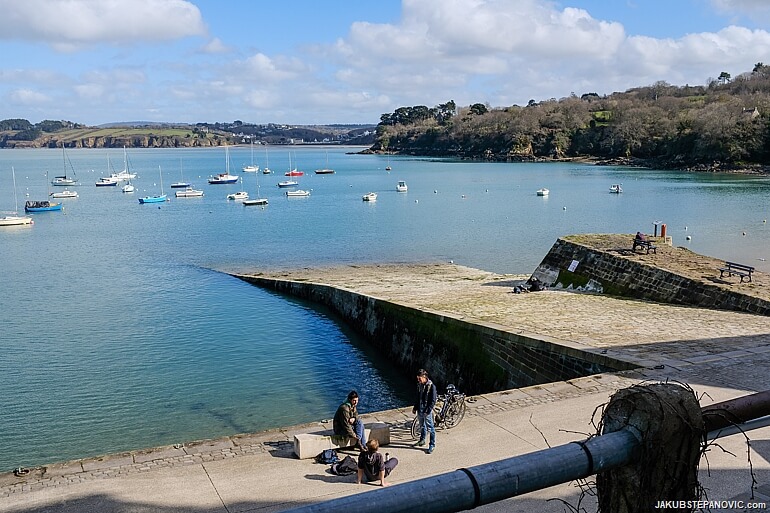 Rosmeur is also home to an industrial area where the fishing and canning trade goes on.
Walking a couple of minutes west takes us to the next port, Rhu.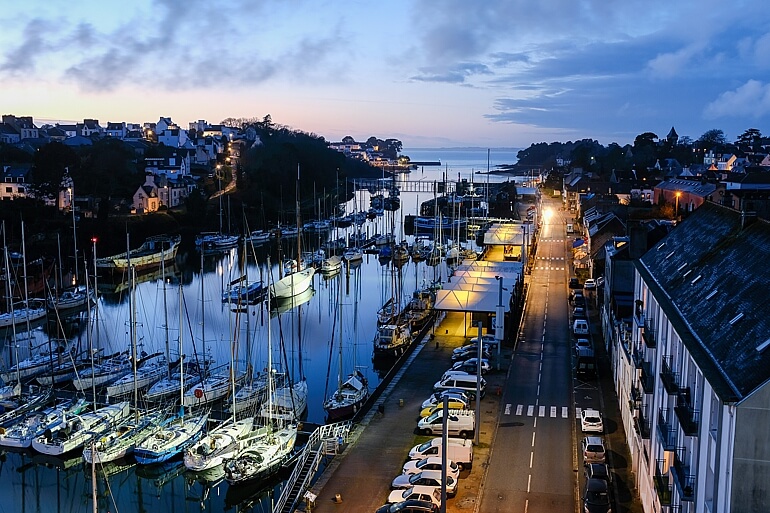 Rhu is at the mouth of the Pouldavid River, which relatively steep banks offer plenty of neat views to enjoy. Yet, perhaps more exciting is when one gets closer...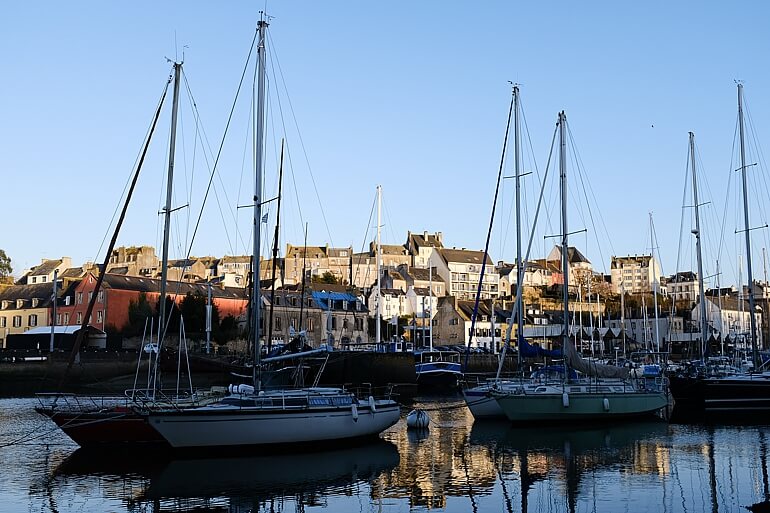 ..because Rhu is full of rather impressive boats. Between private yachts are an open-air museum and a section that docks historical sailing vessels still in use.
Finally, just another few minutes of walk away from Rhu is the port of Tréboul.
Tréboul might not be as colourful or rich in ships as the previous two, but its position and weather offset that. It has the best potential to enjoy sunsets, for instance.
Moreover, Just across the port is Tristan Island, associated with legends from the King Arthur times, as well as with the Breton mythical city of Ys.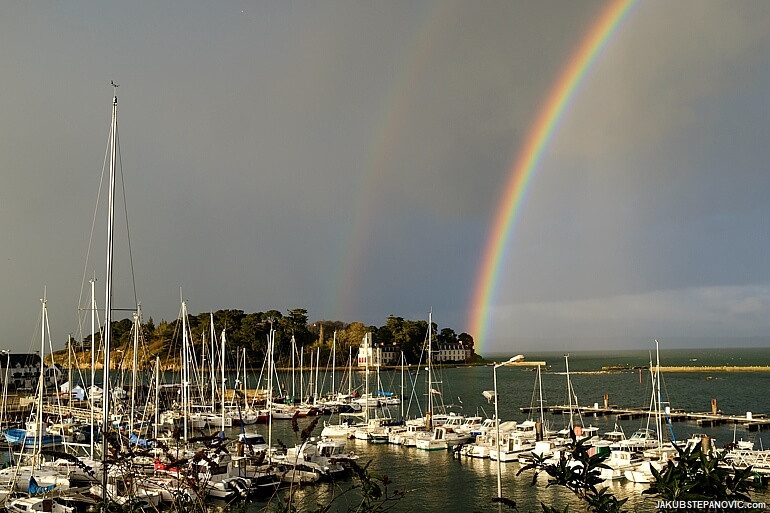 Around each port can be found some boat construction and repair businesses that add a glimpse into the city's vibrant sailing culture.
Speaking of culture, there is a lot going on. Locals often head to the streets, advocating specific causes, gathering with musical instruments and singing. It feels fantastic.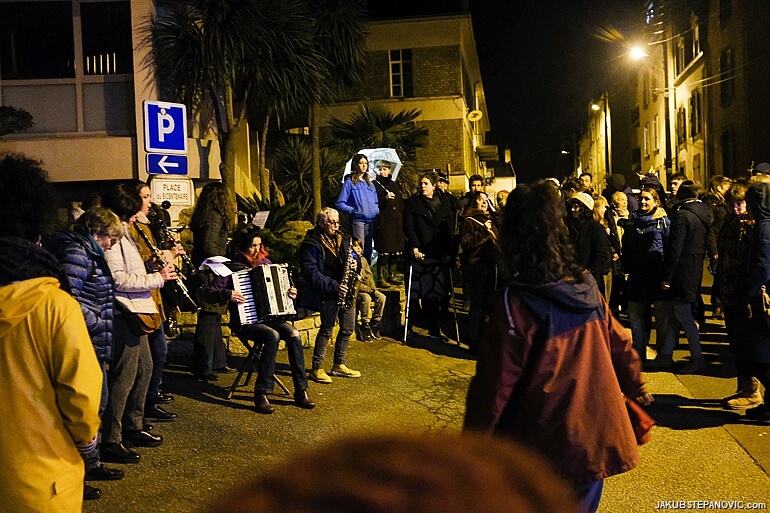 Witnessing the attitude towards social life, it isn't surprising that the town hosts one of the biggest Brittany's festivals, Les Gras de Douarnenez. Well, and I was fortunate to experience it.
Mardi Gras, the last moment of indulgence before Lent leading to Easter, has been celebrated here since 1835. Besides the Catholic meaning, local fishers also cherished it as the end of the winter season, traditionally slow for work.
The festival starts with the introduction of the Den Paolig, which is a large figurine made of paper mâché representing a different recognisable individual each year. The Den Paolig (poor man in Bretton) then oversee the festival from the town hall.
Walking to the introduction, we passed multiple British-themed dance performances.
When we made it to the town hall, the indeed recognisable figure for 2022 became clear.
It took me a bit as a surprise, as I knew the Den Paolig's fate once its role of the celebration patron ends. But let's not skip ahead.
The festival continues with parades and other entertainment during the days...
...But it is after the sunset when the cheerfulness reaches its peak. Each day, people set to the streets in bold costumes, and the place bursts with chatter, music, and laughter.
I found it very cool because it brought together people of all ages in an open-minded and welcoming atmosphere. I also appreciated the effort folks made making their costumes. Some were more elaborate than others, but the vast majority were DIY.
Such an approach aids the diversity; an immense difference to some other costume events I attended, where people got their outfits from amazon or similar, and so there were twenty same comic characters. Not here. In fact, I don't think I saw any mainstream superheroes.
The emphasis on the carnival is massive. Some individuals prepared different costumes for each day of the festival. It is inspiring, and I ended up making two for myself. Then, halfway through the festival, I made another, unintentionally, as I gained a wizard-like scar on my forehead. I know what you might be thinking, but it wasn't through exuberant intoxicated action. Instead, I visited friends in one of the old houses, designed for shorter people than I am, and I smashed my head to one of the vent fans in the kitchen. Seriously, being tall sometimes brings challenges.
While seeing new costumes every day served a spectacular show, it also presented a struggle when associating identities to faces. I had multiple moments that went like this: "What's your name?" ~ "Anne, we met yesterday." ~ "Ah, did we?" ~ "Yeah, but I had longer hair with a different colour.." I couldn't recognise many, as they looked completely different.
It was okay, though. Everyone was in a good mood, and repeating an introduction wasn't an issue. I heard some nice music, and fab tales about seas, sailing, and more.
It was also at night when the festival came to a conclusion. People once again gathered in front of the town hall, and the Den Paolig set off on its journey to Rosmeur.
Together with a group of musicians, we formed a ceremonial march down towards the sea.
In a moment, the waterfront area got crammed with a humongous crowd..
...awaiting a fire-packed finale.
Once the Den Paolig arrived on the quays of Rosmeur Port, a couple of men started fire-breathing, setting the figure alight.
Before the Den Paolig, engulfed in flames, turned to ashes, final fireworks lit the port, ending the official celebration with a bang.
The official programme was over, but the show continued until the following morning.
Douarnenez, merci!
---
If you liked this article, you might also enjoy my other posts, such as:
Alternatively, browse my blog archives for more topics and categories. Thanks for reading!