How I went to explore Oklahoma's capital and the largest metropolitan area in Texas.
This was my first good-sized road trip in the US I did on my own. Prior to this point, I travelled with friends, and when nobody wanted to join, I stayed at home too. It could be the same situation this time as my friend cancelled his participation, and no one else was keen to tag along. But since I've already cut on meals a month ago to save some gas-money, had everything prepared and really wanted to see something new and exciting… I decided, "heck, let's do it anyway." So on the afternoon a day before the 2013 Thanksgiving I topped the gas tank of this beauty, a '90 Oldsmobile, and took off.
I was hoping to catch the OKC at sunset. Well, the evening light was nice as always…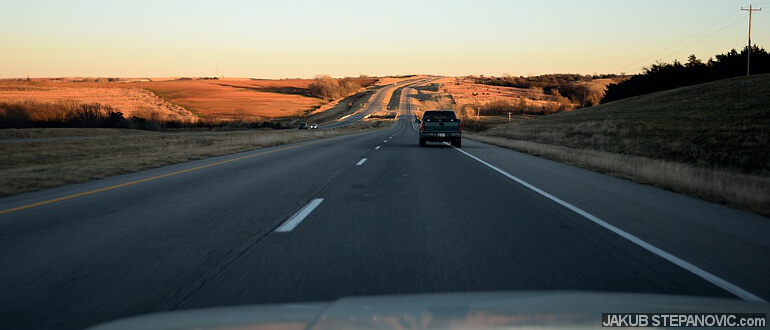 …but when I finally arrived to the city, it was dark already. This didn't discourage me from marking some of the places I wanted to visit off the list. The first was the Devon Tower - the tallest building in Oklahoma (850ft /259m).
While the tower is interesting inside-out, the main reason why I went here was the view from its 49th floor, where's a fancy restaurant.
When I am traveling, I like to blend with the environment, act like I belong there for ages. This approach is entertaining and opens many otherwise closed doors. But here at the restaurant I struggled to apply this, as the community was too far from my world – all the conversations around covered stuff like: "Remember how I made that $700,000 investment last month? It's already profitable as hell!" Feeling like a fish out of water, I didn't spend much time up there. Maybe the next time. Moreover, other places to see were awaiting me.
At the time, OKC was in the middle of a massive redevelopment, creating space for many attractive projects. One of them is this, SkyDance Pedestrian Bridge - my next stop.
Then I strolled across the downtown..
..and some hours later I was ready to fall asleep. I planned to take some cheap motel in the suburbs, but I couldn't find any for a while. One that looked to cut the deal finally appeared, so I pulled over. Alas, they asked around $80 per night. Too tired to search an alternative, I stayed there.
The next morning I went to see sculptures in the downtown..
..checked out the well executed OKC National Memorial..
..and soaked up the general emptiness all around.
Then I visited the waterfront with some interesting structures..
And sometime in the afternoon I joined the I35, to continue straight south.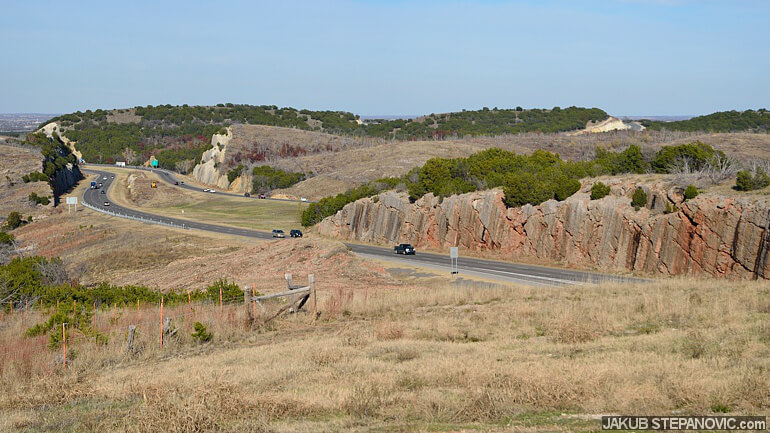 Around three hours later, I was entering Fort Worth, driving directly to its modern art museum. Because its building is super cool, that's why.
Back then, I was interested in large cities and their architecture more than anything. That said, I was about to make the most of it, and for the next few hours I was browsing the streets of the city centre, photographing what it offered and having a blast.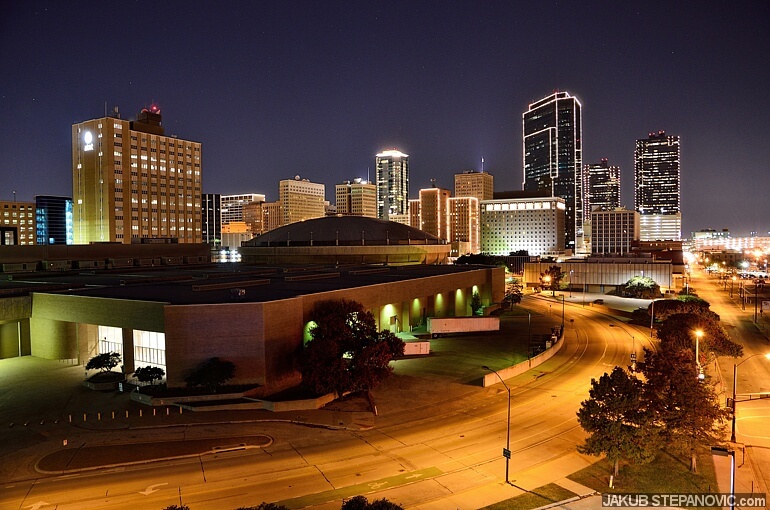 Just as in OKC, FW's downtown formed a ghost town, without anybody around.
I was looking forward to seeing the city's water gardens, a park with artificial waterfalls and such, but I found it already drained due the dropping temperatures. Oh well. In the end, I discovered another interesting place with water, on the opposite side of the area: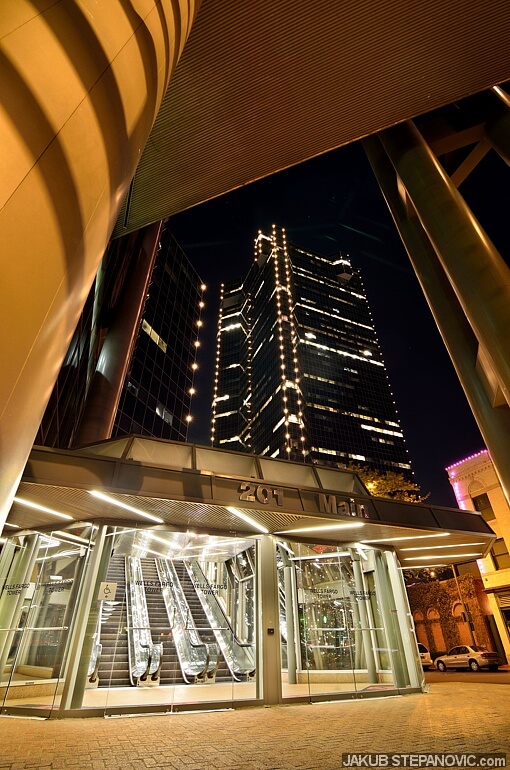 After I had enough, I went back to my car to soak a bit of the Thanksgiving spirit - I got me a turkey sandwich for supper. At least, that's how they called it; in all honesty, its taste had nothing to do with a turkey. Nevertheless, I couldn't stop smiling because I was doing what I love: traveling and enjoying the world in general.
That night I didn't plan to sleep in a hotel. Instead, my idea was to car camp in the park next to Echo Lake. There were two reasons for this: I wanted to balance the budget after that $80 night yesterday, but the main argument was its location.
The deal was, right next to the park stands a long-abandoned municipal incinerator, featuring two radial-bricks smokestacks. That's right, when I planned the trip, I included some industrial points of interest into the list as well.
The Internet says that the facility was built in '40-'50s but closed already in '60-'70s due to new eco-rules. During the '80s, the place turned into a well know drug hole, adding stories about unsolved deaths and so on. Nowadays is supposed to be empty, but often visited by taggers and other individuals. "Could be an experience either way," I thought while driving down there. The park itself is – or could be – quite pretty; however, I found out injection needles and other not-so-welcoming objects around. Dogs in the back yards nearby barked like someone wanted to eat them alive, making me question the neighborhood. But I kept calm and once a long freight train passed, I went to check out the incinerator. The object had many maintained paths all over, proving it like a favorite place. But on the thanksgiving eve, the only living thing I met there was a horse. Yeah, I don't know either. Atmospheric location for sure.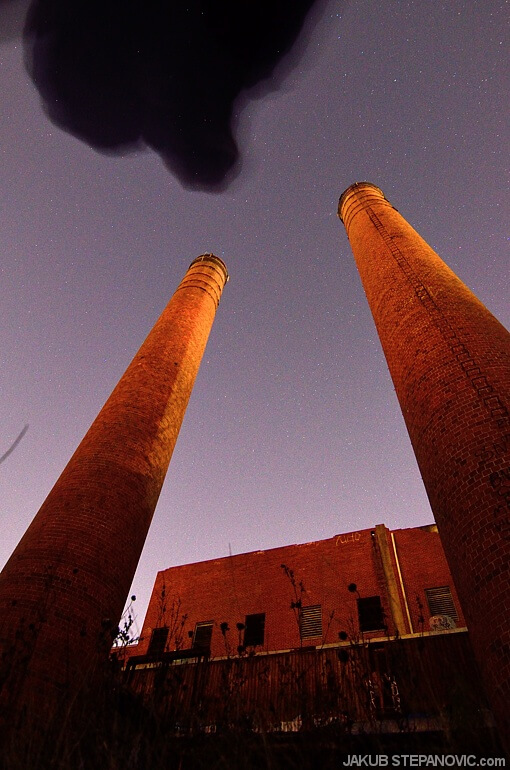 Once back in the car park, I was searching my trunk for a bag with my toothbrush, when a white truck arrived. It passed close to me at high speed, turned around and stopped. We played the staring contest for a couple of seconds. Glad I had three jackets on me at the time, together with my height 6'6" it worked and the truck left. However, it surely did not add any confidence to the place. Suddenly, the truck returned with a convoy of five more cars, passing me fast again, meanwhile honking like crazy. All of them disappeared as quickly as they showed up, but I got the message. So I left for Dallas.
Waking up in the Dallas downtown, I continued my tour of modern architecture...
..as the area boasts many notable representatives in this aspect.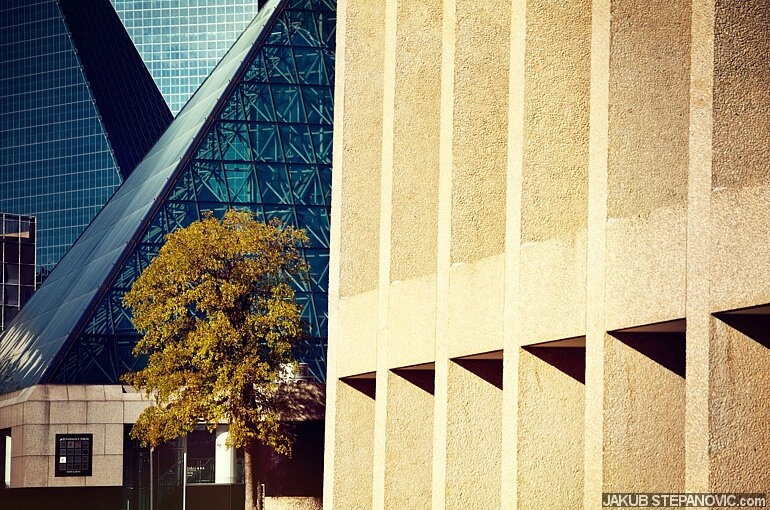 Just as in OKC, I enjoyed the sculptures around..
..and as it has been my habit, I went somewhere with a good elevation to observe the surroundings from above.
Needs to be said, Dallas offers many neat perspectives from the street level, too.
Exploring the city's curves was entertaining at best. I felt like at home here.
Later, after using more or less conventional paths..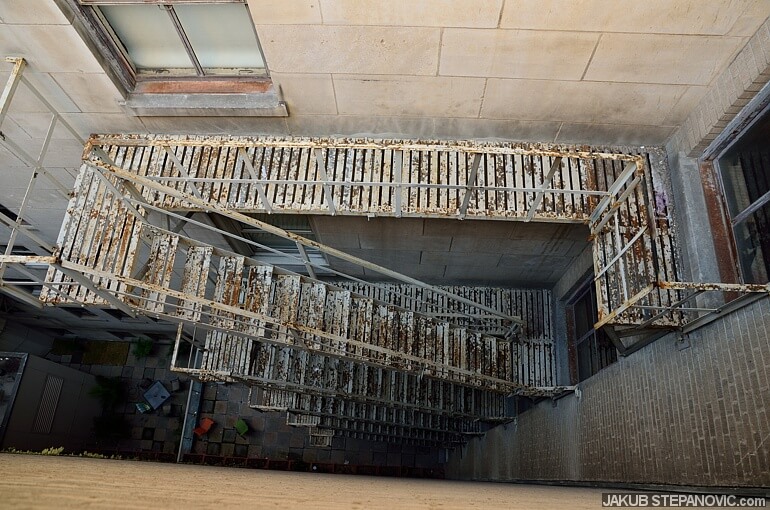 I discovered this concrete sanctuary..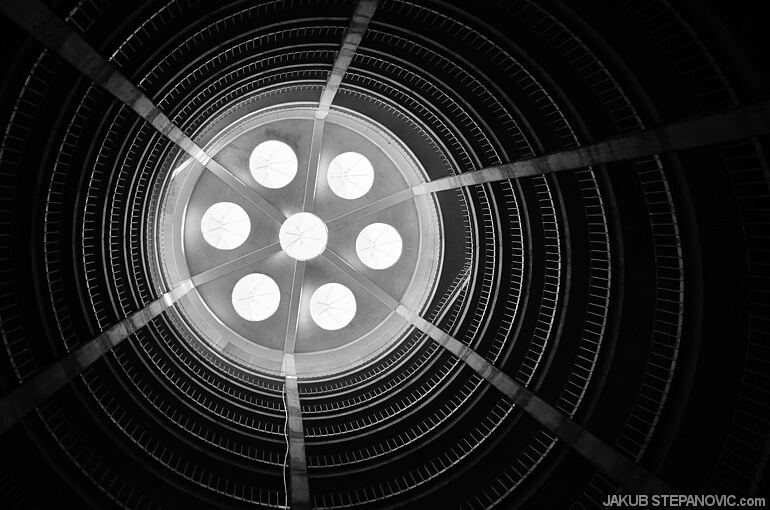 It is a parking garage, which exterior looks like a basic concrete cube with no hints of what's inside. But man, it is so worthy to visit.
Making my way towards the west tip of the central business district, I found a place which was, unlike the rest, filled with people: The Dealey Plaza.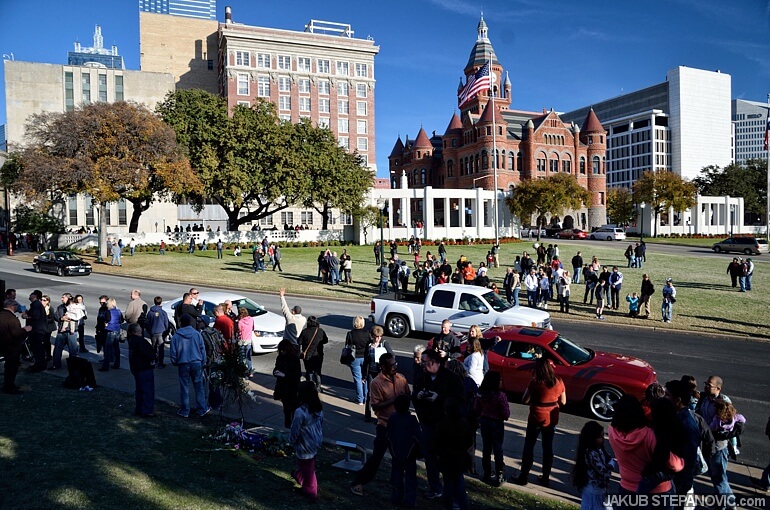 This spot was the scene of the assassination of John F. Kennedy, the 35th President of the United States, almost exactly 50 years ago, prompting people to pay a visit to the memorial.
Kennedy was on his way to deliver a speech about, among others, how we better use our strengths with wisdom to establish, preserve and promote peace.
Well, it escalated quickly...
My favorite part of the scheduled speech is:
"If we are strong, our strength will speak for itself. If we are weak, words will be of no help." (JFK)
Yep, sounds good.. Only if the rhetoric would truly reflect the driving forces and actions of politicians. I couldn't dodge some thoughts about the power of public relations, mainly in the context of the current day and age. Oh anyway.
After some time spent learning about the local history and the struggles of freedom, I moved on and went towards the last place I had marked within the Dallas downtown area: the Reunion Hotel and Tower.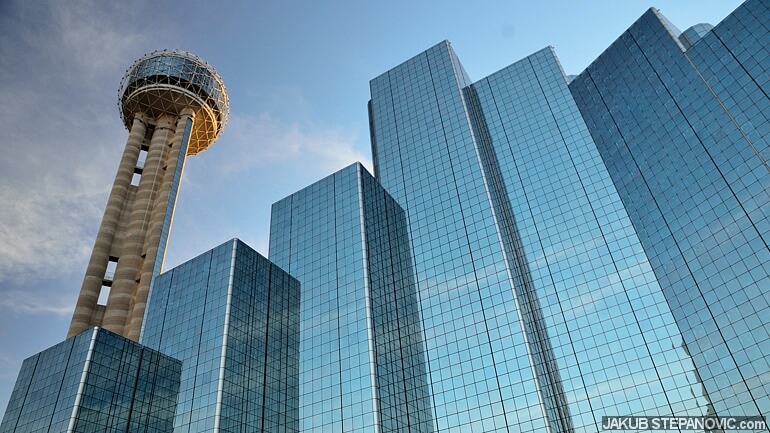 The tower was newly after a reconstruction, so all the equipment was fresh and shiny, but I cared more about the view.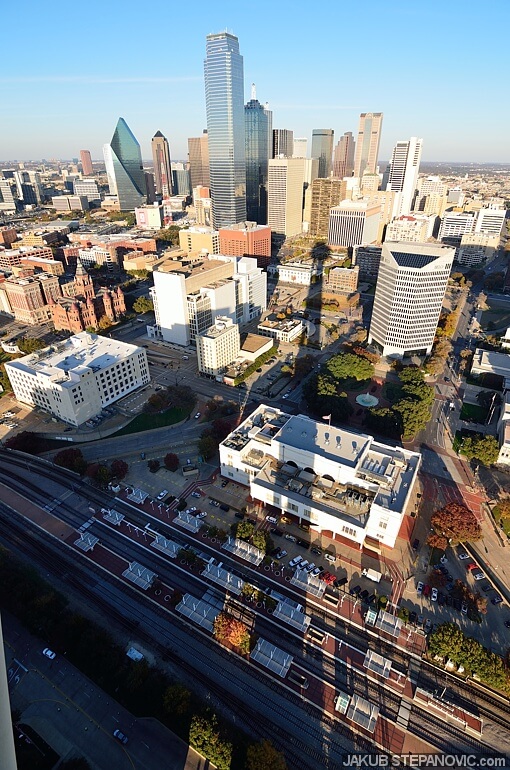 ..and it lived up to expectations. Good stuff.
A part of my planning of the trip was to browse satellite maps, to search for a places with a potential of a good view. So I had marked a place from where I hoped to grab the Dallas skyline from a bridge above a freeway. That's the moment when the picture at the top of this post was made. It's truly rewarding when you plan something, hope it will work, then you arrive, and it is exactly as good as you hoped.
Back when I was looking at the satellite images, another thing that caught my eye were cool stacked interchanges around the area. Being here, I went to see them too...
Watching streams of red and white flowing like regulated rivers on multiple levels, accompanied by an occasional light trail from an airplane was fun, keeping me occupied for a while. I was thinking of the different stories boxed in every car that passed this engineering marvel, and then about civilization's achievements in general. In the end, I just relaxed with the visuals, emptying mind, and happy, I began my way back home.
In my eyes, it was a massive success, so it wasn't the last road trip I did on my own.
---
If you liked this article, you might enjoy other posts about my road trips in the USA, such as:
To stay in touch for the upcoming articles, follow me on Facebook, IG, or Twitter.
---
Oh, and by the way.. pics of cityscapes look amazing when printed out in a large format. If you'd be interested to decorate some wall with one, shoot me a message..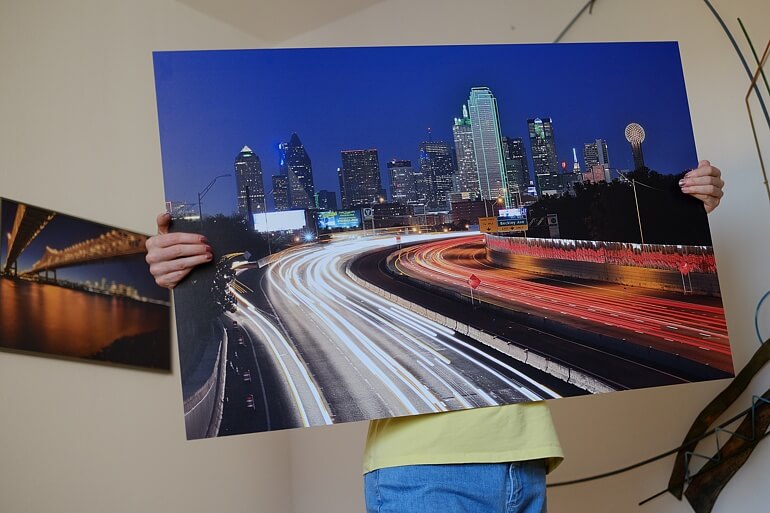 Thanks for reading.