Journey to Scotland is an interactive installation / a performance tool where a set of animated images and audio tracks can be adjusted in real time to create a narrative or abstract art. 
The narrative portion displays animated vector graphics which documents the travels to Scotland: From an introduction that shows the European map, eventually zooming and following an airplane towards Scotland, to local cities, landscapes and monuments.
The scenes are inspired by my personal experience of getting into Scotland, based on photographs I took during the journey.
The plane passing above a large street lamp is inspired by a photograph I took in Glasgow, during my very first trip to Scotland.
You can read a story I wrote about that trip.
Default hues of each scene are blue, white (Scottish national colors) and yellow, to symbolize the warm, welcoming atmosphere. This particular frame depicts Edinburgh and is based on a photo I took on my first visit of the city.
The story about it is here.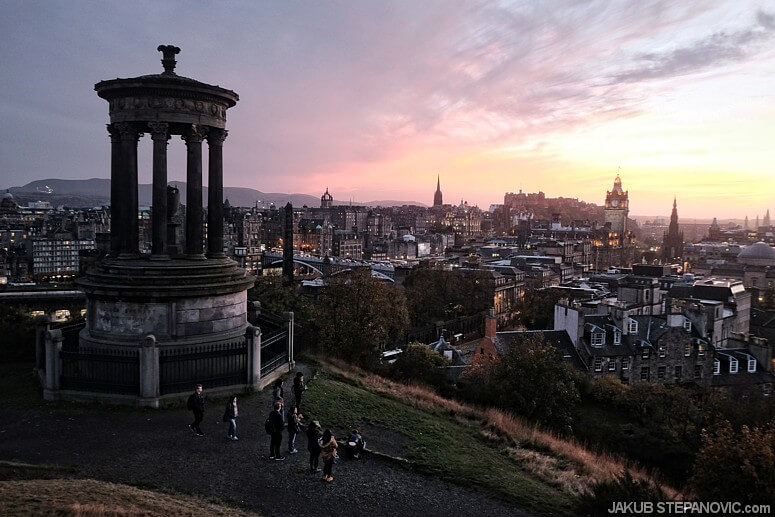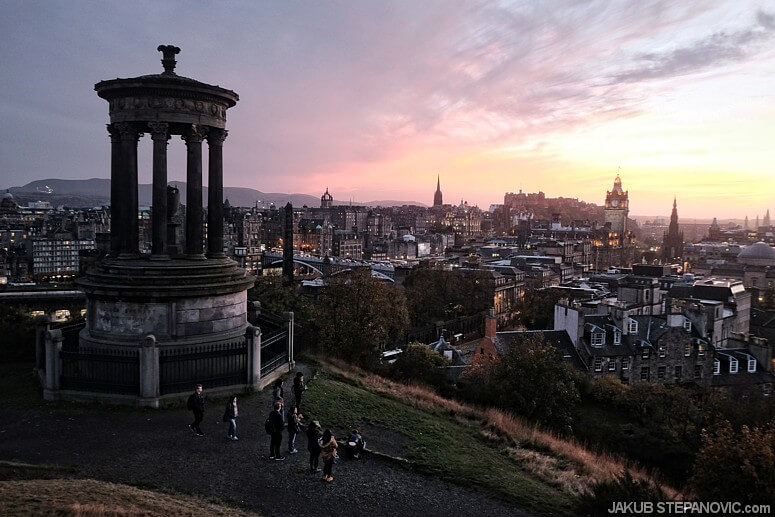 The train passing on a bridge is based on a photo of the iconic Forth Bridge. However, it can represent any other, as it is possible to add a layer with mountains in the background to create a transition between places, for instance to Dundee and its Tay Bridge.
The last two specific scenes show the city of Dundee, where I settled in. Both of them can be manipulated to change the weather to show the place in any season. 
See my Dundee photo essays.
There are eight scenes, each with additional layers that can be added to change weather, geographical features, or to add abstract motives. Both scenes and layers have assigned music that can be modified together with the animated projection to create over 16,000 variations. That is where the abstract portion of the installation comes, as the users can improvise and push the modulation to a level which totally overwrites the initial pictures. Together with synchronized audio equalization, it offers an immersive, playful experience.
The installation had its debut in the Centrespace, Dundee Contemporary Arts (Dundee, Scotland), 10-11 March 2017:
feedback from the visitors:
"I wish I could have it at home"
"The audio is insane, great work!"
"I could play with this for hours"