How I spent the final day of my trip into heavenly landscapes of Cumbria's tall countryside...
It wasn't on anything nearly as popular as the places we conquered within the previous days, the Helvellyn and the Scafell Pike. For today, I picked a trail without any background information - all I saw was this horseshoe shape of a mountain ridge on a map:
From the Holme Ground to the Great Carrs, Little Langdale and back
...and I thought it could be a great time to make a loop on it. Frankly, the trail was probably the most rewarding of the trip, as it offered bigger visibility and a greater variety of scenery but with hardly anyone around.
The day was tremendous since its very start. The early light was beautiful, and there was an inversion as a bonus. Something I was hoping to see, and here we had it.
But it wasn't just the weather performance; the surrounding environment was no less impressive - just as we got off the paved road, there was an abandoned slate quarry.
This area of the mountains has many old mines. In this regard, it reminded me of the Colorado's San Juan Mountains.
Walking on a beautiful, maintained path, we soon got under the ridge.
Compositions with trees:
As the sun began to enhance the hills around, nothing but pure happiness formed a big smile on my face.
I used to have this thing while exploring large cities as well, but I disaccustomed it as everyone around assumed I've just escaped a mental asylum. In the mountains, however, nobody judges. When I calmed down the excitement, I was just thankful for all the beauty I perceived.
Oh, and there was plenty of it!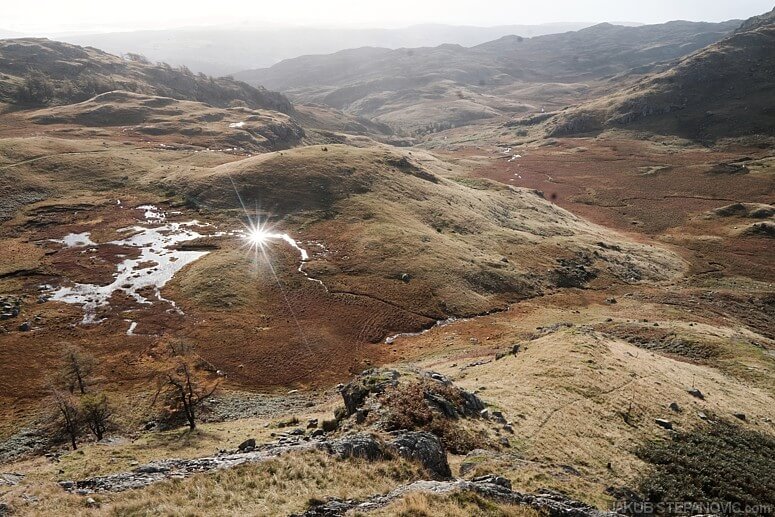 The path to the ridge was a set of steep switchbacks, where I appreciated that it didn't rain at the moment.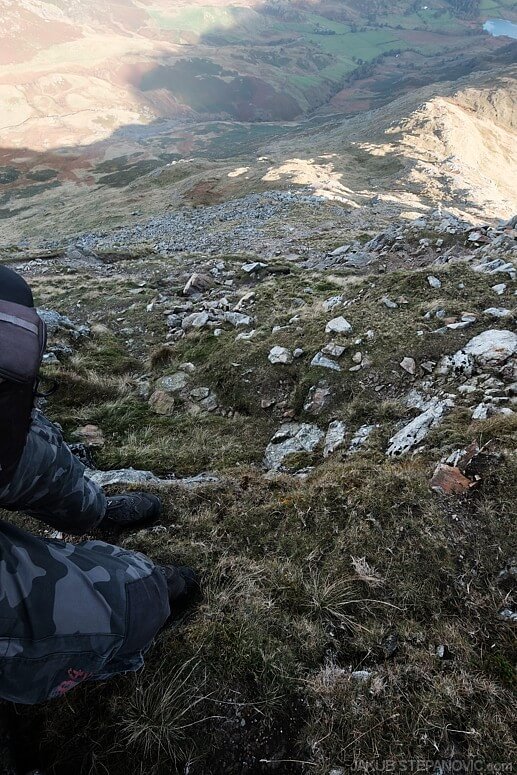 Not that there would be a lack of scenes before the ridge, but once on it, the views escalated.
Every time I am in the mountains like this, I am thinking how cool it would be if I'd have a bike. Unfortunately, it is prohibited in many national parks. Here; however, it's actually a common practice. Every once in a while, one could spot some hint in the dirt that someone was flying down on a two-wheeled machine. I saw tire tracks even around the remote Scafell Pike yesterday. Thinking how cool that must be, suddenly, a small blue dot appeared on the opposite side of the mountain. It was moving down rather quickly... A biker!
That's one feature of the area I'd like to point out: you can roam nearly everywhere you want. I like this very, very much. Do you want to explore some old mining sites, far from any footpath? Go ahead. Do you want to bring your bike on a peak and then cruise down? Sure, go for it. And you can even reach some places by a vehicle.
Anyway, back to our trail. This is where we headed.
There are some spectacular rock formations on the way.
And up the Swirl How, the scenery got even more magnificent.
Also, besides a bomber crash site from 1944, there was no sign of civilization.
Just beautiful mountains all over.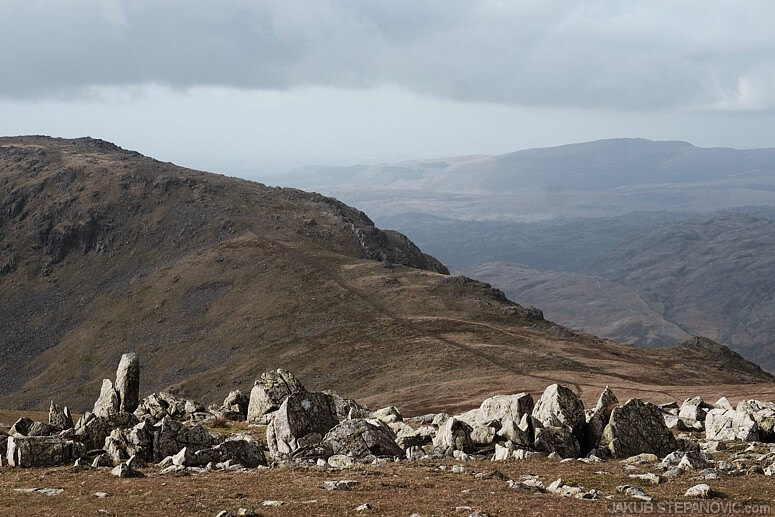 If you refer to the map at the top of this post, we are now at the tip of the horseshoe bend. there was a great view where we came from (right) and where we headed (left).
Once we started going down, the sky turned overcast.
It wasn't a complaint, though.
Once we got down to the valley, we crossed a river and joined a back road towards the camp.
as the elevation declined, sheep and cattle took place next to the trail again.
As I mentioned earlier, roads here can be used by vehicles - another similarity with Colorado. So, this Defender popped out of a curve at one moment.
Soon after this, we descended back to our campsite. We had work the next day, so it was time to wave goodbye and head back to London.
Three days in a paradise. That's what it was. Thanks for reading!
---
If you liked this article, you might also browse my Blog Archives for more stories like: