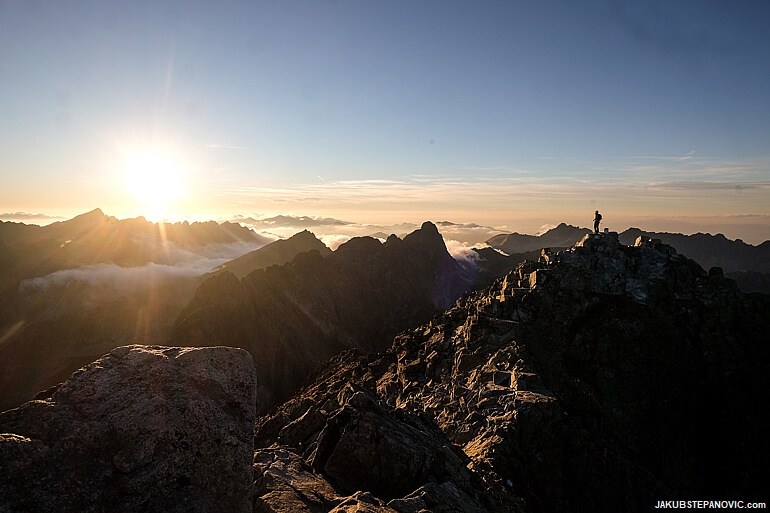 A getaway in the highest range of the Carpathian Mountains.
Rocky ridges offer a mixture of refreshing relax warped in pleasing visuals. One comes with respect for nature, and they deliver an effective de-stressing package. No sophisticated math, a temporary escape to mountains equals a win.
Such a break was due; lots of things have happened lately. And so, offsetting the scale of recent events by visiting the High Tatras mountains, crowned giants of the country where I currently stay, sounded like a fair call. The Tatras hinted that they would be a treat just as we parked below them, and the further we went, the better the views got.
We hiked towards the Pod Rysmi mountain hut, which at 2250 m.a.s.l. is the highest-placed cabin in Slovakia. The trail is well built, but carrying a relatively heavy backpack up there proved to be a challenge.
First, my knee reminded me that I broke it some years ago; and second, the higher altitude had little mercy for my lowland-spoiled lungs. The top of the mountains was obscured in clouds, and we climbed right up to them.
But it wasn't all that bad: I happily took a bit of knee discomfort, considering that doctors told me back then that I'd likely never walk normally again. I wished they would see me now, darn pessimists! And as for the oxygen shortage, it reminded me of the hike to the American Basin I did in Colorado, also a nice thought. Add the pleasant company, and it felt like we got to the hut in no time.
The hut's ground floor serves as a restaurant, is furnished with tables made from large logs, and the interior centrepiece is a massive wood-burning stove. There is no electricity available for guests, no cellphone reception either. As a result, folks tell stories instead of checking their social networks every few moments. It is somewhat odd that this has become a feature worth mentioning, but here we are.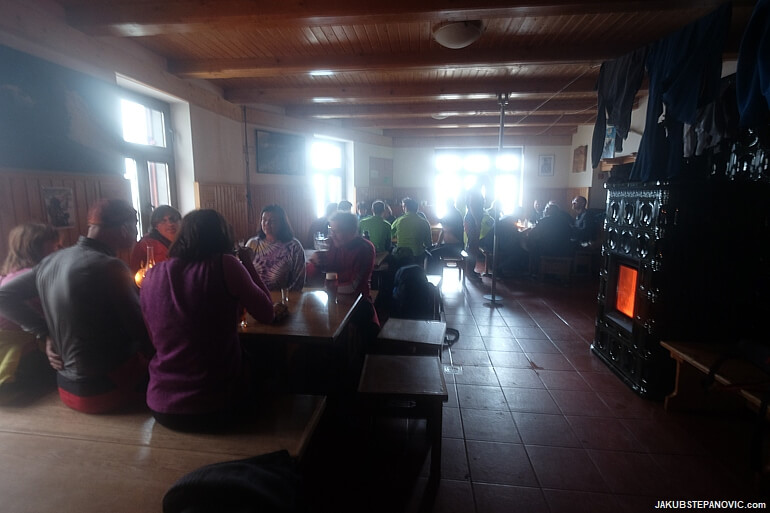 While everyone here was on detox from the things that come with cellular networks, many guests offset it with a different kind of intoxication. The drinking culture in Slovakia is huge, and the hut was a living example of it. There is even has a sign saying, "This is a mountain hut, not a pub. Behave accordingly." Still, we saw exuberant moves and heard passionate singing. Later, some guests managed to return to the infant stage, unable to walk and talk, unable to keep their stomachs together. Yet, I had an all right sleep upstairs. I learned from my mistakes, and earplugs were the first thing I packed for this trip.
The next morning we ate hearty breakfast when justifiably pissed hut manager told us that a mountain rescue team had to come during early hours to help someone. A strange culture that is; we agreed, and set off to our plan for the day: scale a 2547m tall, spiky summit nearby, called Vysoká. The sun was out; better make good use of it.
My knee protested as we left the hut, and gaining the first 100 elevation meters wasn't fun. "How the heck I'm going to survive the entire day?" I thought.  However, the fresh outlooks paid off, and all was well.
After reaching the saddle, the well-graded trail changed to a set of goat paths, providing plenty of accuracy practice. In a way, it was like going up on stairs, only here, the stairs were shoe-sized, and misplacing a step could mean an extended tumble. The good thing is that the Tatras' granite is super grippy. Unless wet...
Through this concentration game, we entered clouds again — they were still there, only a few hundred meters higher than yesterday. It was then when I realized that my knee situation actually improved. The steep gradient allowed me to pull myself up with arms and unweight my knees, which worked miracles. Paradoxically, the rough surface suited me much better than the mellow one. Yey!
If you ever hiked with me somewhere, the chances are that you heard me saying that it could be better if we'd be cycling. Here I could, for once, happily admit that this terrain is better without a bike. Another yey!
At one point, there were rungs in the rocks to aid with the climb, which triggered memories on urban climbing I did; some of the structures had similar steps. Then it clicked..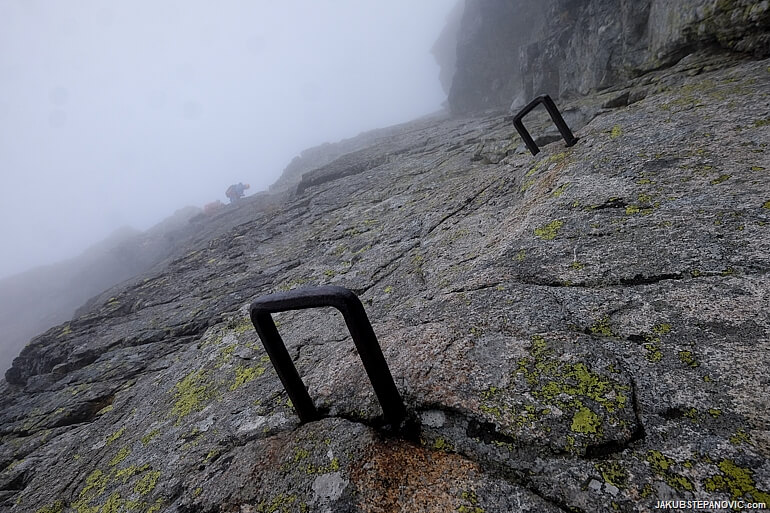 Suddenly, the movements synchronized, arms, legs, left, right, up; easy! The height and the knee ceased to bring worries anymore, and I felt great. This is why we came for!
On Vysoká's pinnacle, the wind blew hard and the visibility was rather poor, but we decided to chill up there for a bit anyway. The sun started to pierce the fog, and to form a stunning halo effect soon. Seeing our shade casted on a cloud below us was superb.
And the excitement lasted as we started descending. The clouds continued to rise, revealing the drops underneath the mountain. Getting down also provided us with a shield from the wind, and this meant one thing: picnic time.
The weather wasn't done yet. Departing clouds created a spectacular show:
Such outlooks motivated us to climb a peak nearby, Rysy, where we planned to watch the sunset. And oh, that was an affair...
While we were there outside the peak season, we still encountered others, as Rysy is quite a touristy summit. Besides Slovaks, we met people from Austria, Czechia, Germany, Poland, even two gals from the US. What's fantastic about meeting folks in places like this is that everyone is on the same boat. Regardless of where they are from, you already know that they have some affection for nature and adventure, a common ground to build a conversation on. In a way, being in the mountains is like being on Erasmus – so cool! Furthermore, as it takes a bit of effort to climb up here, everyone around looks terrific.
We chatted, enjoyed the scenery, and then commenced the descent.
Once back at the hut, we chatted some more, and then, people started playing piano and guitar, singing. The fire cracked in the stove, and it was fab beyond words.
As mentioned, the hut's quite basic in terms of facilities. One has to do the hygiene outside. A quick task yesterday, but as the sky cleared today, I spent nearly an hour watching the stars. They were the brightest I've seen in a long time, and with the dark silhouettes of the mountains underneath... I cannot imagine a better way to conclude the day.
The following morning, we learned that the clouds returned and formed a thick blanket over the hills once more. No bother, we opted to do a hike consisting of a few lakes and a ridge nearby, which we started by following a pristine stream.
With increasing steepness, the river soon changed to a waterfall. The low-hanging grey sky, climbing next to a waterfall to get to a mountain lake, the whole scene reminded me of one hike I did in Scotland. The difference was that one didn't feel as remote here. Either we saw other hikers around the lakes, or there was a weather station close by.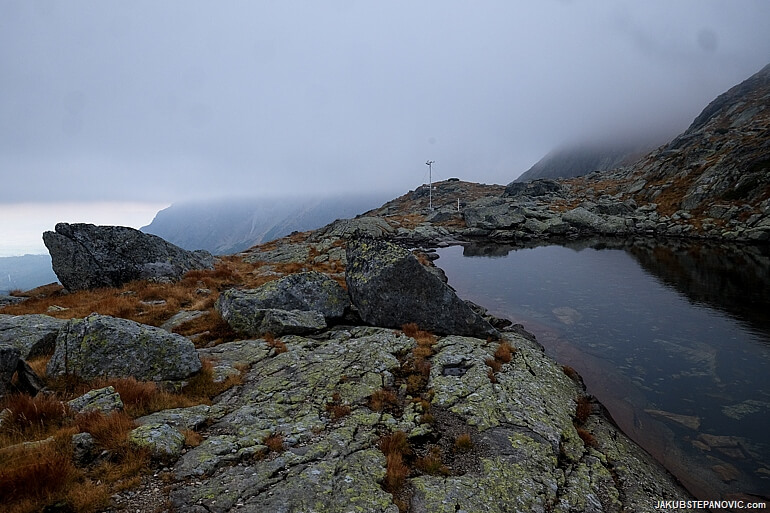 That wasn't a concern, tho. The reduced visibility was atmospheric, likeable.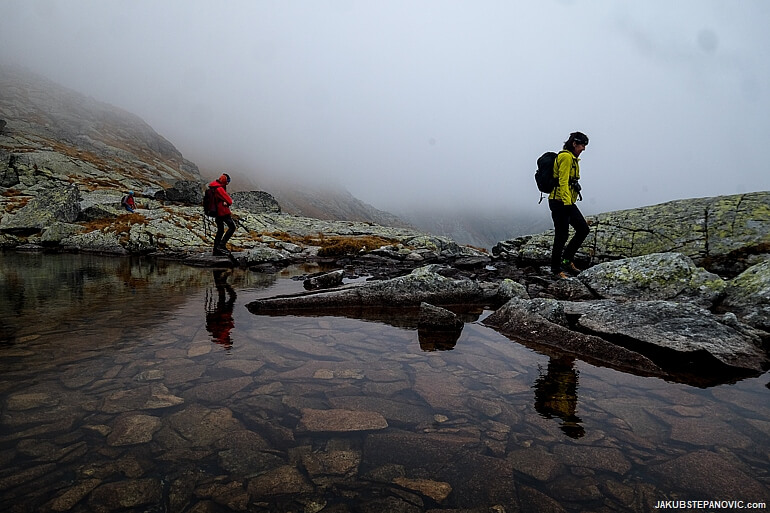 ..and it also added a bonus challenge to navigate through. Thankfully, there are small pyramids from rocks that make it more a playful diversion than a struggle.
Kind of like on Helvellyn, I thought. This impression got more support as steep slopes started to edge our path; sure enough, we reached the ridge.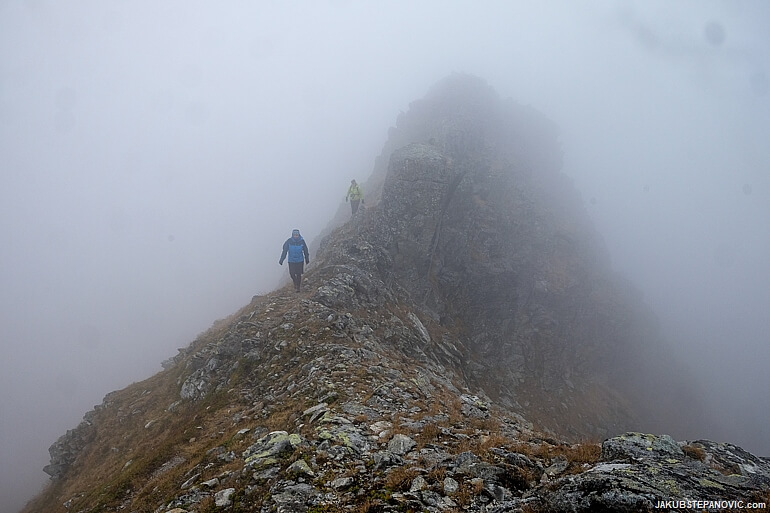 The ridge leads to a mountain named Mengusovský Volovec. While it was certain that there wouldn't be any distant views waiting for us, we decided that we might as well scramble up anyway since we were here.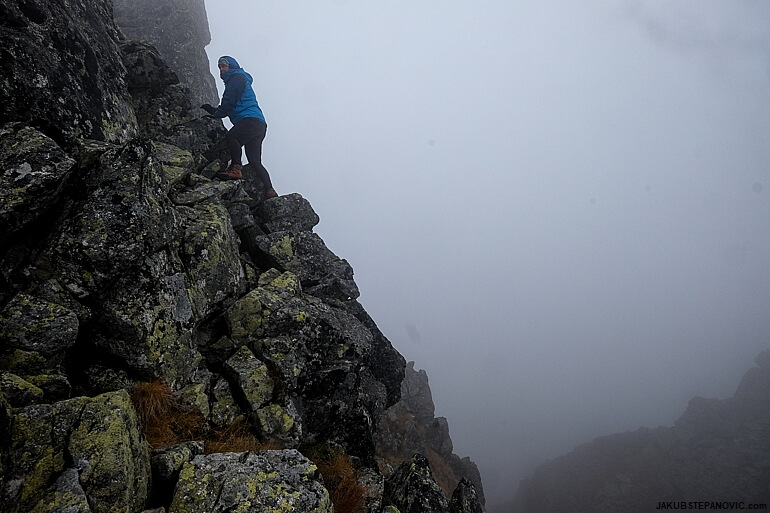 Then, we resumed touring some of the lakes.
As we did, the weather started to change again. First, we could actually see...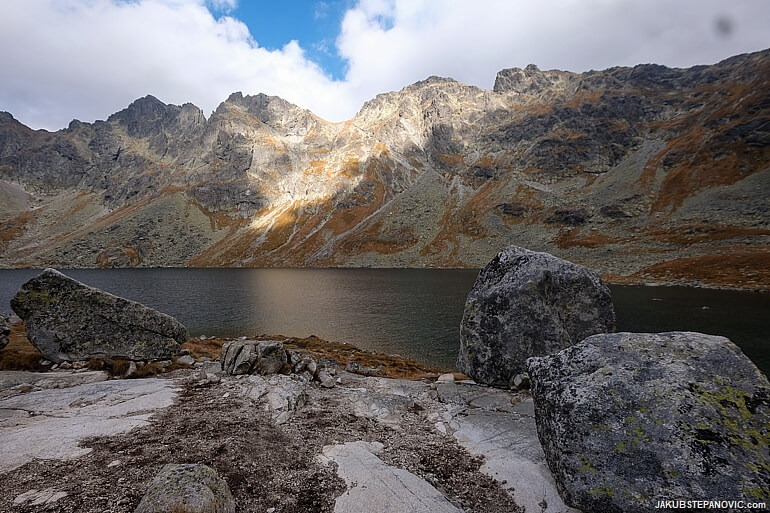 ...and later, the sun saturated the textures around.
Even though we were tired after the day of walking, the weather development fueled our will to head for more outlook-scoring action.
Hazed first, clear later. Just in time for another sunset.
As the sun fell past the horizon, clouds started their comeback. Back at the hut, I wrote down notes for this post, brushed my teeth, and called it a day.
The clouds brought rain the next day. But as all we had ahead of us was getting down the hills and returning to Bratislava, it was all right.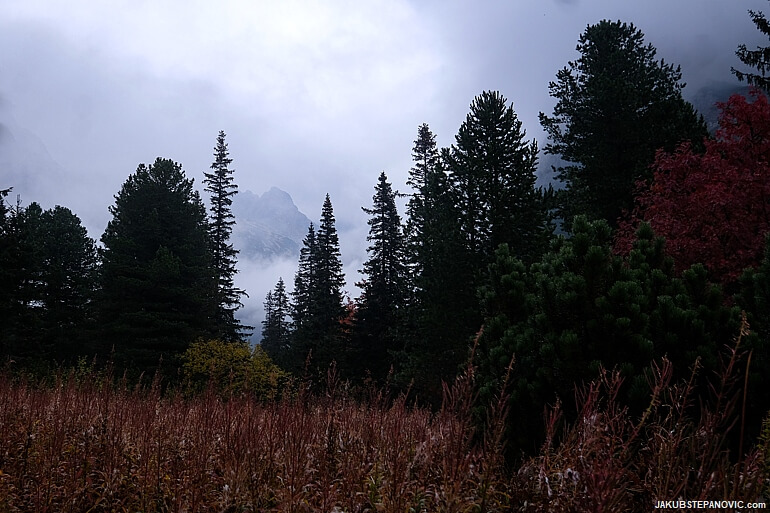 Rain can be beautiful, too, after all.
---
If you liked this article, you might also enjoy my other posts about mountain ranges, like:
You can also visit my Blog Archives for more categories and topics. Thanks for reading!