Trip to Eastern Sudetes proving that the hard way is often the right way.
I joined a group of friends who organised an extended weekend getaway in the Czech Silesia. The plan was to do some cycling, enjoy the region's landscapes, and take a break from the daily routine. The plan worked, only in a different fashion than I imagined.
Even before I left the city, improvisation was needed, as the rental where I booked a car told me that they don't have any. I had to go to a different branch where I got something smaller but still sufficient to carry me and my bike to the meeting point, ~ four hours drive north:
Renting a car in any city where they have a quick turnaround of vehicles can be a thrill for the inner child in men, as the chances are, the ride will be the latest model with plenty of gizmos. The one I got had the dashboard full of large touchscreens and that system of cameras and computery witchcraft that monitors road signs and keeps the car in a lane, in case you can't be bothered to drive fall asleep.
As with most things, it is a double-edged sword — the touchscreens look sleek but hinder the ease of controlling the car. You can't tune the radio and change the fan speed simultaneously, as each of these has a different, dedicated menu on the screen. You also need to look at the screen to see where to touch it, whereas dedicated knobs are easy to locate and turn at any time, even bind. Still, by the time I got my head around most of it, it's delightful. Just in time, as I left the freeways to join some winding mountainous roads.
Day 1
After my arrival and reunion with nice people I haven't seen in a while, we think where to go. Shortly, a friend and I discover a path on a map connecting two peaks near the hotel where we stay. It looks like a neat introduction to the region.
The air is clean and fresh, and the road goes into a splendid forest. We pass rivers, pretty rock formations, and occasionally, the path teases with fine-looking outlooks.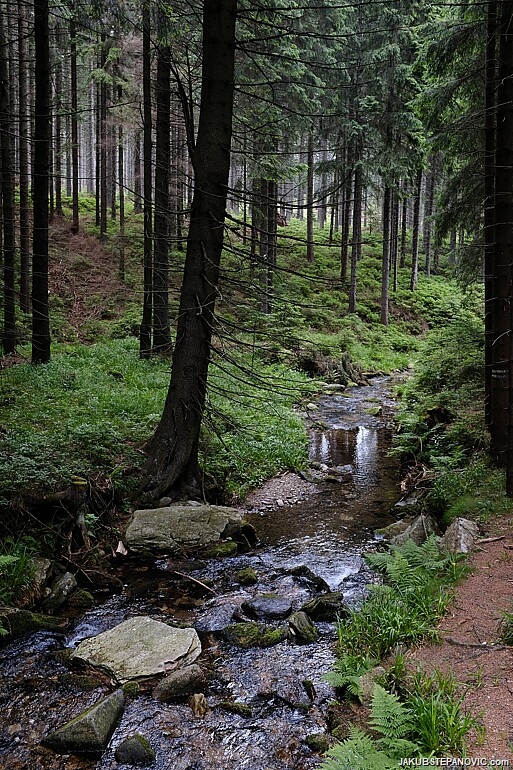 The evening comes quick, and it brings more pretty colours to admire.
When I get to bed, I realise that my last-minute packing bore fruit: I forgot earplugs, a grave mistake when sharing your room with a few snoring folks. Ah-uh.
Day 2
I have never been to this area before, so before committing to the trip, I searched for some points of interest there. I found that the portion of the Eastern Sudetes mountains where we go, called Jeseniky, features Czechia's tallest mountain outside the Giant Mountains. "That would be cool to ride a bike there," I thought. I also learned that there are some praised MTB trails around. That's all I needed to know; no more convincing needed.
However, the friends' definition of mountain biking is different from mine. Instead of climbing and riding down some challenging terrain, they like to get from point A to B with ease. We share the affection for a neat wavy environment, but it is clear that our ideas of the ideal route will differ. As they are in the majority, I am joining for an easy-going ride on well-graded forest roads.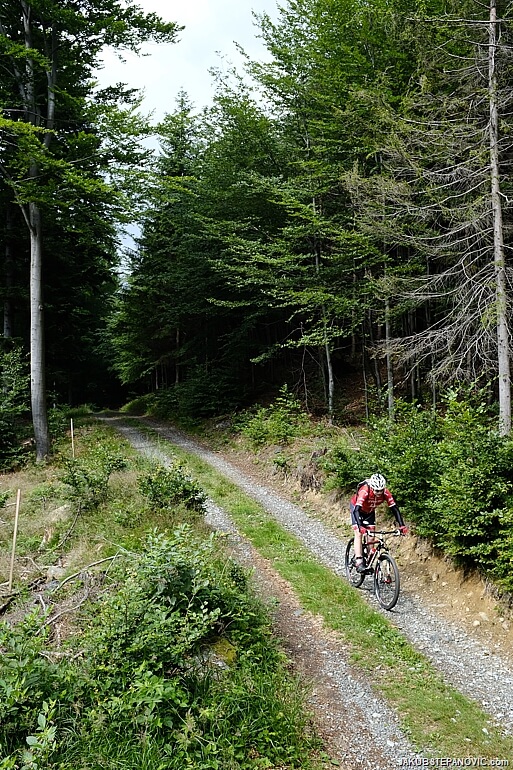 The region is less touristy than other Czech mountain ranges, and all the locals we met were friendly and kind. One of them shared multiple tales about the local places and heroes. Interestingly, when we met other bikers, some 4 out of 5 had e-bikes.
Like many other Czech border areas, this place has a tangled history stained with nationalistic struggles of the 20th century. At one point, we go through massive former military grounds with ruins of ammunition depots.
Further into our trip, we continue the time-travelling theme as we enter an open-air gold mining museum, which has multiple replicas of buildings from the 14th century, the time of the greatest glory of the area. It is accessible free of charge.
After we get back to the hotel, we go check out a city nearby with Vincenz Priessnitz's spa complex established in the first half of the 19th century, where we have a nice evening.
After dinner, one friend says that there's a ruin of a medieval castle, Koberstein, only a few kilometres from our hotel and that we could go to have a look at it. Of course, I am all in. In the end, three of us are heading into the dusk, while the rest stay to chill with wine.
Somewhere three-fourths of the way, we enter a glade where the forest service started removing uprooted trees from a recent storm. The heavy equipment erased the path; we have to make our own over the mess. I don't want to call our evening mission off yet, so I offer to help with others' bikes. Little do I know that I end up carrying them on my shoulders for more than 100 meters of elevation.
Remember how I said how the e-bikes are popular here? Well, my companion contributes to this trend, each having an eb' weighing over 25kg. Carry one, go back, carry the second... Talking about a proper workout, right there. But, we manage.
The castle has no written history, but it was probably built at the end of the 13th century to protect the gold mines around. It is remarkable.
I assess the situation and see on my map that there should be another path down, not as steep and without the fallen trees. So we go that way, and while it isn't as steep indeed, it is a bit rocky, and the sun's gone. I did some night off-road rides earlier; my friends, not so much — Getting down is just as much of a challenge as getting up.
Together, we conquer the hill and happily return to the hotel where most find desired rest. I, meanwhile, have a front-row seat for a snoring concert.
In meditation, many people focus on their breathing to train their attention, achieve greater awareness and a clear mind, and reach emotional calmness. But when someone, already sleep-deprived, is forced to listen to someone else's breath, a cacophony from hell, serenity isn't what comes to mind. But what do you do, when you want your friends to get good rest, perhaps to form pleasant memories on our evening adventure? It's either them or me.
Day 3
Folks don't want to hear anything about roots and rocks. Pavement all the way.
I am a bit grumpy from another sleepless night, but the road starts in a beautiful forest, so I can't complain. Still, I am thinking about the trails we are avoiding. Suddenly, there's a crossroad: one dirt road and a parallel highway. The group wants the highway. Oh, that's too much! Concrete, traffic, smoke from exhaust pipes.. If I'd want this, I stay in the city.
Having a more challenging path to cycle on means that I get to play with the bike, engage in riding, immerse in a state of focus to choreograph movements and get the timing right, which comes with a rewarding feeling of "I earned it. "This concentration orchestrated in pristine mountains equals pure happiness. On the other hand, on a wide, flat road like the one we ride, one easily switch to autopilot. I don't need to hold the handlebars; the bike goes itself. Relaxing and good for commuting, but lacking all the joy of mountain biking.
As I cruise on what feels like a runway, my inner voice kicks in, and it is almost as if I'd see myself from the third person view and hear a narrative, like on a TV show. That's what the brain produces when the road's boring. The camera pans to show me on a bike, and the voice comments, "look at Jakub, he's on vacation, yet pissed off. Can you believe it?" Oh hey! I get back to the first person. "That's right; this is stupid!" It is beyond belief how easy it is for a human to get annoyed. Friends might not be keen on trails, but I have friends who like to cycle. And I can afford a vacation.. Where I ride on a decent bike.. I am physically capable of riding. The longer this continues, the further I expand the scope on a more broad view.
As I remind myself how fortunate I'm, we enter the village of Mnichov with a well-known fish restaurant. They have a pond where people can catch fish to eat. We skip the fishing part but eat tasty trouts they prepared for us. Yum!
With the mind in the right place, I am returning with friends to the hotel. Then, a few of us opt for a short diversion to a rocky formation called Lourdes Cave. Each place here has plenty of legends attached, and so they fuel fantasy. I like that.
The day trip wasn't demanding, but I lack the desire for another night adventure on that evening. Friends plan to go hiking tomorrow, and I made up my mind to go ahead and try the famous MTB trails, Rychlebske Stezky, nearby. "Excitement!" I think while I'm in bed already. Let's get some sleep and nail the last da... "snoooooor!"
Kill me. I surrender. Anger won't make the situation better, so I'm opening a book that I brought with me and diving into wintry scenes of New York and the world of people who live there. Things are momentarily better, but tomorrow will be tough.
Day 4
I am driving to a village Cerna Voda, where is the MTB centre's trailhead. Driving a car on that smooth surface, the right tool for the job.
I am tuning the radio, and they play the same hits as always. But since I can't remember the last time I listened to the radio, I am okay with it. "I'm your Venus, I'm your fire.." they play, and I am thinking how these songs defined moments of so many people. Not much for me, as pop isn't on my usual playlist, but they make for a nice soundtrack, and I am in Cerna Voda in no time. It is visible how the trail centre brings a positive economic impact on the region. There are new holiday houses for rent, restaurants, and so on.
The parking lot is full of cyclists, some having bikes more expensive than the cars around. They dress up into colourful jerseys, lube chains; one can feel the relaxed yet buzzing vibe.
Right next to the parking lot is a few test tracks to get a sense of what is to expect out on the trails. Some obstacles predict that I am in for a treat.
After I get down the test run, I set off to taste the real deal. To get there, one has to climb first, and I think that I should take it slow to conserve energy for the downhills. The road is smooth and tempts me to pop wheelies, but then the inner voice interrupts: "Didn't you want to conserve energy?" ~ "He's right again," I think. "I'm glad he's tagging along with me."
Shortly, the road changes to singletrack; it crosses a river and includes a few technical sections. It is super scenic, so the blogger in me wants to stop and arrange for an action-filled selfie, but the rider in me doesn't want to hear about it. It is too good to stop! I carry on, but I still think that it'd be good to have some illustration of the climb, so about a kilometre later, I ask two other folks to pose for me; I take a quick shot and continue up.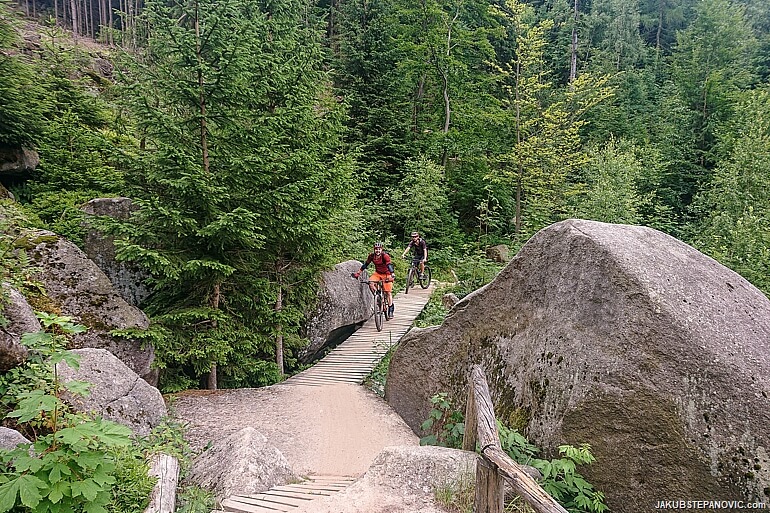 It is excellent! Trail centres like this are common in Scotland, but they are rather rare in central Europe, which magnifies the excitement of being here. Soon, the easy climb is over, and I enter a part made from boulders. Many of the rocks are scratched from pedal strikes and chainrings. I manage relatively with ease, but it keeps me at the edge; I feel great.
Before the trail starts going downwards, there's a flat section with these rocks all over. The physicality of this terrain can't be compared with the smooth roads of the previous days, yet, I can't get enough of it. That's a gym I like.
One thing that I love about the MTB is the creativity it offers. One sees terrain, and it's up to them how to tackle it. As I go further into the woods, there's a rock garden in front of me, starting with a nicely shaped triangular stone. With a bit of imagination, that rock looks like a kicker. So, I plan to jump over the rocks instead of rolling over them. I preload the bike's suspension, pop, and I'm flying. Alas, my physical state already passed its prime, and halfway in the air, I see that I am not going to clear it. My rear wheel lands on the last rock, the tire deforms to hug it, and the woods hear a loud ding instantly — the unmistakable sound of a rim smashing the pointy rock. A few meters further, the rear wheel gets familiarly wobbly. No worries though, a flat tyre is a simple fix.
I'm utilising the forced break and eating some of the pastry I brought with me. Later, I pump the tyres with a few more PSI than they had, to be on the safe side with pinch flats, and set off again. Then, the trail starts to go downhill.
Oh dear me, if the trail was engaging and fun until now, the steeper declining gradient turned it into heaven. The gravity does the hard work of moving you forward, and you just focus on shifting weight side-to-side, front and rear. Rough segments are mixed with banked turns and smoother sections to compose and hit the rocks again. The hard-inflated tyres are at the edge of their grip, giving me enough traction to send the bike the direction I want but still have some thrill in the corners. It feels fantastic.
When I get down to the base, I plan to get myself some refreshment at the local pub. It is a large, dimmed room where they play a mix of the early '90s Prodigy's records. Now that's more relatable than the pop from the radio! Suddenly I'm back in my high-school years, somewhere in a similarly dark basement with some amazing humans. Back in the times I could go on without sleep with no hindrance of the day later, regardless of what I consumed that night. Different times. I am getting a lemonade now. And a cake.
Right, let's get on the rocks again!
I start with a black route. It is a solid workout, and my fading physical state results in a few riding mistakes. There's a rocky staircase, another of those that'd be better to jump over, but I am not even thinking about it now. I will roll this one and try to stay upright. Bash! One of the rocks is bigger than the others, and my chainguard makes a mark on the stone. Here we go, I am one of them people. At least, I have that chainguard for a reason. I feel that I lack the fitness needed to enjoy the black all the way down, so I am retracting to one of the smoother trails, and I am blown away. The trail utilises the local terrain into fab features; one sweet curve turns into another, there are fun jumps.. It is like a rollercoaster where you decide your speed and how much airtime you get.
I can't but agree with the positive reviews this place has. Oooh, what a ride! Later I get down again and finally take a selfie, too. It isn't very fancy, but it shows the smile.
I go to say bye to friends, we exchange stories about our days, and I hit the road again.
By the time I get down from the mountains, it is already some time past the sunset. Yet, the lower altitude brings the temperature higher. Speakers play "I got my head checked, by a jumbo jet, it wasn't easy, but nothing is..." and I am thinking about how these trips serve me like sanctuaries to organise my thoughts and to make sense of my place in this world.
Like with biking, the more challenging life gets, the more memorable moments it generates. I got rejected from my first choice of university — thanks to this, I ended going to the United States, where I learned more than I would ever do at that first uni. I wanted to finish my undergrad degree there, but I had no money to do so; therefore, I started an incredible job as a photographer instead. I'd probably be still doing it, but then I got denied a work visas extension, and I had to leave. Thanks to this, I set off to finish university after all. I wanted to continue in journalism, but the place I went to study turned out to be a disaster, and so I quitted it. Thanks to this, I could expand my creativity instead, and I ended exhibiting my art in places I'd never dream of if the journalism uni would work out. Then, Brexit caused the UK markets to, ummm, slow down, so I spent two summers in China. And look, I help with the PR efforts of the European Parliament now.
"Some of the best things that happened to me started as a failure," I am thinking while driving. But then, I am ripped from this train of thoughts as I get to the borders.
For Pete's sake, a police officer is stopping me. "Do you have the E-Form?" He asks me.
When I passed the border a few days ago, it was open like during the good ol'days when the Schengen Area worked like a dream, as it should. But since then, the Slovak government has decided to close all small crossings from neighbouring states and enforce checks on the big ones. They are checking if people filled some new form, which isn't asking about their health, but where did they spend their vacation. Of course, I don't have the E-form.
There was an initiative to do a universal document that would restore the freedom of movement within the bloc, but individual countries rejected it, and here we come. States have some extra form now, as if that would make their national health situation somewhat better. It is midnight; everyone wants to go to bed, I think and say, "I have the forms."
"Show me," the officer continues. Good grief. So I take the folder with my documents, which has the vaccination record, a negative virus test results, a proof that I'm employed in Bratislava, and some other official evidence that justify my border crossings. I open the folder and start browsing the paperwork, thinking which one I will show him when he says, "You won't find it in the folder, mate. It is an online form." Right. I won't bullshit my way out of this. "Okay, can I fill it here?" ~ "Sure, we set aside this humongous parking lot for that purpose," He says as he points to a murky asphalt sea where you'd typically imagine pimps walking in alleys of parked semi-trucks, but now, there's a convoy of police cars and a few other desperate folks typing into their phones. I pull over and join.
It is an utter waste of time: It asks for the address where I will be quarantining and where I get checked by police on how I obey the order. Then, some 20 lines below, it says that I am, in fact, not subject to quarantine. I suck it and finish it. Nobody is controlling it. I could have written this article there, and the officers would be just as happy. But that's fine. It is another challenge to accept. I won't get mad for something this silly, no.
Time to finish the drive, think about the perks of democracy, and how obstacles form a prime environment to improve. I'm once again impressed that often the most significant thing we can do to change the world towards a nicer place is to change our minds. And how many opportunities to do so we have every day. I sense a breeze of accomplishment that never comes when we get everything served.
---
Thanks for reading. See my blog archives for more topics and categories, or get in touch.
Published by: Jakub Stepanovic in Stories