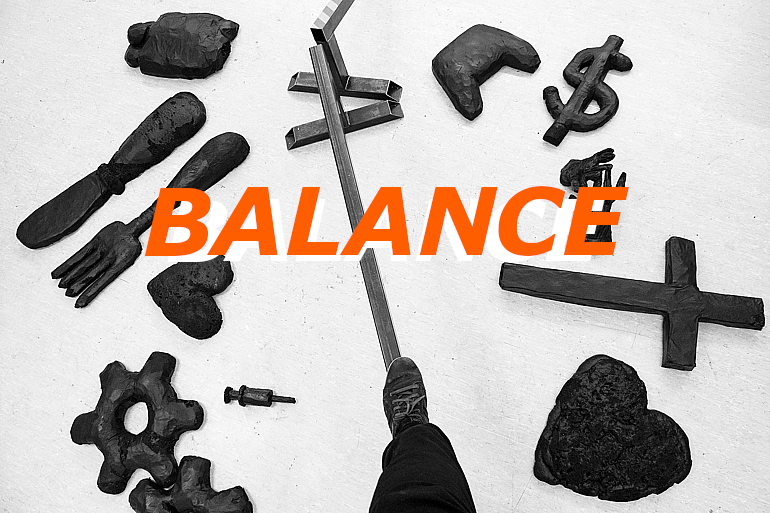 Insight into how I made my recent artwork, "Balance." 
It is an interactive installation that takes the phenomenon of "balancing through life" into a literal sense. This post provides a behind-the-scenes look into making of it.
Starting with the concept, having a balanced life is a challenge. Juggling work, school, and social life, while trying to maintain mental and physical health can be a real struggle for many; me definitely included.
Another piece to the puzzle, I like to play with language, which is reflected in my art. For example, in "Burnout" (2016), I portrayed this depressive condition by literally burning out parts of the sculptures and paintings. When I stayed in Dresden, Germany, I was inspired by how much biking contributes to local culture. So I made "Bikes Make Dresden" (2018) depicting the city from bicycle tyres.
Lastly, one of my hobbies is slacklining (tightrope-walking-like sport). Turned out, walking on a narrow piece of webbing suspended mid-air is easier than to master life management.
Connecting the three elements described above, the idea for this project started to be clear: To create an environment that would allow people to literally balance over aspects of life.
But how to actually materialize it? That itself was a big task to tackle. Early sketches involved staircases, mirrors, chains, and projections mapped on wooden boards.
Trying to enhance the user-friendliness of the work while keeping the production costs at a sustainable level meant many revisions. I replaced the chain with a solid beam, dropped the video mapping, and opted for sculptures to represent the topics. And while this might sound like we are done, plenty of details needed to be addressed.
How wide should the beam be? And at what height? It can't be too narrow and high, as it would be too difficult, possibly dangerous, and nobody would want to participate. On the other hand, it cannot be super easy; the challenge is crucial to the concept. Also, which material to choose? it was easy for the balancing platforms, as it needed to be as sturdy as possible. Steel was it.
Choosing the material for the sculptures was more complicated. Initial thoughts about concrete or wood were quickly scrapped after making the risk assessment. Even that the beam is in height that any potential fall from it shouldn't cause any harm, if the sculptures underneath would be inappropriate, it could lead to issues. Imaginations of someone getting drunk during the exhibition's opening night and cracking their skull on a piece of concrete that represents health... Um, right. So the sculptures need to be low-profile, soft, and round. "Sand could do," I thought. But that was a no-go as well - sand can hold moisture, and could therefore ruin the gallery's wooden floors. Polystyrene would be great, but it is very expensive. I finally got it after I recalled the days I worked in constructions: Polyurethane foam costs a fraction of polystyrene while it has similar properties. It might be a bit toxic to work with, but life isn't always perfect. The budget needs to be in balance, too.
Weeks of carving later, I was happy with the shapes. The last thing was to paint 'em with a color to match the steel, and here we go: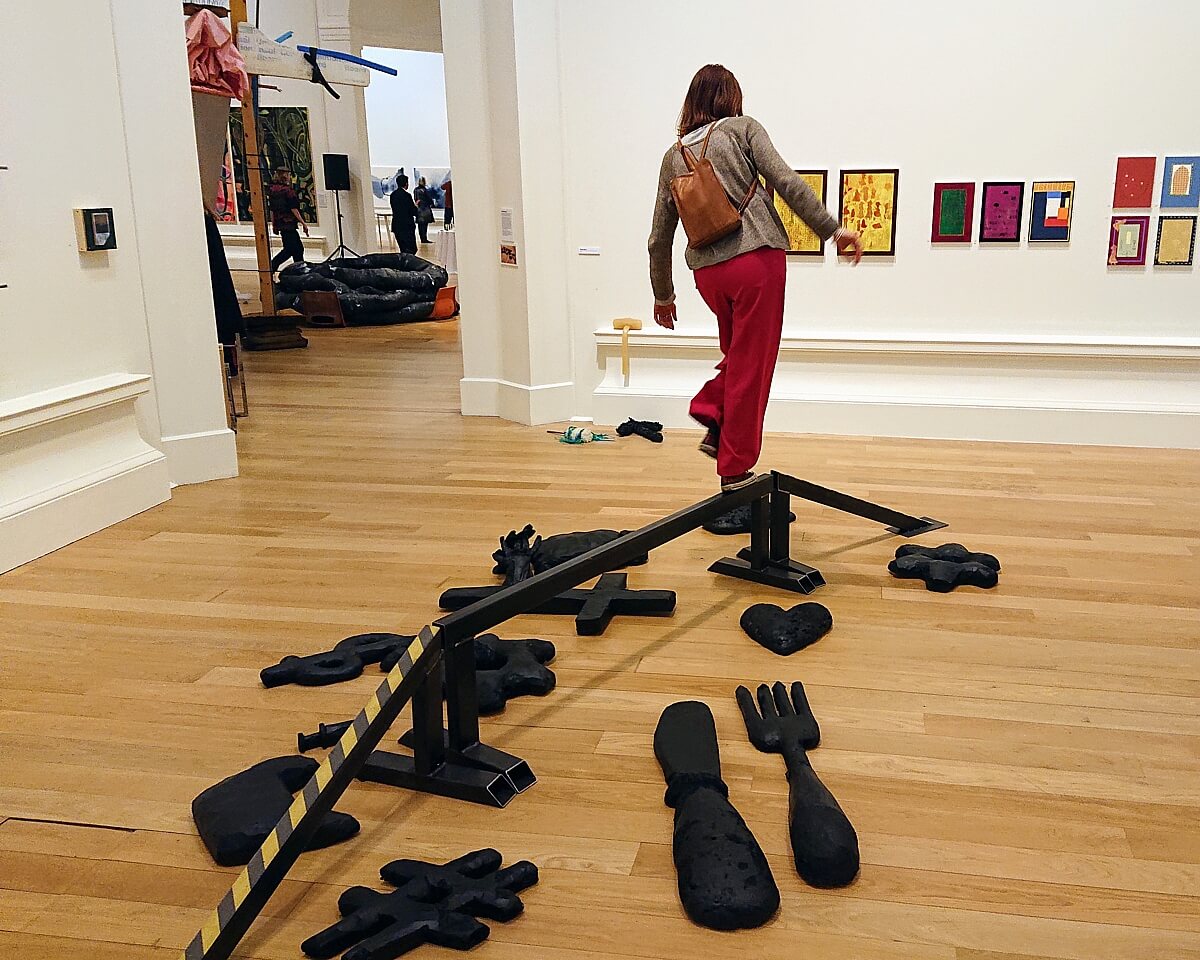 Curious about how it feels to balance over aspects of life? Come and have a go yourself! The work is currently installed in the Royal Scottish Academy, Edinburgh, until the 11th of March. It is a part of the 2020 New Contemporaries exhibition, which contains loads of stunning work from other artists, and I'd highly recommend it.
If you like the work, share this or the project page with your friends. Thanks for reading.
---
See more stories about my projects, such as:
Published by: Jakub Stepanovic in Projects