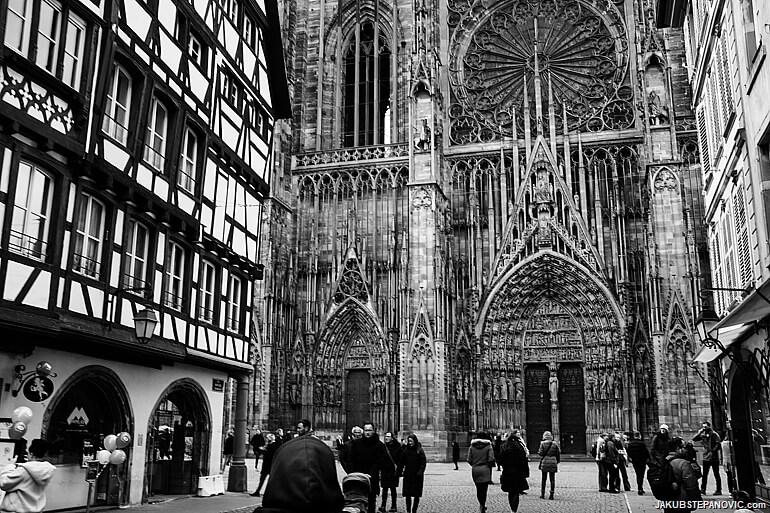 Beating indolence to make my layover count.
Strasbourg is the capital of the French Grand Est region, and it serves as its transport hub. The city has a rich history, vibrant culture, and a stunning city centre that many countries' capitals can envy. However, when it comes to Strasbourg's airport, it does not reflect the otherwise high international standards of the city. Besides a few flights to the Mediterranean, its connections to the rest of Europe are surprisingly dismal.
People can take public transportation from Strasbourg to airports elsewhere, but if they are in the middle of the region, they will often have to arrive here first, transfer, and continue further. That was my case, and it highlighted how Europeans can be spoiled. Each of the places I lived here had at least one airport within a 100 km (~60 mi) radius, often within two hours by public transportation, that offered budget links to other continental countries. Suddenly, lacking this convenience seemed like an issue.
Speaking of public transportation, Strasbourg is on a high-speed rail line operating fast trains that look cool, and travelling with them is even cooler — One took me here.
I was transferring, I had only 30 minutes to spare, and the weather was grim. "I could have a coffee here at the station, be warm and comfortable. Half an hour isn't enough to see the city anyway," I thought. But once again, I reflected on my laziness. A glimpse into a map showed that I could make a 3 km (under 2 mi) loop to the Strasbourg cathedral. "Hmm, ten minutes per km, I can do that!" I assessed the situation. "Even if I will see only a fraction, thirty minutes in Strasbourg sounds more satisfactory to me than thirty minutes on social media," I concluded and set off.
0 Minutes
I am leaving the station. It's from the 19th century, but it got enlarged by an impressive glass bubble in 2007 — a kind of similar project to the London's Kings Cross expansion.
3 minutes 
Immediately from the station, there are pedestrian-friendly roads to the city centre, full of compelling structures to admire as I go.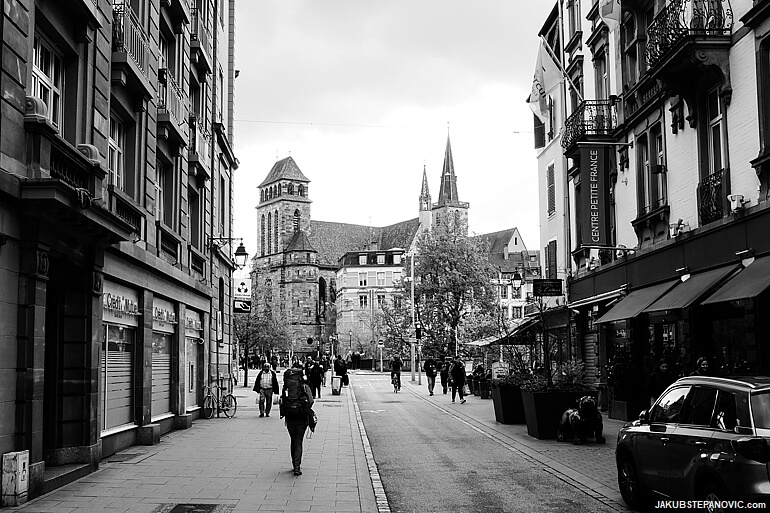 8 minutes
I also appreciate how adapted the environment is for cycling use.
11 minutes
When I approach the Galeries Lafayette, a department store built in 1912, a tram passes by. Strasbourg trams have an interesting history, and the success of their current form has inspired public transportation projects in some other French cities. Their rolling stock is quite good-looking, and the Galeries Lafayette would make a nice setting to capture one; alas, there's no way I could wait for another one. I am taking the pic anyway, and off I go.
I am entering Place Kléber, the main city square, where a band plays pleasant music. It makes me smile; it is so satisfying when cities provide these unexpected bonuses. However, being on a mission with a tight schedule, I keep walking toward the cathedral.
13 minutes
Along the way, I pass a narrow alley pointing to a different church. Just as I think that it would create a finer picture if someone stepped into my composition, a bell rings just behind my back. "Phew! Biker! That would do!" The camera clicks; I walk.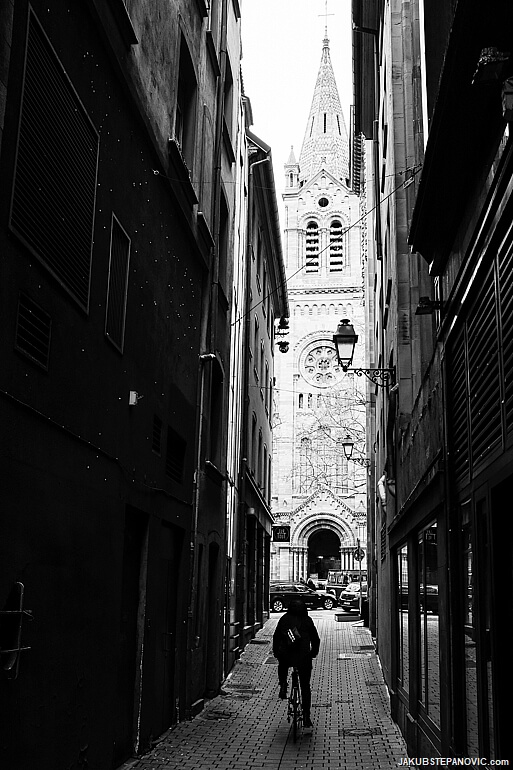 I heard tales about the city while working for the EP, which has its official seat here. Those stories are getting new dimensions as I visit where they took place.
16 minutes
"It is huge!!" I am amazed as the cathedral reveals itself in front of me in a truly imposing fashion. I didn't search for any images or descriptions, so I didn't know what to expect. But I wanted to see it anyway, as Gothic temples tend to deliver an outstanding experience. Sure enough, it paid off. Later I found out that the Strasbourg cathedral was the tallest building in the world for 227 years!
The structure, constructed between 1015 and 1439, is made from red sandstone, which reminded me of what's left from the Arbroath Abbey. That brought an unexpected train of thoughts about values, as the destruction of Arbroath was a result of the Protestant Reformation. Strasbourg housed many significant figures of the movement, yet, the city managed to justify preserving its cathedral. And good they did; it is pretty spectacular.
"Ah, I could spend ages only to take in all the details this building has, never mind the entire city," I sigh. Still, I am happy that I came. Seeing it in person, even this briefly, was worth the walk. And having tasted what is here to offer, I am motivated to come back one day. Now, though, the clock is ticking..
Although it is impossible to compete with the cathedral, the square where it sits is full of other picturesque houses. I am taking one of the narrow streets between them.
20 Minutes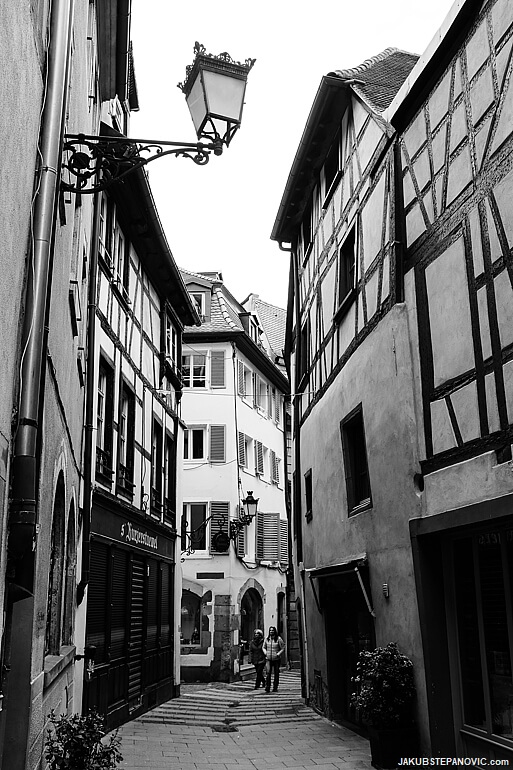 22 Minutes
I am entering a visually attractive intersection when I see a tram coming my way. "Here's my chance," I think and grab my camera.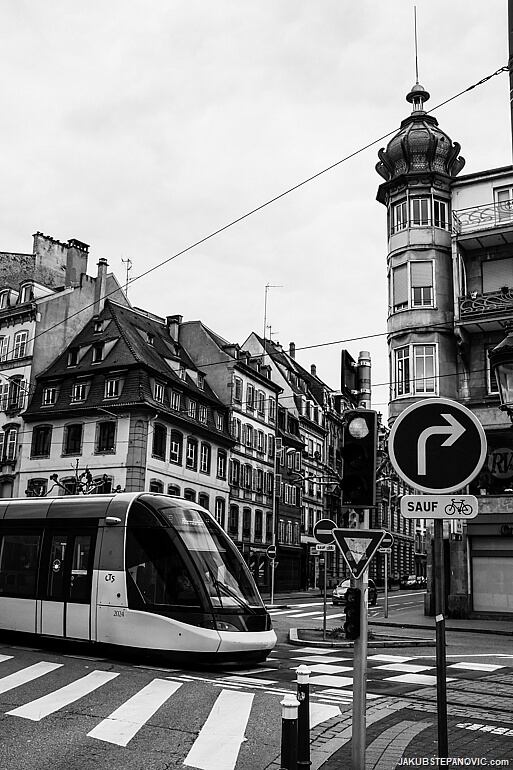 "Got it," I smile and check my watch. "Better get to the station now!" I increase my pace.
Of course, my 30 minutes had limited reach, but I am glad I went! And it wouldn't happen if I had a direct connection or if I were stuck in a car. It was another fascinating reminder of how potentially less convenient paths often feature more excitement than the easy ones.
---
If you enjoyed this article, you might also like my previous stories about short visits, such as:
Alternatively, browse my Blog Archives for more topics and categories. Thanks for reading!