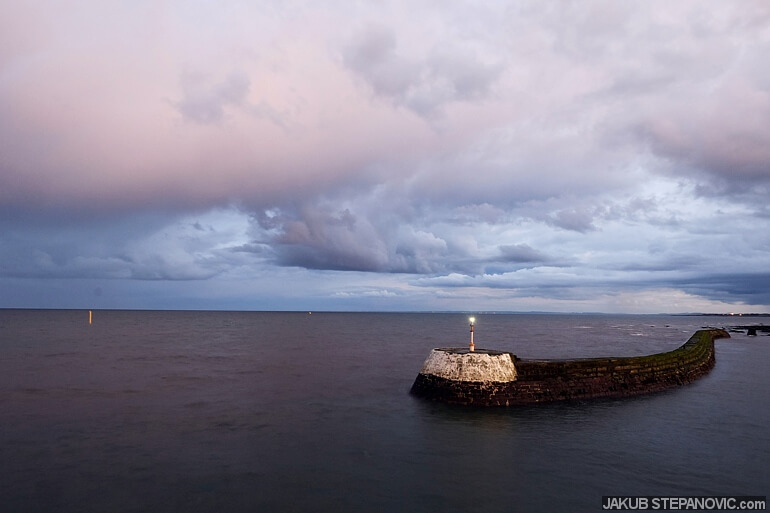 Pictures I took while touring across the Scottish east coast.
This post is made out of new pictures; however, some of the places on this list I've visited before, so there are links to some previous posts if you'd be interested. Anyway, the east:
As a contrast of the rugged mountains on the west, east Scotland is rather flat, agriculture land. Still, it has interesting spots to explore.
Aberdeen (1)
Scotland's third largest city.
Also, it is likely the grayest city I've ever seen. It's nickname is "the Granite City," as in the past, grey granite was used for everything from buildings to pavement. But they keep this until nowadays, new structures are made of bare concrete, or just painted grey so they fit in. Grey hues are everywhere, even on the road: the most common colors of cars at the time of my visit was silver, followed by black.
It is like walking through a heavily-colored movie, only it's real.
About 16 miles down south is Stonehaven (2), a town with the best ice-cream I had in Scotland.
Just below it is Dunnottar, a place with a cool castle..
..and neat cliffs.
These are then following the shore all the way to Arbroath (3)...
..and offer plenty of scenic spots to explore.
Arbroath itself is notable for its cathedral ruins from 12th century...
..and a pretty fishing harbor. See my story about visiting Arbroath and the cliffs near during one sunny autumn day.
Following the coastline gets you on a few sandy beaches..
..behind which is the Firth of Tay (4):
On its north bank is Dundee, the UK's only UNESCO city of design, and the city I'm currently based in (Click HERE for the photo collections I made about it). On the south side, you'll find the Tayport's lighthouse and the Tensmuir Forest:
The forest then ends at another, nice sandy beach.
Further south is St Andrews (6), another town with interesting cathedral ruins..
And also a castle.
Then there's Kircaldy (7)

Keeping south, you'll reach the Firth of Forth (8), notable for the bridges spanning across. Each from a different century, each an engineering marvel. Pictured is freshly finished Queensferry Crossing. (See the other bridges here)

But when you don't cross it and follow the water instead, you'll get to the Falkirk area (9), a place with the highest heavy-industrial concentration in Scotland. Besides an oil refinery, powerplants and such, they also have some beautiful common areas and a set of water canals coined with a massive set of sculptures: the Kelpies.

One of the canal leads to the famous Falkirk Wheel, world's first and only lift for boats.
Going back east brings Edinburgh (10), the Scottish capital.
See my posts about Edinburgh, or click for all my journeys across all of Scotland, here.
---
Follow me on Instagram, Facebook and Twitter for upcoming articles. Thanks for reading!