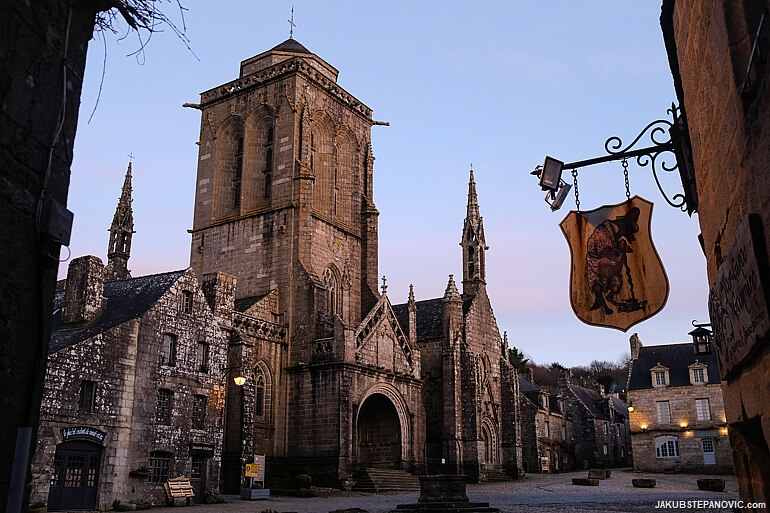 A collection of noteworthy sights and things I experienced in the westernmost region of France.
The story has to begin with the sea, which forms a distinct character of the region. It brings pleasant year-round temperatures, as well as loads of opportunities for work and pleasure. And when the sea meets the land, it is an affair. A dark body of waves crushes the shore one day; its turquoise waters are inviting to swim the other.
Brittany's coast includes anything from white sandy beaches to towering granite cliffs. Treasure after treasure! The seaside captivated me to the point that I ended with enough pictures to make another dedicated post. Now, let's move to the land.
One of the best overviews of the land diversity is from Mėnez-Hom, the second most prominent hill of Brittany. A legend has that it was here where King Gradlon met Saint Corentin, before he invited him to become Bishop in the city of Quimper, another treasure.
From the summit, one can also admire the Montagnes Noires and their pretty forests.
Forests are relatively sparse in the region, but they definitely deserve mention. Brittany is home to the Brocéliande forest, where plenty of episodes of the Arthurian legends happened. The Merlin's tomb, the fountain of Barenton as well as many other related sites are there. See, that's another thing: every location here has plenty of cool tales; I like that.
While I did not explore Brocéliande, all the forests that I did were enchanting.
In one of them, I found a tree of life. Seriously:
It began as a seed in a tiny crack of a massive, roughly ten meters long rock. But instead of giving up to the environment, the tree pushed its way through the stone down to earth, defeating the rock, and started growing on the top of it. The trunk diameter above the rock is nearly a meter wide now, and the way it hugs the rock is an incredible spectacle:
I also feel quite special about it because it is not an attraction marked on maps or in guides as a point of interest. I found it by luck. 
Keeping the topic of rocks and mystic places, I can't go without mentioning Brittany's abundant standing stones.
They have so many of them that a good number sits in the fields without signs and fences, never mind hefty entry fees and macho security guards like in Stonehenge. But regardless of the quantity, each of those I saw here was pretty great. Happy times!
While the Neolithic monuments' atmosphere is unique, Brittany has an array of striking buildings from newer periods. Signposted or not, it is easy to find pleasing structures.
These photos above show streets; it brings me to another local gem, the paths I took here:
All the transportation forms I tried here turned out superb, from natural trails to modern infrastructure.
The next contributing piece to the good sensation while in the local cities is the way they treat public greenery. Even some dull parking lot has a well-taken-care-of flowerbed.
When the greenery links with the cool structures mentioned above, it makes a fab package. 
Speaking of the public greenery, it's common to see folks having a picnic on the grass. It should be a no-brainer, but many countries I visited had parks meant only to be looked at, prohibiting walking outside the designated corridors. So, I appreciate the way it is here.
This provides a transition to the culture, as there is more to unfold. The food, for example.
French food culture is famous for good reasons! For me, it came to two aspects: There's an extraordinarily selection of good-quality, tasty products, and the things locals can make out of it are out of this world. Brittany is popular for its seafood, but I was sold on its traditional crêpes and galettes. I thought that my ability to make crêpes was decent until I came here; now, I won't make them for a while! But I haven't had a single plate that I wouldn't like; whether it was one of the classics or a pure improvisation, all were excellent. And besides the taste, the dishes are also light – so even if one eats a ton, they end up feeling fantastic. It is no joke; you can look up the obesity rates of developed countries; France is nowhere near the top.
Yet, the second aspect was even better for me: the food is a social event. It isn't just a necessity to stay alive; it brings people together. One starts dining with the objective of eating but ends up forming friendships, hearing exciting stories, solving problems, and, yes, eating something delicious. The closest thing I witnessed to this was in China, but I perceived a bigger difference between the social and the everyday meals there. In France, it felt like every meal counted. Sharing the work, sharing the dishes, sharing the love.
I always like it when I can connect multiple good things into one. Instead of suffering the road to get to the destination, travel with the journey as a goal. Get groceries while taking a walk, take out the trash on the way to work... Suddenly, there are no chores, no gaps in the experience. The French approach to food fits such a model; It's like a magic loop: people are chilled and friendly because they eat, and they are eating to be chilled and happy.
Another cultural element that I found remarkable is the Breton attitude to music.  
It wasn't uncommon to stumble on folks who sang during work, got together after, brought instruments, and played. At a parking lot, anywhere. It made the places more alive.
I remember that people used to sing in villages when I was a kid, but it somehow faded rather quickly. I guess as the comfort levels rose, people turned to radio or tv instead of socialising and making the programme themselves. Then, when suddenly someone sang in public, they got weird looks as if they'd be mad. I didn't question it back then, I grew up having no musical hearing, and it was okay. But seeing how it can be different, how it can make things better, I am definitely a fan that Bretons are still living the tunes.
I wasn't entirely new to Breton music before coming here. I heard a few appealing rhythms ages ago, but I had no idea about their background. Then, around 2018, I was fond of punk and discovered bands from France that I liked. And it happened that one of those, Les Ramoneurs de Menhirs, sings in Breton. Once In Brittany, I learned that some of my favourite 'Menhirs tracks are covers of chants recorded by the a cappella trio C'hoarezed Ar Goadeg, who also heavily inspired Alan Stivell, the man who made Breton melodies an international export. He was responsible for some of the songs I heard in the past. 
The more Breton music I listened to, the more I enjoyed it. So, when friends said that a fest-noz, a traditional Breton festival with dancing and live music, was going to take place in a few days and asked if I wanted to join, there was only one possible answer: "100% yes!"
Fest-noz, or a night celebration in English, is very much about dancing. So, I tried to recall some moves from Ceilidh, but it was of no use. First, Breton dancing is different from the Scottish one, and second, umm, my dancing skills are on par with my singing. But no matter, I was always welcomed to join and learn; there wasn't anybody who'd let me feel that I don't belong there. It was so good; oh, hours went by in a heartbeat!
All that being said, the biggest treasure I found in Brittany was the incredible people and the immensely neat sense of community they provided me. If it weren't for them, I wouldn't get to write about anything mentioned in this post. 
Like with dancing, the people weren't just keen to show me things but also get me involved.
Folks were open-minded and friendly, with beliefs they weren't afraid to voice.
We had many talks about a variety of topics, but perhaps the leading ones were sea-related.
So, the post came full circle, from the sea to the sea. I got an opportunity to see the art of sailmaking and also experience how it is to sail.
Within the short time I spent here, I found myself embarking on more boats than in years. And all were cool: small stern-sculling dinghies, wind-harvesting sloops and luggers, big diesel-powered vessels... and then the occasions!
I could go on and on, but it'd always end that Brittany was amazing to me beyond words.
---
If you enjoyed this article, you might also enjoy some that I wrote previously, such as: 
Alternatively, browse my Blog Archives for other topics and categories. Thanks for reading!