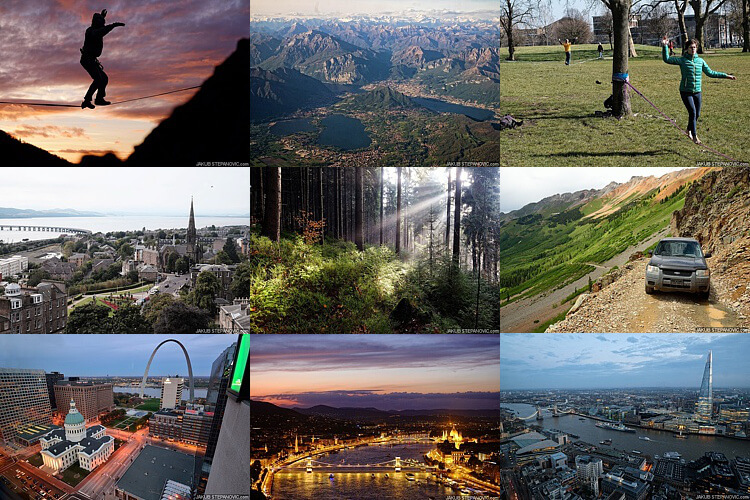 Here are the top 10 most visited posts of 2016.
Telling visual stories or just sharing photo sets has gone well over the last year, as I published 52 posts – averaging one per week. The most popular were:
1.
Oresnik Highline

The three most visited posts have a slackline (tightrope walking) theme. The first is about a winter meeting in the Jizera Mountains. (Read more)
2.
Italian Getaway
I was about to attend a slackline meeting in Milan; however, the day after I booked my flights, I seriously injured my knee. It didn't prevent me from going, though, and while I had to adjust my plan, it was still fantastic. (Read more)
3.
Slacking Sunday
How I crossed a 20m (66ft) slackline again after a four-years long break. (Read more)
4.
Dundee
When I moved to Scotland earlier this year, I made this collection with some photos of my new hometown. (Read more)
5.
Magic Valley
I planned a small trip to a valley with a waterfall, but it wasn't the only neat thing I found there. (Read More)
6.
Colorado Road Trip
While recovering the knee, I made a few throwback posts about my journeys across the US, and two of them took the following ranks. The 6th is a trip to many majestic sites across Colorado: Two National parks, four national forests, nine days, budget less than $400, over 1000 miles. Countless great memories.  (Read More)
7.
St Louis Road Trip

This one is about many adventures I had while exploring mostly the industrial beauty of the Gateway to the West. (Read More)
8.
Budapest
 A report about my summer trip to the Hungarian capital city. (Read More)
9.
Random London IV
A collection of pictures taken across London, a part of the series I did while I used to live there. (Read More)
10.
Sumava, Pt.1
Beginning of a trip to the former part of the Iron Curtain's forbidden zone, which is nowadays a national park with the most extensive forest in Central Europe. (Read More)
---
You are welcome to browse the stories and collections that didn't make the list or revisit the
Top post of 2015

The most popular articles of the previous year. (Read More)
---
Thanks for reading and have a great 2017! See you soon.